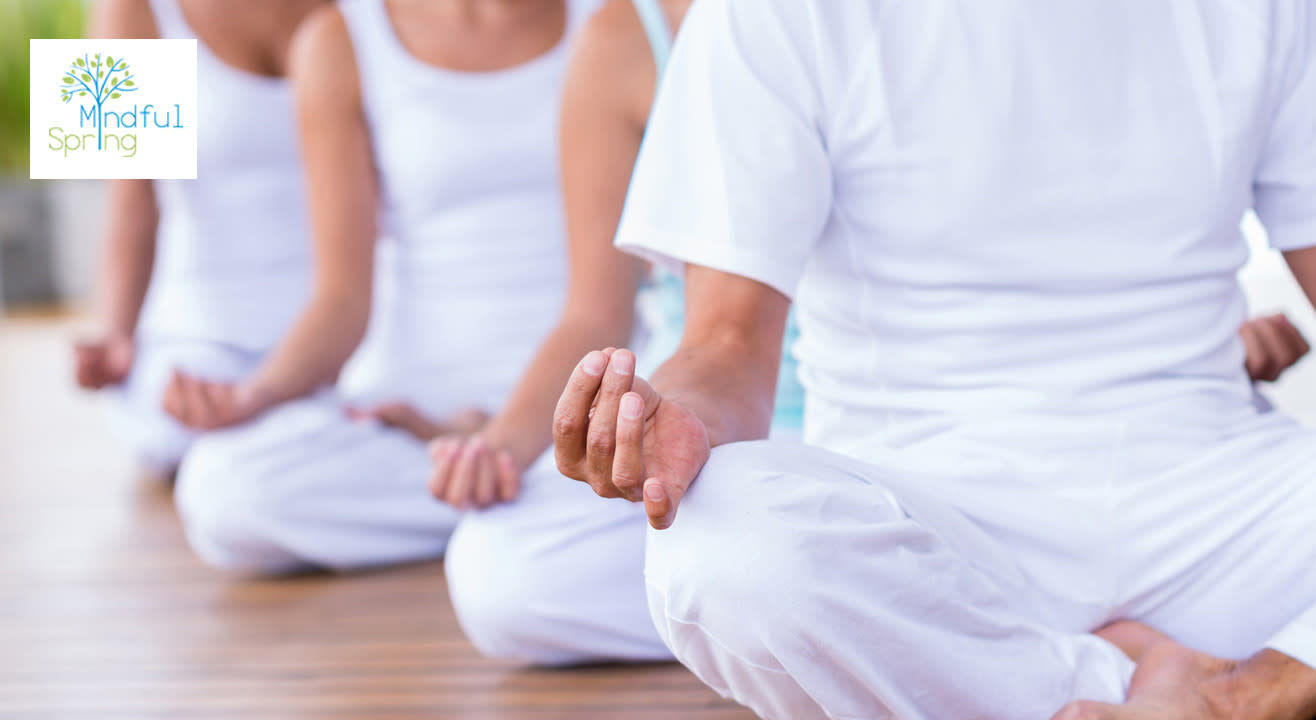 Self Improvement
8 Week Mindfulness Meditation Course
January 14 - March 4 | 10:30AM
About
Mindfulness meditation is essentially a practice of awareness. Awareness is available to all of us in the present, all the time. Yet we rarely choose awareness as our focus of attention.
Instead we are often lured into our thoughts ruminating over some past experiences, or compulsively planning something or trying to fix a problem to avoid a painful future.
Meditation and mindfulness is not only meant for the saints. Neither is mindfulness only for people who can sit still and concentrate. It is not a relaxation technique. These are very superficial labels we give to mindfulness and meditation. Mindfulness meditation simply put, is a way to observe our mind.


Mindfulness practice is about developing the ability to work with our true nature, our deep inner core, to understand it and make connection with it, so we are living more meaningful, connected and complete lives. It is not to achieve a goal of de-stressing and relaxation but to know what lies under the stress, to understand our own inner workings and what thought, emotion and behaviour patterns are getting formed as a result.
Just like river water that is not still does not let us see the river bed, so a mind that is full of thoughts and distractions cannot let us see what feelings, emotional patterns, fears or anxieties truly lie beneath it. Meditation is the process by which we help our mind to gradually settle down so we can truly start looking at what is our true nature.


Why an 8 Week Mindfulness Meditation Course?
Neuroscience research has shown that 8 weeks of mindfulness and meditation practice can change the neurological wiring of the brain in healthy ways.
8 weeks of meditation practice is known to change the structure and function of the brain. A number of studies have been done to test this out.
Topics Covered
What is mindfulness?
Understanding of evolutionary psychology, supportive of why the brain works as it does
The neuroscience of mindfulness
Learning to apply mindfulness in everyday life
Working with the body mindfully- learning body meditation
Learning Breathing Meditation
Learning how to work with emotions mindfully
Learning how to work with thoughts mindfully
Dealing with thoughts and emotions in everyday life- personal application
Mindfulness and Indian philosophy: Deepening practice through understanding of basic philosophical principles.
Duration: 8 Sundays across 8 weeks
Timing: 10:30AM to 1 PM.
Dates: January 14, 21 and 28, February 4, 11, 18 and 25, March 4
About The Facilitator- Sadia Saeed Raval
Sadia Saeed Raval is the Founder and Chief Psychologist of Inner Space - a counseling and psychotherapy center located in Mumbai, India. Over the past 15 years, she has worked as a psychologist extensively with different populations. She has had a sustained private practice right through, which has eventually taken the form of 'inner space'. In her practice, she presently works therapeutically with individuals as well as couples in one to one sessions. She is a TEDx speaker and has given a talk on 'Mindfulness of Difficult Emotions'. She has started 'Mindful Spring' as a platform aimed at helping individuals to deepen their sense of presence in life through mindful practices. The programs are a blend of her understanding of psychology and human behaviour, thinking and emotion with the concepts of mindfulness and somatic psychotherapy and are backed by solid neuroscience research. In specialized workshops for individuals and organizations, she customizes mindfulness to address parenting issues, couple-related difficulties, and for individuals looking for self-enhancement and personal growth and development.
Venue
Palm Court, Malad
Building C, palm court complex, Mindspace, Malad West, Mumbai, Maharashtra 400064