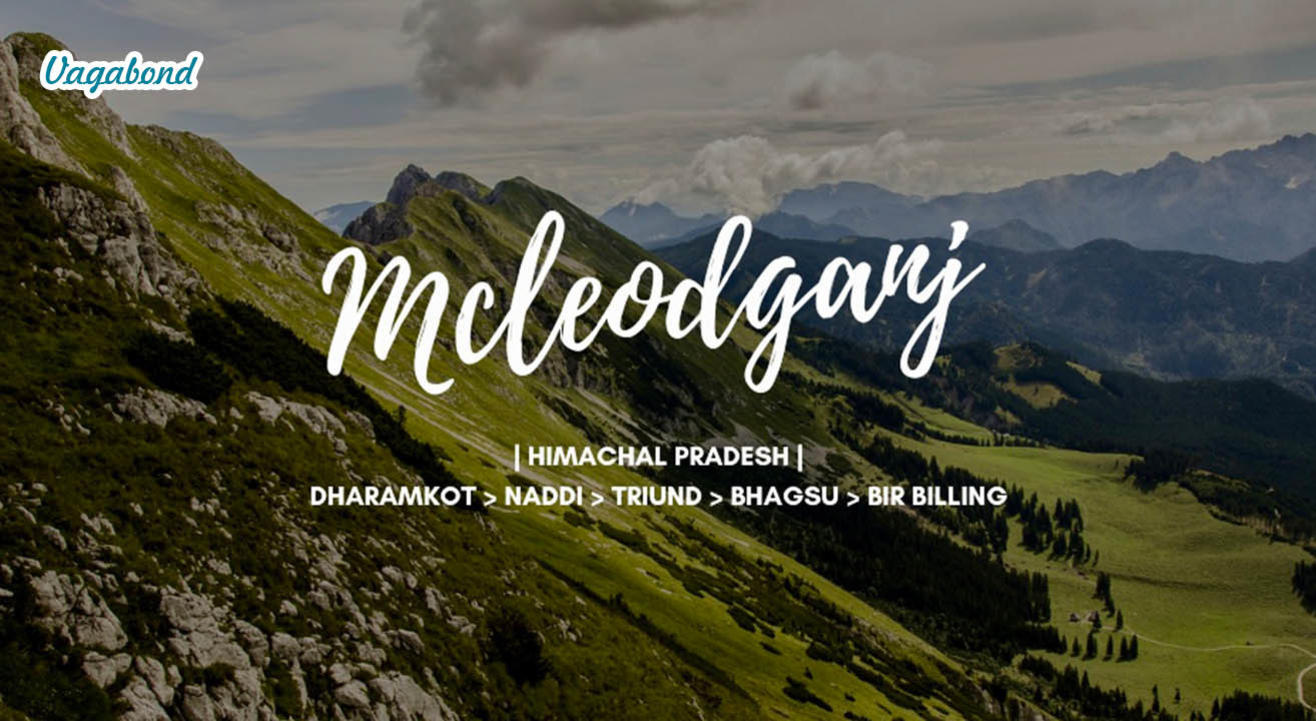 Tour
9 Days- McLeod Ganj, Himachal Pradesh
About
Welcome to Back-Pack-Go!
We personally hope you leave the city version of you behind. We're going to the hills. The hills will always greet you with her arms wide open, provided you respect her.
We are not tour operators, you will not be tourists. Our aim is to create an experience for you, a personal experience. Come with old friends, make some new ones, write a story, climb a mountain, jump into a river, dance, sing, and fall in love. Do everything you've always wanted to. We implore you to break free. Come, rediscover yourself.
Location: Mcleodganj, Himachal Pradesh (Dharamkot, Bhagsu, Naddi, Mcleodganj, Triund)
Trip Duration: 8 nights - 9 days
Batches:
20th (Sat) - 28th (Sun) Apr
18th (Sat) - 26th (Sun) May
8th (Sat) - 16th (Sun) June
Highlights/trip overview:
Visit Dalai Lama monastery
Visit the Tibet Museum
Forest walk to Naddi river
Camping at Triund
Hike to Triund snow line

For further inquiries:
Whatsapp/call: 74000 54 929 or 75887 11 564
Day 1: Since everybody will have their own stuff to sort out before they disappear for more than a week, we meet directly at Delhi; 05:00 pm at Majnu Ka Tila bus stop to be precise. (We can guide you with travel assistance to Delhi and back) From here, we board a direct bus to McLeod Ganj saying goodbye to our city lives.
Day 2: We reach McLeod Ganj early in the morning. Our home-stay is located in Dharamkot, a picturesque hill town which is just a 10 min cab ride away from us with spectacular views of the entire valley. After breakfast at McLeod Ganj, we head to H. H. Dalai Lama Temple, Namgyal Monastery, and the Tibet Museum. We will also visit the St. Johns in the Wilderness Church and then sample some local cuisine for dinner.
Day 3: A good nights rest and a heavy breakfast later, we will head to Naddi, a tiny, peaceful village nestled amongst the pine-covered mountains and vibrant yellow mustard fields. We'll begin our first hike toward the pristine Naddi River where well spend our day lazing next to the river and exploring the valley. Dinner will be back at McLeod Ganj, a post which you'll be free to explore the night-life of the town.
Day 4: Aaah! The big day! We'll trek to Triund, one of the highest snow-capped peaks of the Dhauladhar mountain range. After an early breakfast, we'll head to Galudev Temple. We'll make our way to Triund, which is 2,850 meters (9,350 ft) above sea level. It is a day-long hike but the serene mountainous landscape, rare wildlife and a trail dotted with magical little cafés with breathtaking views will keep you going. At night well camp in tents facing the majestic snow-clad mountain range.
Day 5: After experiencing an unforgettable sunrise, well have breakfast and trek right up to the snow line. Be warned, we take our snowball fights very seriously. Small icy streams and glacial waterfalls are a common sight on this trail. Another night of camping, music and good food is what lies ahead of you this day.
Day 6: After breakfast we say goodbye to Triund and start our descent, reaching our hotel in Dharamkot by afternoon. The day is yours to rest those muscles you never knew you had. In the evening well stroll around the quiet hillside of Dharamkot before we meet for dinner later. You can check out some of the popular cafes in the area which have live acts, music, jam sessions and workshops happening every other night.
Day 7: Sleep in late today for you deserve it. Spend the morning exploring Bhagsunag waterfall or gorging on some Bhagsu cake. Late afternoon we meet and make our way towards Sunset cafe. Trust us, there's no better place to witness a sunset in this valley from. The evening can be spent shopping or wandering around the lanes of the McLeod market.
Day 8: After breakfast and check out we'll make our final shopping calls at McLeod Ganj. Post lunch we head to Delhi by a semi-sleeper AC bus.
Day 9: We'll reach Majnu Ka Tila bus stop early morning. Trip ends. Say goodbye to the hills and hello to nostalgia for the next few months.

Bus fares to and from Delhi and McleodGanj for semi-sleeper AC buses
Accommodation in cozy, rustic and comfortable home stays with decent amenities on a double or triple sharing basis
Accommodation in good quality tents and sleeping bags while camping at Triund
Private internal transport (taxis) through the trip
Two meals a day i.e. breakfast and dinner
All activities as per itinerary
Visits to places as per itinerary
Basic medical and first-aid kit
All permits, tolls and parking charges
Travel insurance
Experienced local guides
Experienced Vagabond representatives
Vagabond Merchandise
Rooms will be on a double OR triple sharing basis with washrooms attached
The home-stays will have running hot water facility
These are home-stays and not hotels. There will be no room service
Vagabond will provide 2 meals a day
We will take care of breakfast and lunch/dinner every day
For our meals together, we will try out new cafes every day. We will a lot you a budget and you can choose to eat any item off the menu
The cuisines will be shuffling between Indian, Israeli, Continental and Tibetan. You can try any of these cuisines at the restaurants were visiting
We urge you to go explore the various cuisines that Mcleodganj has to offer
We will be traveling from Delhi to Mcleodganj and back in AC semi-sleeper Volvo buses
We will transit within Mcleodganj by taxis
Sturdy shoes for trekking (well-fitting, neither loose nor tight)
An extra smaller backpack for day outings (college bag types)
Water bottle (try avoiding buying mineral water bottles to reduce plastic waste)
Toiletries, Torch, Lip-balm, Sunscreen, Sunglasses, Swiss knife
Personal Medication (Asthma, Allergen medication etc.)
Slippers/flip-flops
Rainwear, Rain cover for bags (VERY IMPORTANT during monsoons)
Binoculars, Camera (optional)
Snow-gloves (optional but very useful to avoid numb hands in a snowball fight)
Crepe-bandage (each person should have 1 roll each)
Warm clothes (Temperatures drop really low toward the end of the year)
-In Delhi, we will meet at Majnu Ka Tila by 5 pm. We will assemble near the Gurudwara. Please do not be late.
-On your return journey from Delhi, please book your train or flights post 1 pm (to be on the safer side in case of any delays)
-Despite this being a backpacking trip, we will be running on a fixed schedule. Punctuality will be appreciated.
-McLeod Ganj and Dharamkot are home to people around the world from different cultures. Please honor the local cultures and do not be disrespectful.
-This is not a leisurely trip. Please be prepared for a good amount of walking up and down hills and hilly terrain.
-Carrying rainwear is very important if the trip is between June-Sept. Take all necessary precautions to keep yourself and your belongings dry.
-While we're moving in groups to various places, try and stick to the group and not wander off.
-The trip schedule is subject to change. Day of visits to the mentioned places could be shifted back and forth.
-While booking your transport to Delhi, please try and book refundable tickets wherever possible (especially flights)
-In the scenario that the trip gets canceled, you will be refunded the entire trip amount.
1) What region of north India are we traveling to?
-We're traveling from Delhi to Mcleodganj which is a suburb of Dharamshala in the Kangra district of Himachal Pradesh.

2) What altitude would we be traveling to?
-Mcleodganj is at an altitude of approximately 6,830 ft (2,082 m) while our campsite at Triund is at 9,350 ft (2,850 m)

3) What will the temperature be like while we're there?
-Temperatures rise to a maximum of 30°C during the day and can drop to a minimum of 20°C during the night (and 5°C at Triund campsite)

4) Is there mobile connectivity in Mcleodganj?
-Other than our trek to Triund, you will have network and internet for the rest of the trip

5) Are there any ATMs where we're traveling?
-There are a couple of ATMs at Mcleodganj market, however, carry liquid cash at all times.

6) Can I smoke/drink on this trip?
-We at Vagabond do not refrain our participants from smoking or drinking on our backpacking trips. However, there are times you will be disallowed to do so (monasteries, treks, sacred spaces etc). Indulge in these activities very responsibly.

7) What will the group size be?
-We will be a maximum of 20 travelers including 2 Vagabond representatives.

8) Is there any age limit to join this trip?
-No, there is no age limit to join this trip. However, based on our previous experiences, the age group of travelers is usually between 18-30.

9) Can I join this expedition solo?
-Yes, of course, you can! We have a good number of solo travelers on almost every Vagabond experience.

10) How physically fit do I need to be to join this trip?
-This trip doesn't have a very high physical requirement. You need to be able to walk long distances on flat plains and be able to do a day trek too. Those who have a low tolerance of cold should be prepared with temperature appropriate clothing.

11) Are there doctors/hospitals in Mcleodganj?
-Mcleodganj market has a doctors dispensary which is at a convenient distance from our homestay
In case of cancellations 1 month prior to the trip, Rs 4,000 will be deducted.
In case of cancellations 15 days prior to the trip, Rs 8,000 will be deducted.
In case of cancellations 1 week prior to the trip, Rs 10,000 will be deducted.
In case of cancellations within 1 week of the trip, Rs 12,000 will be deducted.
In case of cancellations on the day of departure, no refund shall be admissible.
Venue
Majnu ka Tilla
Majnu ka Tila near Indian Oil Petrol Pump, Block H, Majnu Ka Tilla, Timarpur, Delhi, 110054