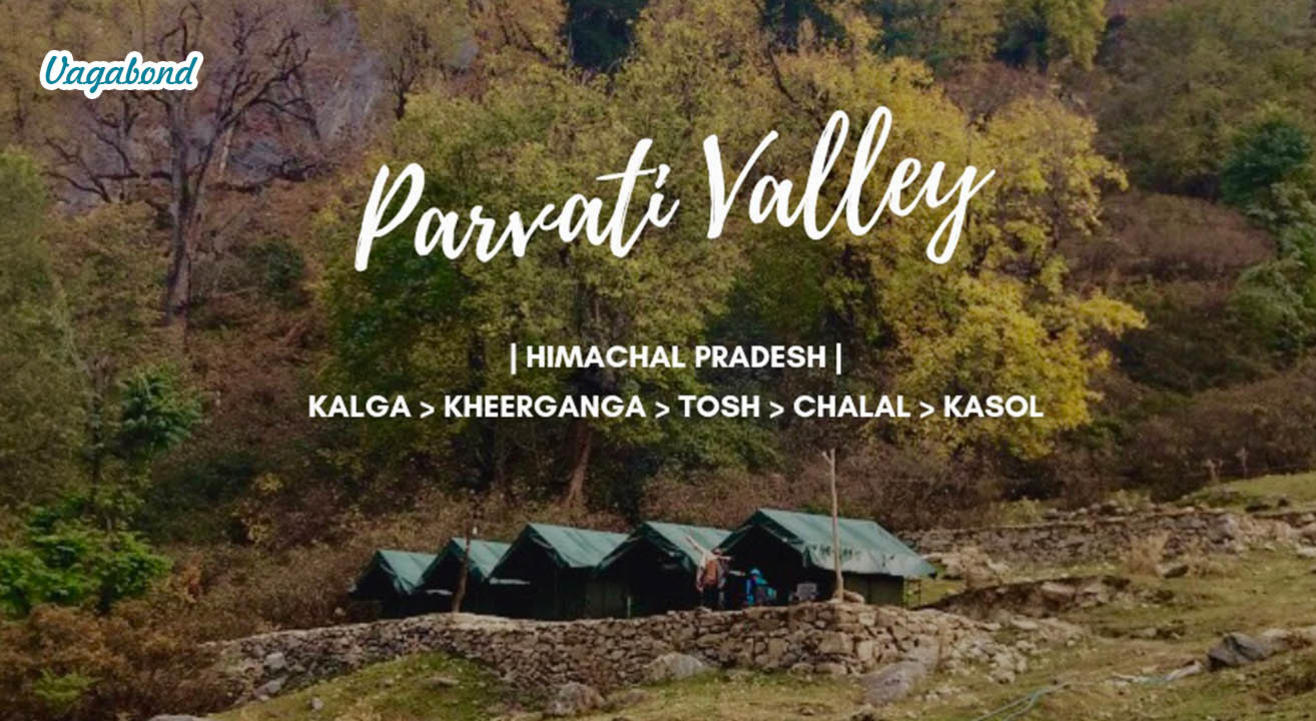 Explore
9 Days- Parvati Valley, Himachal Pradesh
Kasol Hills, Parvati Valley
About
Welcome to Back-Pack-Go!
The mountains have always been a great getaway for many travelers. But how often do you travel to the mountains, climb it, and sit in a natural hot water spring with a view of the glorious snow-capped Himalayas? How often do you live in a local village in the middle of the mountains, sipping on your tea while staring at the gigantic Himalayas through your window pane? We know your answer. This trip is gonna have it all. Don't think twice and pack those bags. We're going to the hills.
Location: Parvati Valley, Himachal Pradesh (Kalga, Pulga, Kheerganga, Kasol, Chalal)
Trip Duration: 8 nights - 9 days
Batches:
4th (Sat) - 12th (Sun) May
1st (Sat) - 9th (Sun) June
Highlights/trip overview:
Hike to Kheerganga
Natural hot water springs
Overnight camping in tents at Kheerganga
Visit Tosh, Kalga, Chalal
Camping beside the Parvati river
For further inquiries:
Whatsapp/call: 74000 54 929 or 75887 11 564
Day 1: Our journey begins in the capital (We can guide you with travel assistance to Delhi & back). Assemble at the Kashmere Gate bus stop at 5:00 pm. We board our bus to Bhuntar. Goodbye traffic, goodbye families, and probably (hopefully), goodbye cellphone reception for a week.
Day 2: We will reach Bhuntar early next morning from where we shall commute to the picturesque Kalga, a hilltop village nestled in the arms of a range of snow-capped mountains. Settle into our homestay. We'll take the rest of the day to explore the beautiful woodside hamlet.
Day 3: We are going into the misty mountainside forest! Nothing we say can describe the pristine untouched pinewood wonderland. If the moment suggests, a campfire will sort the scene. A visit to the neighboring villages of Kalga and Tosh is part of our agenda. We'll dine in one of the little cafés in the village.
Day 4: Today's the big day! We trek to the glorious hot springs of Kheerganga. We will be crossing tiny streams, cafes and grazing lands of sheep. The trek will test you. We should get there before sunset. After being assigned our tents, we can take a dip in the natural hot springs. Mind you, the switch in temperature can make you feel dizzy. But the experience of lazing in a pool of hot water while staring at the Himalayas is quite surreal. Stay the night on the top of the world.
Day 5: After breakfast, we trek down from Kheerganga and make our way back to our rooms in Pulga. Spend the evening resting those sore muscles. Trust us, you're gonna need that rest.
Day 6: After breakfast, we say buh-bye to Pulga and head to the bustle of Kasol by afternoon. Check into our swiss army tents on the banks of the Parvati river. Explore Katagla and head for dinner to K-Town.
Day 7: In Kasol everything can be explored on foot. Chalal; a small village across the river and Manikaran; yet another hot spring (say what?!) in a gurudwara are the nearby attractions. Kasol is also a great place for getting a tattoo and yoga classes. The Parvati river runs right across Kasol. If you have patience, we can go down to the river and skip some stones. Well find a nice cafe and have dinner together.
Day 8: This is our last day in Himachal. You will have the day at leisure. Go shopping for those jholas, harem pants, and jewelry that you've always wanted to buy from Himachal. We board our bus for Bhuntar in the afternoon. Take an overnight bus back to New Delhi. Make the most of this night since we might not be seeing each other again. (aww damn!)
Day 9: Reach Delhi early in the morning by 11 am. Say buh-bye to your new friends and return to everyday life in the city.
Bus fares to and from Delhi and Bhuntar for semi-sleeper AC buses
Accommodation in cozy, rustic and comfortable homestays at Kalga with decent amenities on a double or triple sharing basis
Accommodation in tents or rooms at Kheerganga
Accommodation in swiss army tents with comfortable beds and bedding at a riverside campsite at Katagla, Kasol
Private internal transport (jeeps) in Parvati Valley
Two meals a day i.e. breakfast and dinner
All activities as per itinerary
Visits to places as per itinerary
Basic medical and first-aid kit
All permits, tolls and parking charges
Travel insurance
Experienced local guide
Experienced Vagabond represent
Vagabond Merchandise
Rooms will be on a double OR triple sharing basis
There will be common washrooms at the home stays
These are home-stays and not hotels. There will be no room service
Vagabond will provide 2 meals a day
We will take care of breakfast and lunch/dinner every day
For our meals, we will try out new cafes. We will allow you a budget and you can choose to eat any item off the menu
The cuisines will be shuffling between Indian, Israeli, Continental and Tibetan. You can try any of these cuisines at the cafes we visit
We urge you to go explore the various cuisines that Parvati Valley has to offer
We will be traveling from Delhi to Parvati Valley and back in AC semi-sleeper Volvo buses
We will transit around within Parvati Valley by jeeps
Sturdy shoes for trekking (well-fitting, neither loose nor tight)
An extra smaller backpack for day outings (college bag types)
Water bottle (try avoiding buying mineral water bottles to reduce plastic waste)
Toiletries, Torch, Lip-balm, Sunscreen, Sunglasses.
Personal Medication (Asthma, allergen medication etc.)
Slippers/flip-flops
Rainwear, Rain cover for bags (VERY IMPORTANT if you're traveling during monsoons)
Binoculars, Camera (optional)
Sufficient liquid cash
Crepe-bandage (each person should have 1 roll each)
Warm clothes (Temperatures drop really low toward the end of the year)
In Delhi, we will meet at Kashmere Gate at 5:00 pm. Please do not be late.
On your return journey from Delhi, please book your train or flights post 1 pm (to be on the safer side in case of any delays)
Despite this being a backpacking trip, we will be running on a fixed schedule. Punctuality will be appreciated.
All of Parvati Valley is home to people across the world from different cultures. Please honor the local cultures and do not be disrespectful.
This is a backpacking trip. Please be prepared for a good amount of walking up and down hills and hilly terrain.
Carry enough liquid cash. There are barely any ATMs at Parvati Valley. The ones that are there, don't work at times.
Carrying a backpack/haversack is essential. Do NOT carry trolley bags. You will find it very difficult to lug them up and down the slopes.
Please carry enough winter wear like thermals, beanies, socks, gloves, and jackets. It is advisable to carry a few pieces of temperature-appropriate winter-wear as opposed to several layers of regular clothing. While we're moving in groups to various places, try and stick to the group and not wander off.
Carrying rainwear is very important if the trip is between June-Sept. Take all necessary precautions to keep yourself and your belongings dry.
The trip schedule is subject to change. Day of visits to the mentioned places could be shifted back and forth.
While booking your transport to Delhi, please try and book refundable tickets wherever possible (especially flights)
In the scenario that the trip gets canceled, you will be refunded the entire trip amount.
1) What region of north India are we traveling to?
-We're traveling from Delhi to Bhuntar > Pulga which is a part of Parvati Valley in the Kullu district of Himachal Pradesh.
2) What altitude would we be traveling to?
-Pulga is at an altitude of approximately 9,498 ft (2,895 m) while our campsite at Kheerganga is at 9,711 ft (2,960 m)

3) What will the temperature be like while we're there?
-Temperatures rise to a maximum of 30°C during the day and can drop to a minimum of 15°C during the night

4) Is there mobile connectivity in Parvati Valley?
-Other than our stay in Pulga & Kheerganga, you will have network and internet connection at Kasol & Katagla.

5) Are there any ATMs where we're traveling?
-There are a couple of ATMs at Kasol market, however, carry liquid cash at all times.

6) Can I smoke/drink on this trip?
-We at Vagabond do not refrain our participants from smoking or drinking on our backpacking trips. However, there are times you will be disallowed to do so (monasteries, treks, sacred spaces etc). Indulge in these activities very responsibly.

7) What will the group size be?
-We will be a maximum of 20 travelers including 2 Vagabond representatives.

8) Is there any age limit to join this trip?
-No, there is no age limit to join this trip. However, based on our previous experiences, the age group of travelers is usually between 18-30.

9) Can I join this expedition solo?
-Yes, of course, you can! We have a good number of solo travelers on almost every Vagabond experience.

10) How physically fit do I need to be to join this trip?
-This trip doesn't have a very high physical requirement. You need to be able to walk long distances on flat plains and be able to do a day trek too. Those who have a low tolerance of cold should be prepared with temperature appropriate clothing.

12) Are there doctors/hospitals in Parvati Valley?
-Kasol market has a doctors dispensary which is at a convenient distance from our homestay
Venue
Kasol Hills, Parvati Valley
Kasol Hills, Parvati Valley
GET DIRECTIONS