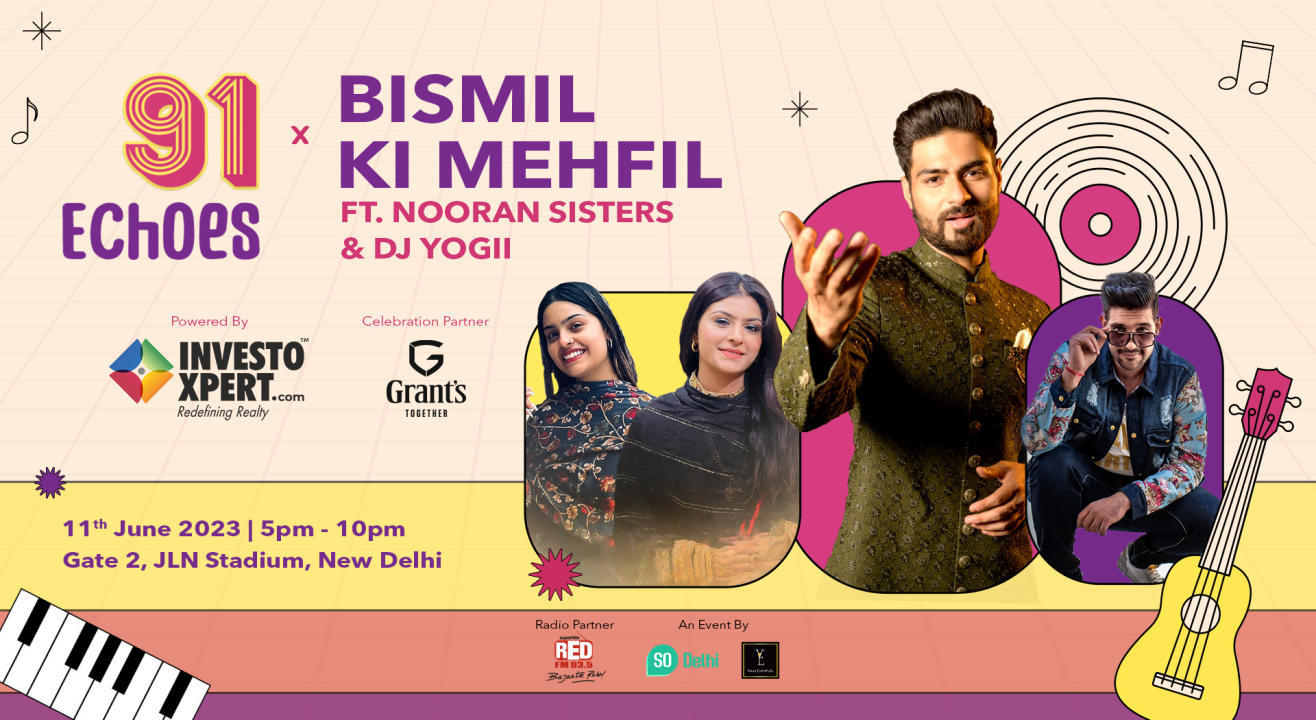 91 Echoes with Bismil Ki Mehfil ft. Nooran Sisters and DJ Yogii
JLN Stadium Gate No. 2, Delhi
Event Guide
For Age(s)
Family Friendly
Invite your friends
and enjoy a shared experience
91 Echoes with Bismil Ki Mehfil ft. Nooran Sisters and DJ Yogii
JLN Stadium Gate No. 2, Delhi
Event Guide
For Age(s)
Family Friendly
Invite your friends
and enjoy a shared experience
Event Guide
For Age(s)
Family Friendly
Invite your friends
and enjoy a shared experience
Join us for an extraordinary musical experience as the creators of Horn OK Please Food Festival & Boho Bazaar Flea Market present their latest event, 91 Echoes. This unique concert brings together a handpicked lineup of talented homegrown artists, promising an intimate yet electrifying atmosphere for audiences nationwide.
In its inaugural edition, prepare yourself for a truly exceptional sufi sundowner featuring the highly acclaimed Bismil Ki Mehfil. After completing a wildly successful 10-city tour across North America, Bismil returns home to captivate audiences once again with a heartfelt and soul-stirring performance. The renowned JLN Stadium in New Delhi sets the stage for this unforgettable evening.
Kicking off the event with a burst of energy and passion will be none other than the iconic Nooran sisters, famous for their unforgettable rendition of "Pataka Guddi." Their powerful voices and mesmerizing stage presence will leave an indelible mark on this musical journey.
To conclude the evening on a high note, we have the privilege of hosting DJ Yogii, one of India's most influential musicians. Prepare to dance the night away as he spins the craziest and wildest Bollywood remixes, keeping the energy levels soaring till the very end.
Indulge your taste buds with a wide array of mouth-watering food options, complemented by an excellent selection of beer and cocktails. For those seeking an elevated experience, exclusive VIP tables can be booked in advance to ensure an unforgettable night.
Mark your calendars for this soulful and enchanting concert that will leave you craving for more. Come and be a part of 91 Echoes, where music and emotions intertwine seamlessly.
This event is co-produced by So Delhi and Yours Eventfully.
To book exclusive VVIP tables, please contact : +919911042999
VVIP Lounge C Managed By Ministry of Sound, Noida. To Book your tables, call +918800231112
Listen to Nooran Sisters!
JLN Stadium Gate No. 2
Jawaharlal Nehru Stadium, Pragati Vihar, New Delhi, Delhi 110003
GET DIRECTIONS
91 Echoes with Bismil Ki Mehfil ft. Nooran Sisters and DJ Yogii
JLN Stadium Gate No. 2, Delhi
Event Guide
For Age(s)
Family Friendly
Invite your friends
and enjoy a shared experience