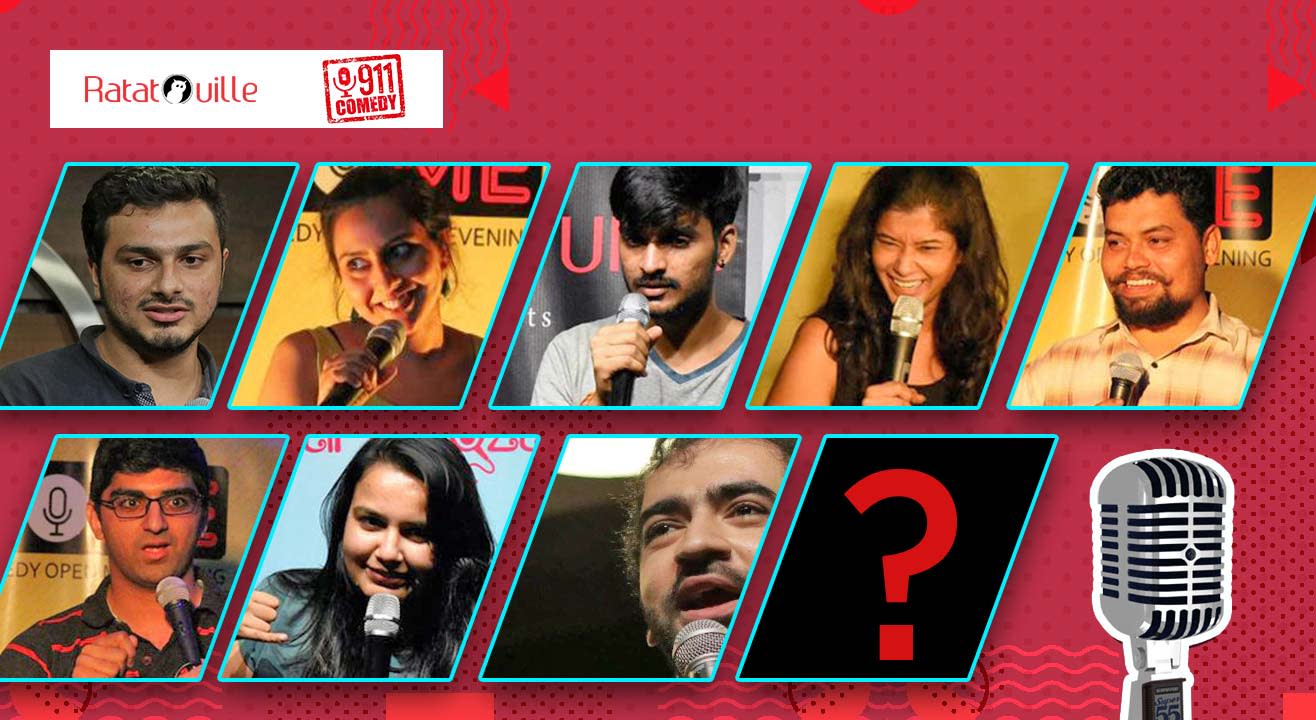 Comedy
911 COME - Comedy Open Mic Event
About
911 comedy is a show where 9 comedians get 11 minutes each, They have been doing comedy for a while and are already sort of famous. Come be part of their growth to success. Best way to spend your evening!
Host: Navin Norohna
Comics
Himanshu Sharma
Raunaq Rajani
Unnati Marfatia
Punit pania
Mohammad hussain
Agrima Joshua
Jeeya Sethi
Surprise Act
Artist info:
Navin Noronha
Navin Noronha is an amply likable guy who tries very hard to be a badass. To live by his motto of 'Live Fast, Die Poor', Navin has taken up writing as a profession. He also does stand-up because it fits so well into the underpaid artist routine. He is pretty good at it though, so if you find yourself cracking up, it may not be entirely incidental. Being a Bombay boy, Navin's material covers wide ground from liberalism and pigeons to evil bosses and Jesus. And did we mention that he is an engineer by qualification? Well, who isn't?
Himanshu Sharma
Himnshu is a winner of COME and an upcoming stand-up comedian.
Raunaq Rajani
Raunaq Rajani is a known comic artist. He has done many stand-up shows. A few to name are Open Mic + New Stuff, Best in Stand-up with Rahul Subramanian, Raunaq Rajani, Vinay Sharma and Andy Reghu, The Leftovers: Sindhi Quota, Best In Stand-Up with Tushar Singh, A Culture Shoq Stand-Up Guys Show With Raunaq Rajani, Navin Noronha and Vinay Sharma, A Culture Shoq Stand-Up Guys Show with Raunaq Rajani, Abbas Momin and Naveen Polishetty, Culture shoq's 18+ College Humour, Comedy on the Big Mic with Raunaq Rajani and Best in Stand-Up with Raunaq Rajani.
Unnati Marfatia
Unnati is a psychologist by day and an up and coming comic by night.
Punit Pania
Punit Pania is the single man behind Chalta Hai Comedy - an NGO without foreign funding. He used to have a job, kinda. But he is now coming out of the closet as an artist. Having produced over 200 shows over the past year including several sold out concept shows, Punit is making himself believe that comedy is the answer to a midlife crisis that is waiting to happen. Punit describes himself as a marketing professional by day, a struggling writer by night and somewhat of a comedian on weekends. Having travelled across 20 states of our great country, Punit peddles suburban philosophy disguised as observational comedy. Fluent in 5 languages, Punit's ethnic background is a matter of debate that may be settled during his audience interactions. He denies having low self-esteem issues and thinks he is pretty good at writing artist bios in the third person. Punit organizes and hosts all of Chalta Hai's shows across Mumbai, Pune, Surat and Baroda and has also performed in Kolkata, Chennai, Bangalore, Vizag and Goa giving him considerable experience in entertaining diverse crowds at a variety of venues and in different formats.
Mohammad Hussain
Mohammad Hussain in an upcoming stand up comedian and the winner of Ratattouille's GrandSlam.
Agrima Joshua
Agrima Joshua is a stand up comedian
Jeeya Sethi
Jeeya believes if you are fat once (by fat she means FAAAAT) you are fat forever, mentally you never become thin even after losing all the weight. An event manager turned stand-up comedian, improviser and actor, she has made entertainment her new life's mission since nothing else is going for her!
Surprise Act
Venue
Menchie's Frozen Yogurt
Shyam vihar Near telephone exchange Khar, Khar Pali Rd, Khar West, Mumbai, Maharashtra 400052, India