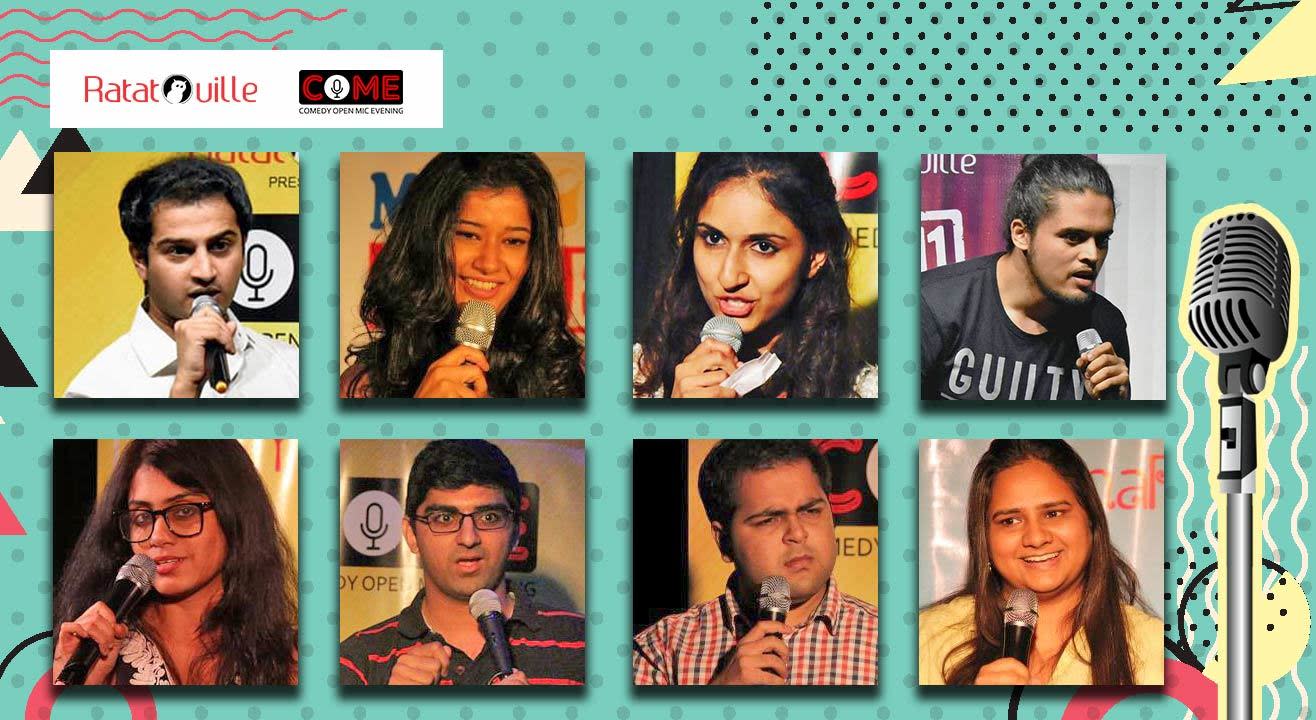 Menchie's Frozen Yogurt, Mumbai
Step out and enjoy this event
Invite your friends
and enjoy a shared experience
Menchie's Frozen Yogurt, Mumbai
Step out and enjoy this event
Invite your friends
and enjoy a shared experience
Invite your friends
and enjoy a shared experience
911 comedy is a show where 9 comedians get 11 minutes each, They have been doing comedy for a while and are already sort of famous. Come be part of their growth to success. Best way to spend your evening.
Artists Info
Jeeya Sethi
Jeeya believes if you are fat once (by fat she means FAAAAT) you are fat forever, mentally you never become thin even after losing all the weight. An event manager turned stand-up comedian, improviser and actor, she has made entertainment her new life's mission since nothing else is going for her!
Prashasti Singh
Prashasti Singh is yet another IIM graduate searching for meaning outside academic excellence and material achievement. She is one-tenth of the choir group 'The Etceteras' and has already won several stand-up competitions on the Mumbai circuit. Between stand-up and Improv she has found space for expressing her small-town sensibilities amidst big town hustle. In the end, it may just turn out to be another Amethi to Andheri story but at least we had some good laughs along the way.
Kaavya bector
Actress Kaavya Bector is best known for her work in the play The Guest Room. But it's her work with the improv, stand-up and support group The Etcetras that keeps her busy these days. She spends her days writing, her evenings performing on stage and her nights wondering if we ever reached utopia, would we even know it?
Raunaq Rajani
Raunaq Rajani is a known comic artist. He has done many stand-up shows. A few to name are Open Mic + New Stuff, Best in Stand-up with Rahul Subramanian, Raunaq Rajani, Vinay Sharma and Andy Reghu, The Leftovers: Sindhi Quota, Best In Stand-Up with Tushar Singh, A Culture Shoq Stand-Up Guys Show With Raunaq Rajani, Navin Noronha and Vinay Sharma, A Culture Shoq Stand-Up Guys Show with Raunaq Rajani, Abbas Momin and Naveen Polishetty, Culture shoq's 18+ College Humour, Comedy on the Big Mic with Raunaq Rajani and Best in Stand-Up with Raunaq Rajani.
Saurav Mehta
Saurav Mehta, is a popular Stand-up comedian and has performed at many events like My Baby Thinks I'm Funny with Sorabh Pant.
Shagun Gaur
Shagun Gaur is a stand-up comedian.
Neil Balthazar
When Neil told his mother that he had decided to try his hand at stand-up comedy, she said: 'Are you serious?'.
That thought launched him into an existential crisis - what if he was? That'd make him a terrible comic. He'd like your opinion on the matter
Jackie J Thakker
Jackie Thakker is an upcoming standup comedian and has featured in several shows.
& Surprise Act
Menchie's Frozen Yogurt
Shyam vihar Near telephone exchange Khar, Khar Pali Rd, Khar West, Mumbai, Maharashtra 400052, India
GET DIRECTIONS
Menchie's Frozen Yogurt, Mumbai
Step out and enjoy this event
Invite your friends
and enjoy a shared experience