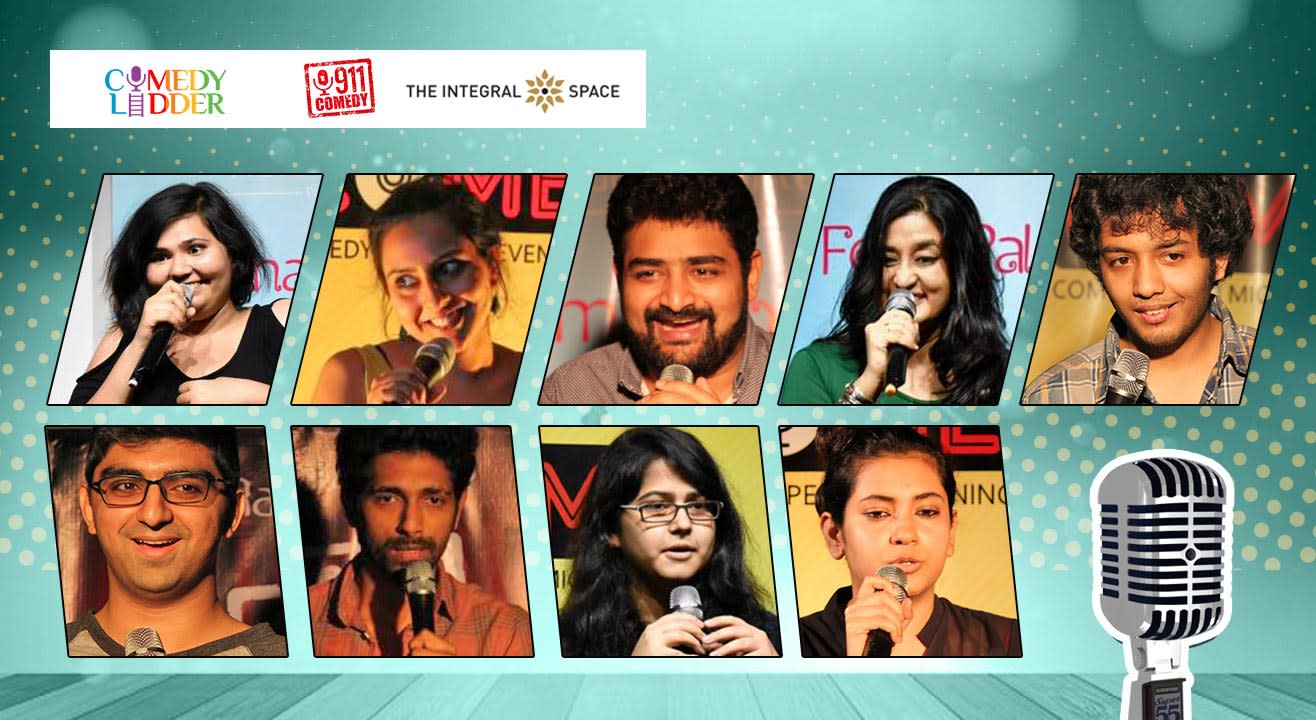 Comedy
911 Comedy with Host: Aayushi Jagad
The Integral Space, Lower Parel
About
911 Comedy, brought to you by Comedy Ladder, is a comedy show where 9 comedians gets 11 minutes each to drop their comic bombs on you. Don't worry; it won't be as disastrous as you might want to think, as these comics have been working their way up the ladder every time Comedy Ladder has hosted their well known COME. (Comedy Open Mic Evening)
Come be a part of this hysterical gathering at the Integral Space, as these 9 comics try to launch an attack on your stomach and cheek bones at this laughter filled night!
Aayushi Jagad
Comic or at least trying to be one - also writes jokes. Tries not be horrible on TLC's Queens of Comedy.

Sumaira Shaikh
Sumaira Shaikh writes for AIB but does stand-up for herself. Very much for herself in fact as she leaves out all act-outs, impersonations and histrionics in her act to cut straight to the bone.

Kajol Srinivasan
Kajol is an upcoming stand-up comedian who has done many featured shows as well as open mic nights. With a burning ambition, she hopes to climb the comic ladder and test her laughter inducing skills with other reputed comics.

Raunaq Rajani
Raunaq Rajani is a known comic artist. He has done many stand-up shows. A few to name are Open Mic + New Stuff, Best in Stand-up with Rahul Subramanian, Raunaq Rajani, Vinay Sharma and Andy Reghu, The Leftovers: Sindhi Quota, Best In Stand-Up with Tushar Singh, A Culture Shoq Stand-Up Guys Show With Raunaq Rajani, etc.

Shreeja
Shreeja is an upcoming standup comedian that believes in entertaining the world, one joke at a time.

Shaurya Tyagi
Shaurya Tyagi is a stage actor and a freelance writer. Like the majority of the unambitious Indian population, he too has an MBA degree, which may not promise him a job but would definitely get him a good marriage proposal.

Agrima Joshua
Agrima Joshua is a stand up comedian. Although much isn't known about her, she is sure to surprise you with her style of comedy.

Masoom Rajwani
Masoom Rajwani is new to the comedy scene in Mumbai and is looking to get better with every performance.

Kabir Chandra
Sales head for one of the country's leading music labels, Kabir also has been a radio jockey in his past avatars and responsible for being and honing some of India's very best on-air talent. He is now among the most emerging voices in stand-up comedy in the city and a seasoned improvizer.
Comedy Ladder is the mothership to everything comedy! They organize events such as COME, (Comedy Open Mic Evening) FemaPalooza and Project 420.
Located in Lower Parel, The Integral Space is an ecosystem of integration, creation and well being. They believe in holistic health, wellness and self-healing with a spectrum of classes, workshops and events that fits the needs of body and mind.
Venue
The Integral Space, Lower Parel
The Integral Space, Opp Palladium Mall High Street Phoenix, 14 Janata Estate,, Senapati Bapat Marg, Lower Parel, Mumbai, Maharashtra 400013