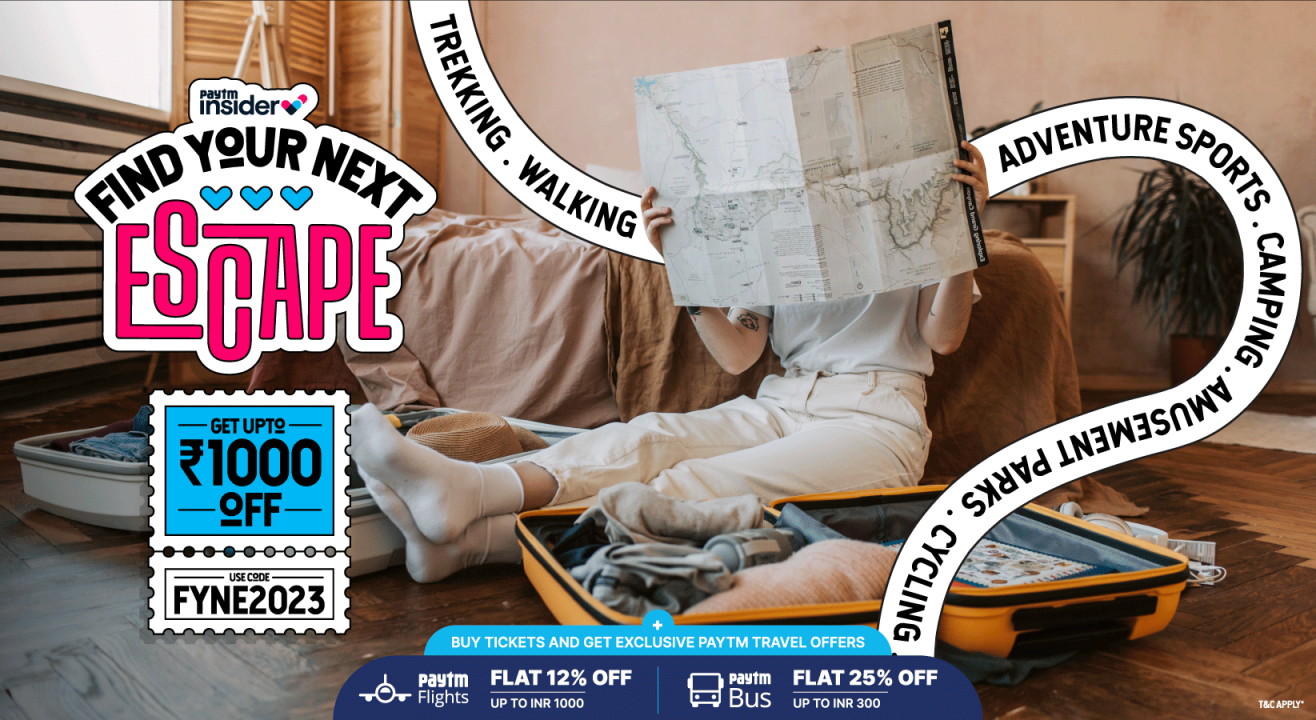 Thrilling Outdoor Activities: Find Your Next Escape!
Your time on this planet is limited but your quest to explore is not, so; jump off, dive in & explore some of the best experiences for your next getaway!
Invite your friends
and enjoy a shared experience
With the internet flushed with some of the most spellbinding travel events & leisure content, we know you are exploring holidays! Look no further, cause we bring to you the most adventurous & scenic expeditions for 'Your Next Escape'. 😉
Take the much-deserved break!
Isn't it about time we rewarded ourselves with some downtime? Everyone needs to escape the daily grind once in a while and get outdoors. So press pause, recharge, and indulge in some much-needed rejuvenation. Whether you crave thrilling adventures, serene overnight camping spots, invigorating cycling tours, peaceful walking expeditions, or laughter-filled amusement parks, we have the perfect plans to help you unwind and rediscover your zest for life. So, take a step back, breathe in the fresh air while you embark on a getaway.
Use Code FYNE2023 to claim the discount.
Picture this: You're immersed in a thrilling hike to reach the top of a panoramic mountain top and your adrenaline courses through the veins as you conquer new challenges. With activity vacations and adventure tours thriving in India, we've got the best travel adventure plans for you. Prepare to embark on an unforgettable adventure trip in India that will ignite your spirit and leave you craving for more.
Do you ever dream about being atop of a majestic mountain, taking in the beautiful view as you're surrounded by untouched nature? Then gear up for an invincible trekking odyssey, where you'll conquer untamed terrains, ascend to sky-high summits, and immerse yourself in the wonders of pristine nature. From mountain trekking, fort trekking, night treks, one day treks, to trekking in forest, explore these exciting trekking tours.
Unleash Your Summer Camp Spirit
Bask in the warmth of the sun, surrounded by the joyous atmosphere of summer camp. From thrilling activities to unforgettable memories, these camping places will make your summer vacay dreams come alive. From luxury camping, romantic camping to riverside camping, beach camping, forest camping & more, we have the best outdoor camping options for you.
Pedal Through Scenic Routes
Embark on a dynamic cycling tour filled with thrilling events! Experience the exhilaration of night cycling under the city lights, tackle challenging routes on scenic trails, and participate in exciting cycling competitions. Immerse yourself in the local culture, explore hidden gems, and create unforgettable memories with fellow cycling enthusiasts.
Experience the tranquility of walking expeditions, as you uncover hidden treasures and truly connect with the world around you. Unleash your sense of curiosity as you explore ancient streets, breathtaking landscapes, and charming villages with the most experiential walking tours. Whether you want to take a heritage walk in Mumbai, take a fast-paced hike tour, savor local cuisine with a foodie tour or set your own pace with a free walking tour, with these best-in-class walking trips create memories that will last a lifetime.
Joyful Escapades With Thrilling Rides
Let the excitement wash over you as you revel in the vibrant colours, exhilarating rides, and carefree laughter of amusement parks. Gear up to surrender to the symphony of adrenaline as you soar through a whirlwind of twists, turns, and inversions on thrilling rides.
Whether you seek awe-inspiring natural wonders, rich cultural experiences, or a combination of both, these magical experiences promise to leave an indelible mark on your soul. So, pack your bags, open your heart to adventure, and embark on a journey that will captivate your senses and create memories to last a lifetime.

Subscribe to receive our newsletter!
Find the best experiences happening out there in your city or enjoy handpicked content while sitting comfortably at home. Paytm Insider is your go-to place to figure out what to do today!