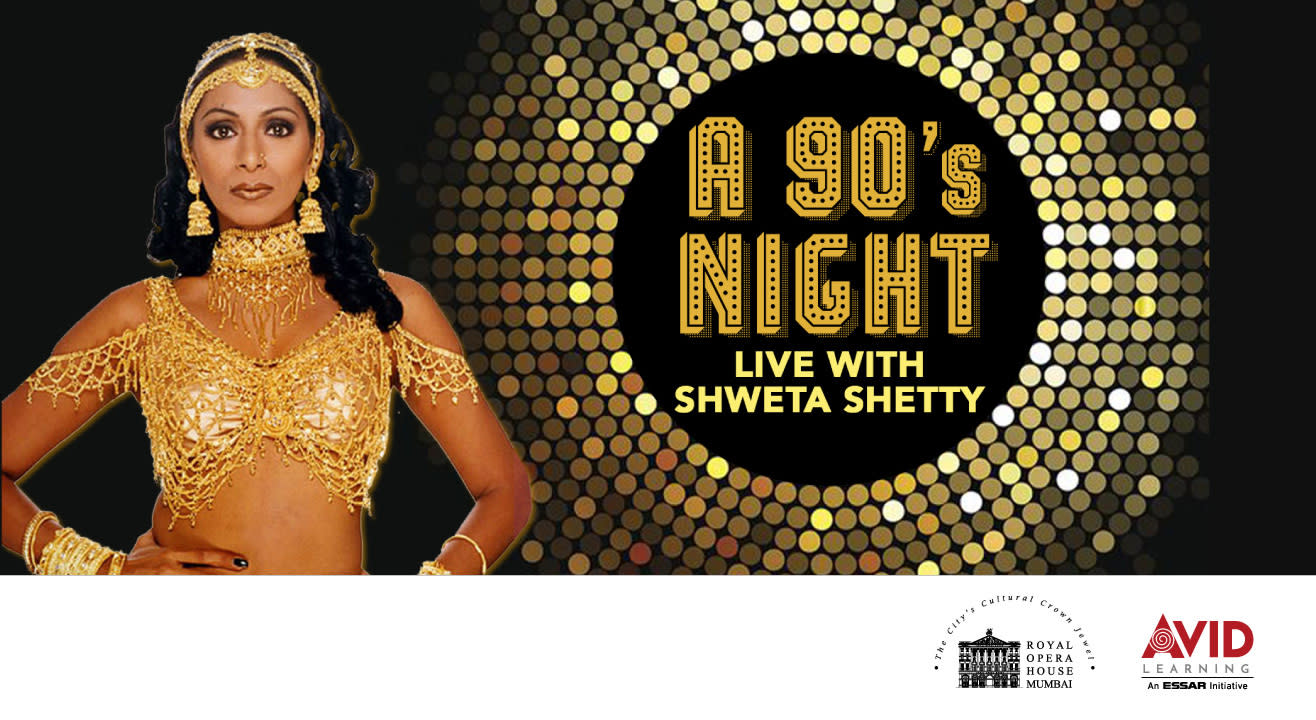 A 90s Night with Shweta Shetty
The Royal Opera House, Mumbai
Step out and enjoy this event
Event Guide
Live Performance
Enjoy a unique experience
Invite your friends
and enjoy a shared experience
A 90s Night with Shweta Shetty
The Royal Opera House, Mumbai
Step out and enjoy this event
Event Guide
Live Performance
Enjoy a unique experience
Invite your friends
and enjoy a shared experience
Event Guide
Live Performance
Enjoy a unique experience
Invite your friends
and enjoy a shared experience
Join us for an exclusive musical performance, which will revive the music of a generation gone by, brought to life with fantastic vocals. This unique concert will feature the ensemble, Singer, Shweta Shetty and her band along with Featured Vocalist, A B Madhav. She will enthrall audiences with renditions of some well-known and popular songs, performed in her own inimitable style.
The talented group will have you to travel back to those simpler times and relive special moments as they throw it back to you, for one night only, live on stage, to celebrate the 1990s.
Do not miss this unique concert that promises to revisit retro rhythms and more!
Shweta Shetty's very first album in 1990 and Hindi Lambada in 1991 released at a time when there were no music channels, no MTV, Channel V, etc. Until 1992 when she was discovered at the Independence Rock concert singing Scorpions 'Still Loving You', which impressed a few A&R managers who were on the look out for some fresh talents for their new record label. She signed the contract the next week and that was the beginning of a wonderful, long and fruitful musical journey. The pop icon of the 90`s for more than a decade went on to sell above 13 million film/private album/compilation copies world-wide. She's now made Hamburg, Germany her second home. Shweta had the right launch pad with Biddu, who´s music she loved, especially Tina Charles´s 'Love to Love' and Karl Douglas´s 'Kung Fu Fighting'. Johnny Joker went on to become the highest selling pop album in 1993 and was in every countdown for more than 25 weeks and made her the darling of the nation. Shweta´s song 'Rukhmani' with A.R. Rahman from the film Roja followed shortly in 1994 creating musical history and is rated as the 10 best soundtracks ever made by the Times Magazine. Her classics like 'Rukhmani Rukhmani', 'Johnny Joker', 'Deewane Tho Deewane Hain' and 'Mangtha Hain Kya' are still remembered. In Europe, Shweta had the great honour of working together with one of the finest voices in the world, Sarah Brightman. She also had the opportunity to work with some very talented names in the international music scene like Frank Peterson, Gregorian and Jam and Spoon.
The Royal Opera House
Mathew Rd, Charni Road East, Opera House, Girgaon, Mumbai, Maharashtra 400004, India
GET DIRECTIONS
A 90s Night with Shweta Shetty
The Royal Opera House, Mumbai
Step out and enjoy this event
Event Guide
Live Performance
Enjoy a unique experience
Invite your friends
and enjoy a shared experience