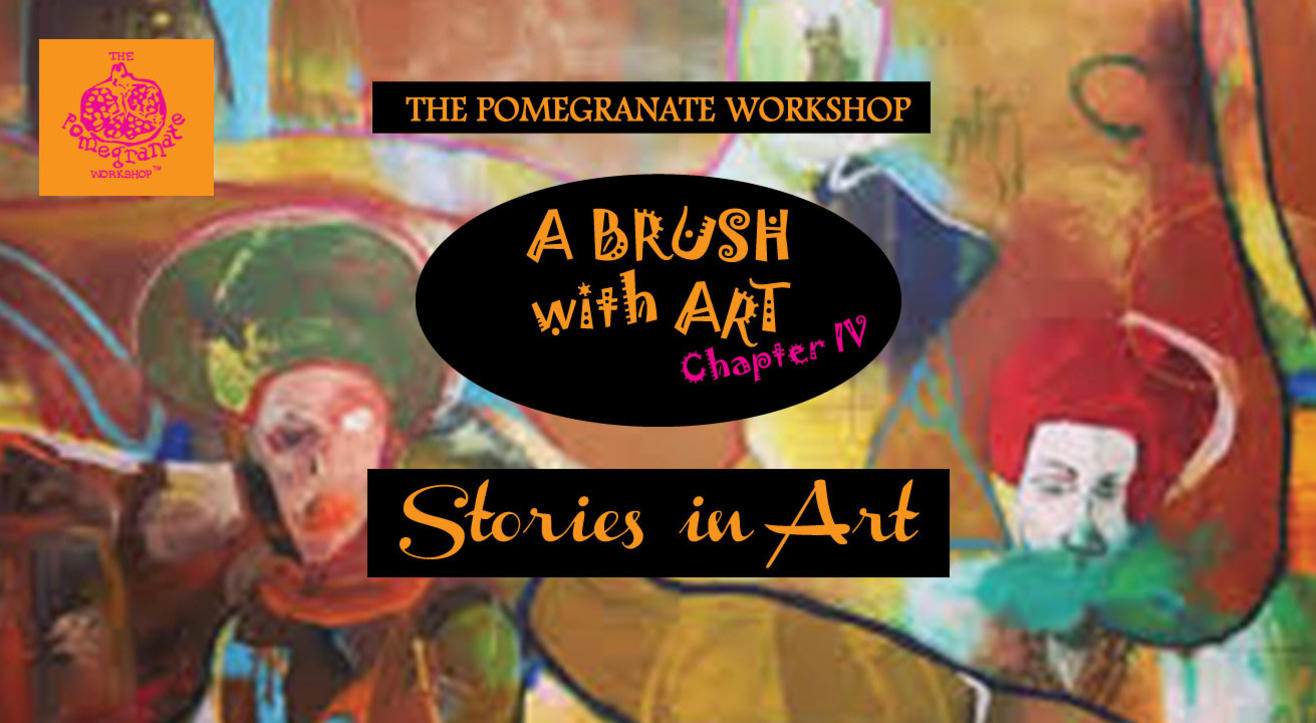 Art
A Brush with Art – Stories in Art!
About
A Brush with Art is a series of individual workshops that engage participants in exploring different art movements and artists, while they create their own unique artworks. Each chapter promises engaging discussion, encourages individual thought and experiential learning!

Stories in Art is a workshop where participants will learn about narrative art. The tradition of narrative art dates back to the early ages of humanities. You've seen the cave man rendering stories of his hunting and celebrations of harvest (in case of Neolithic period). It was not restricted to any community or guild or religion or country. The art was representational and symbolic. Towards the dawn of the linguistic developments in the world, the visuals passed significant messages from all parts of the world - be it clay tablets in the Assyrian civilizations or cave paintings in the case of Buddhism.

As part of this workshop, you will explore how the different Indian art styles form a montage of history and fall under the realm of narrative art. For example, the Buddhist manuscripts from the North East depicted life of Buddha, the Miniatures depicted stories from mythology and the life of royals, folk art like Gond, Warli, Madhubani and Kalighat also depicted mythological tales and life of people, the walls in Ajanta depict the Jatakas and the Patachitra, Phad, Pichwai, and are all modes of art to display various stories.

Participants will dive into the rich history of narrative art in India. Examining the works, the style, tracing the stories and narratives and creating their own visual stories will be key takeaways.

About the Facilitator

This workshop is being conducted by Dr. Manjiri Thakoor. She has been the department head at Rachana Sansad Institute of Fine Arts and Crafts in Mumbai. She has also been a visiting faculty member at J.J School of Arts among other colleges in Mumbai and India. She has also been deputy curator at National Gallery of Modern Art, Mumbai. She has a PhD in Buddhist Sculpture from Mumbai University. She has a wide array of professional experience, some of which includes, being consultant for the Ajanta Caves Exhibition Centre, Aurangabad, an Indo-Japanese government venture, a cultural project. (Entire research on art and sculpture w.r.t. Ajanta from 2006-2010), research associate to the Director, Chattrapati Shivaji Maharaj Vastu Sangrahalaya, formerly known as Prince of Wales Museum (2009-2010), documented the Tata Archives at The National Archives, London, for the Prince of Wales Museum. (Chattrapati Shivaji Maharaj Vastu Sangrahalaya, CSMVS, Mumbai), among several others.
Venue
The Pomegranate Workshop
Gr. Flr, Kalpana Bldg, Plot No. 14, Marubai Mandir Rd, Matunga (East), Near Don Bosco School, Matunga, Mumbai, Maharashtra 400019