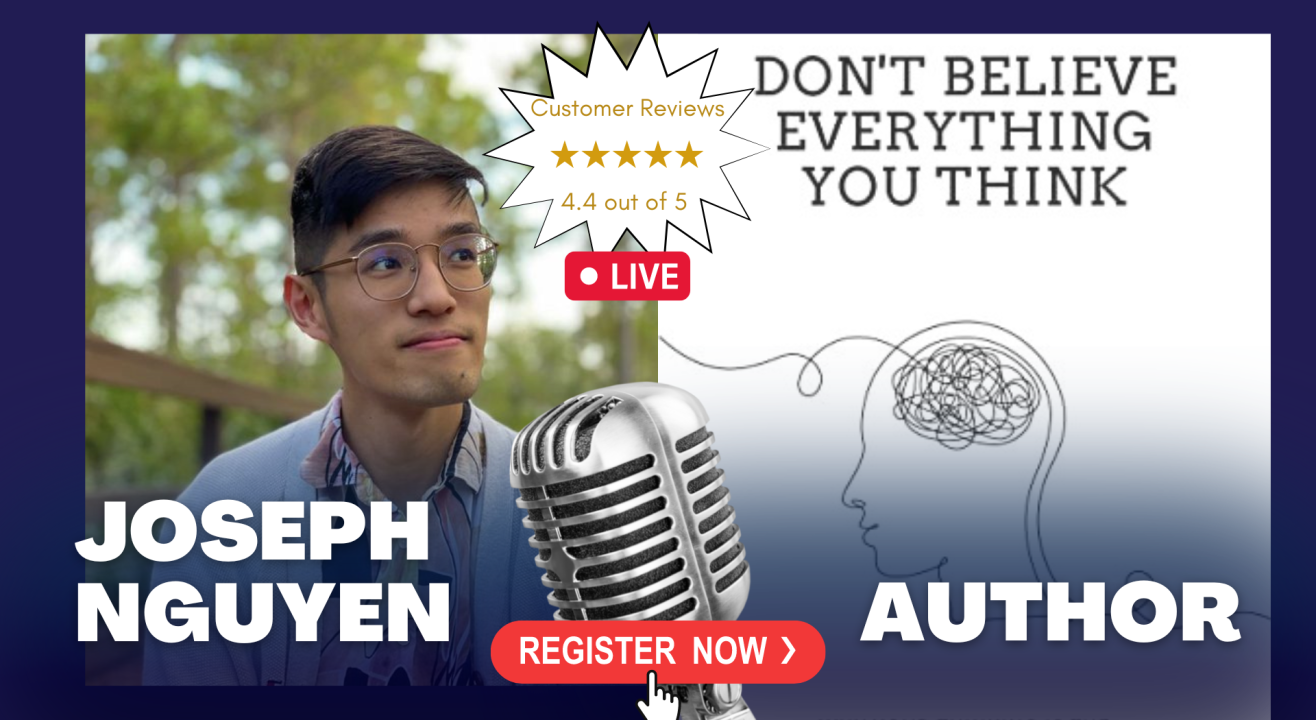 A Candid conversation🗣️ with Joseph Nguyen, best-selling author of "Don't Believe everything you think"
Enjoy this event from your home
Event Guide
Interactive show
Be a part of the show
Invite your friends
and enjoy a shared experience
A Candid conversation🗣️ with Joseph Nguyen, best-selling author of "Don't Believe everything you think"
Enjoy this event from your home
Event Guide
Interactive show
Be a part of the show
Invite your friends
and enjoy a shared experience
Event Guide
Interactive show
Be a part of the show
Invite your friends
and enjoy a shared experience
"Learn how to overcome anxiety, self-doubt & self-sabotage without needing to rely on motivation or willpower."
A Candid conversation🗣️ with Joseph Nguyen, best-selling author of "Don't Believe everything you think"
On Amazon, this book📕 has received 4.4/5 custom reviews⭐: https://www.amazon.in/Dont-Believe-Everything-You-Think-ebook/dp/B09WQ218GR and the readers have found it "brilliant, simple yet subtle and worth reading".
This is our first Livestream🔴💻 with an author talking about mental well-being and happiness😃
Join us for this event, scheduled on 17th July at 11 AM IST for 45 minutes.
If you have any questions, post them here: https://subscribe.altstrategy.online/question
Once REGISTERED, you will receive a link for the live session. The event will be live streamed on Saurabh's LinkedIn profile- https://www.linkedin.com/in/saurabhparmar or on YouTube- https://www.youtube.com/c/AltStrategy/videos
Quotes from the Book📕-
"No matter what has happened to you, where you are from, or what you have done, you can still find total peace, unconditional love, complete fulfillment, and an abundance of joy in your life."
"No person is an exception to this. Darkness only exists because of the light, which means even in our darkest hour, light must exist."
"It is not about rewiring your brain, rewriting your past, but expanding your consciousness."
Please be on time or you may not be able to attend the 45-minute live session.
To ensure that you receive updates about our future events and workshops,
Subscribe to our FREE newsletter: https://subscribe.altstrategy.online/prelaunch and win rewards
Or
you can check them out over here: https://cutt.ly/Not-a-Black-Friday-sale-rather-FREE
You can also 🎧listen to our 🎙️podcast on https://li.sten.to/altstrategy-podcasts
Customer Reviews✍️-
"Simple yet subtle and for the first time I could understand that thinking is the cause of all misery. I strongly recommend this book to all who wants to live a happy life. Thank you Joseph Nugyen from the bottom of my heart." ~ Vijayanand Jirra ⭐⭐⭐⭐⭐
"This book gave a me new view of life, it's easy to understand with lots of good examples
It's my first time that I read a book this fast. Really recommend it to everyone!" ~ Amy ⭐⭐⭐⭐⭐
"Worth reading. Miracles can be welcomed to our life if........Check out and find out fr yourself.The Author has used simple explanation for deeper understanding of the reader.Highly recommended. ~ Subin B ⭐⭐⭐⭐⭐
A Candid conversation🗣️ with Joseph Nguyen, best-selling author of "Don't Believe everything you think"
Enjoy this event from your home
Event Guide
Interactive show
Be a part of the show
Invite your friends
and enjoy a shared experience