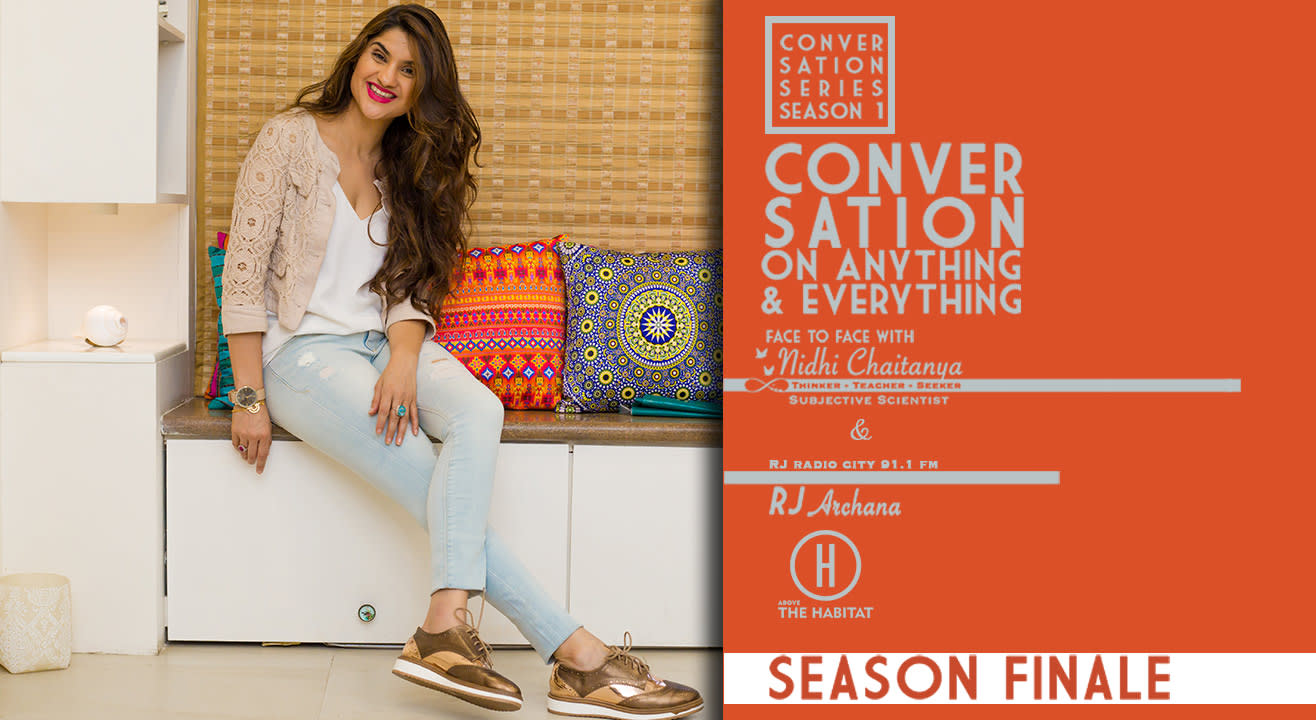 Talks
A Conversation On Anything And Everything
About
Nidhi Chaitanya in conversation with RJ Archana.

Nidhi Chaitanya is a subjective scientist and an idea archaeologist who opens a dialogue with you and a guest conversationalist on social topics that need a conversation. 'Conversation' is a live talk show on millennial topics that don't need to be living room chats alone. Bring about change by bringing about awareness. Through these conversations, they are sowing thought seeds to manifest a forest of change.

As the oldest women's festival in the world - Navratri kicks in, watch 2 powerful women share their lives on stage. RJ Archana and subjective scientist Nidhi Chaitanya have been friends to each other and inspiration to many, for almost 15 years. As they come on stage together for the first time ever, come to share the magic of their friendship, the power their love, and the inspiration of their work.
Nidhi Chaitanya is a subjective scientist, inspirational-speaker, writer, blogger, poetess and social media influencer. She is an idea-archeologist, who excavates ideas and philosophies from around the world, polishes them & presents them as relevant to modern lives. She picks ideas from Greek mythology, from Hindu textbooks, from Islamic scriptures and releases them from the overarch of religiosity and brings their relevancy to modern life, because she feels that the efforts of the thinkers of the past should not be bound by the barriers of religion & time. She is often seen as the connoisseur of the antiqued yet timeless scriptures – Geeta & Upanishads – and decrypts them for the modern society through several online and offline courses, talk shows and residential retreats. She facilitates self discovery that helps find answers and solutions that lie within by handcrafting inspired tribes who share the excitements of being alive. As a young influencer, she feels deeply about equality, ecology and wellness, as inevitable basic tools for social success, and strives to remind the stress-borne world the significance of meaningful living.

As she often says, "Our species has created a strangely modern world which prides itself in successful unhappy people. Our job is to help design a successful but happy world."

Nidhi Chaitanya frequently writes for print & digital media platforms like Mumbai Mirror, Speaking Tree and Youth ki Awaaz, and is currently working on her much awaited book-series. She has addressed as a keynote speaker in some of the top institutions in the country. She has addressed prestigious events such as the National Conference on Talent Management Strategy, National Conference of Project Management Association of India, National Conference of Indian Corrugated Case Manufacturers' Association, among others.

Nidhi Chaitanya's passion for knowledge adds a new freshness to her work on a continuous basis. She is currently studying World Religions with Harvard University and Philosophy & Critical Thinking with University of Queensland, Australia. She is also the faculty for Culture Studies for students of the Bachelors of Mass Media course in KC College, Mumbai.

She has the unique capacity to bring philosophical and cultural authenticity into millennial conversations on entrepreneurship, digitalization, adulting, dating, drugs, parenting, sustainability, egalitarianism and other contemporary topics. She formally facilitates this in her live talk-show 'Conversation.' The first season of the show is currently running at the popular venue – Above the Habitat, Mumbai. She is also the winner of the Woman Gamechanger Award and a Tedx speaker.
Venue
Above The Habitat
4th Floor, OYO Townhouse (Hotel Unicontinental), Road Number 3, Khar West, Mumbai, Maharashtra 400052