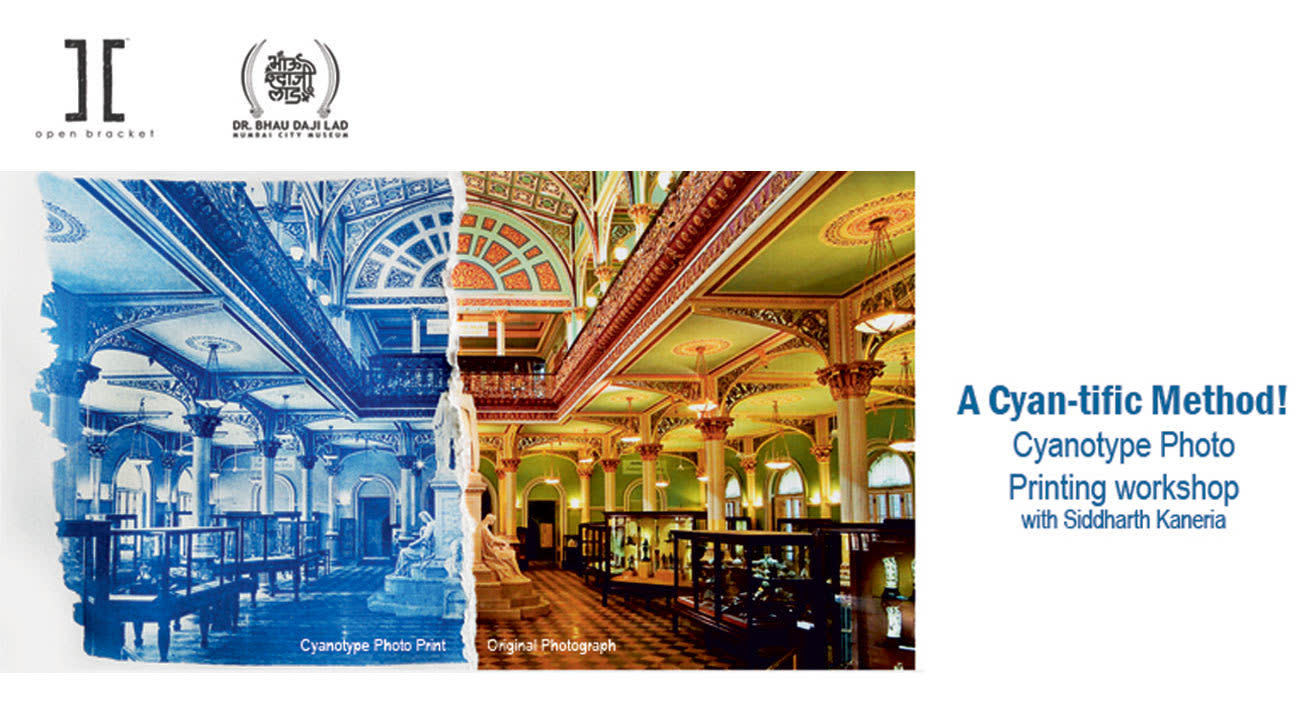 Art
A Cyan-tific Method! Cyanotype Photo printing workshop
Dr. Bhau Daji Lad Museum, Mumbai
About
Photography is a much-celebrated art-form today, with there being no limit to what the camera can do. We can click using any device, choose from an assortment of filters, and casually store away what we capture in a floating, virtual base of data. But imagine a different era in the evolution of photography- an era of careful use, of feel and film, of the physical print. Introducing: the Cyanotype, a historical technique of developing and printing photography, invented as early as the 1800's!
An art-form in its own merit, Cyanotype produces permanent images in an elegant assortment of blue values, an intriguing effect wanting renewed exploration. Presenting - The Cyan-tific Method: Introduction to basic Cyanotype photo printing by our guest artist Siddhart Kaneria, where the seasoned photographer and traveller will share the secrets of this historical process with participants, followed by a session of hands-on Cyanotype printing using photographs and other media. So if you are a photography enthusiast interested in the lesser known details of the process, or just looking to learn something new, Print photography may just be the thing for you. Believe us, it's Cyan-tifically proven!
Workshop Program
Stage 1: Understanding the process - Basic cyanotype.
Stage 2: Printing the photo impressions.
Stage 3: Printing the photographs.
About the artist:
The workshop will be conducted by our guest artist- Siddhartha Kaneria. Siddhartha hails from Rajkot and has a degree in Interior Design. He is the Head of a visual communication design firm If Design Studio Pvt. Ltd. along with two, partners Allen & Irfan. Passionate about photography, he loves to learn and explore historical photography printing processes. Siddhartha has conducted several workshops on cyanotype for institutes and design studios.
Presented in collaboration with Open Bracket. Open bracket is an experimental platform for all things creative! We organize and curate custom made workshops that stand firmly in the no man's land between classroom lectures and professional training, though never shying from mandatory hops of fun. The workshops are conducted by professionals who are invited from an extensive list of artists and creators from all over the country. To know more log on to -http://openbracket.in/
Note to participants:
All the participants are requested to email any one photograph of their choice to – p.openbracket@gmail.com on or before 25th May, 2017. (Image can be of any size). This photograph will be used for printing the cyanotype.
Venue
Dr. Bhau Daji Lad Museum, Mumbai
91 A, Rani Baug, Veer Mata Jijbai Bhonsle Udyan, Dr Baba Saheb Ambedkar Marg, Byculla East, Byculla East, Mazgaon, Mumbai, Maharashtra 400027
GET DIRECTIONS