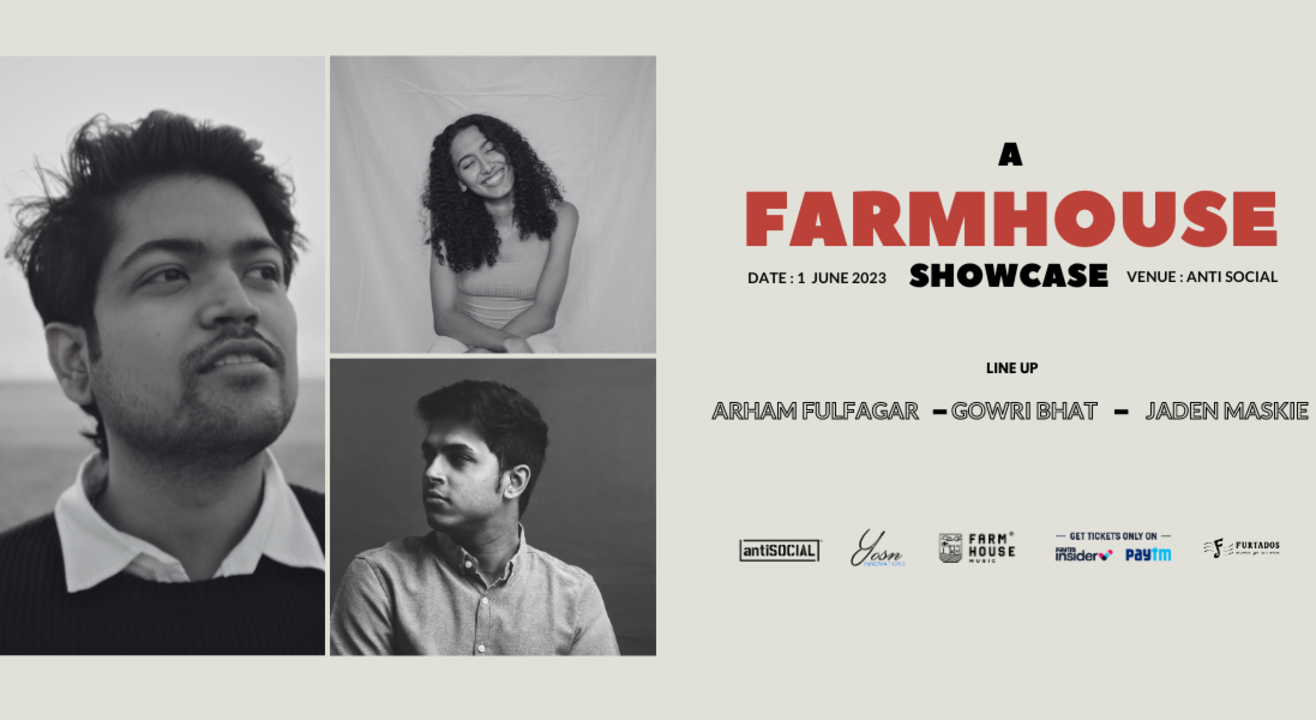 June 1 | 8:00 PM - 12:00 AM
antiSOCIAL, Lower Parel, Mumbai
Invite your friends
and enjoy a shared experience
June 1 | 8:00 PM - 12:00 AM
antiSOCIAL, Lower Parel, Mumbai
Invite your friends
and enjoy a shared experience
Covid 19 Safety Measures
This event adheres to the following

Health & safety measures
Social Distancing
Face Masks Required
Sanitisation before the show
Proof of Vaccination Required
Invite your friends
and enjoy a shared experience
Covid 19 Safety Measures
This event adheres to the following

Health & safety measures
Social Distancing
Face Masks Required
Sanitisation before the show
Proof of Vaccination Required
Join us for an unforgettable music experience hosted by Farmhouse Music, where we
proudly present an evening of captivating performances by our talented artists Arham
Fulfagar, Gowri Bhat, Jaden Mascarenhas, and an eclectic blend of music genres. Prepare to be
enchanted by the enchanting melodies, electrifying rhythms, and soul-stirring lyrics that will
transport you to a world of pure musical bliss.
Whether you are a dedicated fan of Farmhouse Music's artists or simply someone who
appreciates the power of live music, this event promises an experience that will leave you
inspired and uplifted. So mark your calendars, gather your friends, and get ready to embark
on a musical journey like no other. Let Farmhouse Music transport you to a world of pure
sonic enchantment and make memories that will resonate long after the last note fades
away.
Gates Open at 8:00 pm.


Artists Details
Arham Fulfagar
Arham Fulfagar is from Guwahati and is currently based in Mumbai. He writes about his emotions and personal experiences. Having started his music journey in 2020 with his first song 'Red Wine' He has been with the organization since 2021.He has opened shows for many artists such as Vir Das, Osho Jain, Job Kurian, and Lucky Ali concerts in all major cities. He has played at major music festivals like SteppinOut Indie Fest, Carnival, Majuli Music Festival, Zomaland, and many more. Arham has also performed for communities like Motojojo, Kommune, Tape-A-Tale, The Yellow Festival and Sofar.
He has been with the organization since 2021 and has seen immense growth since then. He has been consistent with his releases and creation of promotional content (including his own line of Merchandise for his fans.) With his latest single 'Kabootar'. He has garnered a new fanbase all over the country!
Gowri Bhat
Gowri Bhat is a singer-songwriter from Bengaluru, Who sings a plethora of genres. She has over 14 years of training in Carnatic Classical music and plays the guitar and piano. She has collaborated with MTV and artists such as Arjun Kanungo. Her singing style is influenced by her music education as well as folk, indie, R&B and pop.
Jaden Maskie
Jaden Mascarenhas, professionally known as Jaden Maskie is an upcoming artist from Goa, India. Jaden started his music journey in 2020 and has been with the organization since 2021. He started off working as a vocal recording artist for many TV advertisements and jingles such as KFC Flaming Crunch, and Nestle A+ milk. He has also done voice-overs for movies like Harry Potter and sung for the most recent work of 'Four More Shots' on Amazon Prime with 2 of his own compositions.
Jaden has also opened for artists and performed at various festivals such as Lucky Ali, Casa Bacardi, India Cocktail Week, Zomaland, Sunburn Mirakle, and Stepping Out Music Festival, among others. His recently released new single 'When you're Around' has been sitting on top of multiple charts/Spotify playlists including Radar 2022-2023.
Additional information:
Terms and Conditions:
Age Limit: 16+
Tickets once booked cannot be exchanged or refunded
An Internet handling fee per ticket may be levied. Please check the total amount before payment.
We recommend that you arrive at least 30 minutes prior at the venue for a seamless entry
It is mandatory to wear masks at all times and follow social distancing norms
Please do not purchase tickets if you feel sick
Unlawful resale (or attempted unlawful resale) of a ticket would lead to seizure or cancellation of that ticket without refund or other compensation
Rights of admission reserved
These terms and conditions are subject to change from time to time at the discretion of the organizer.
antiSOCIAL, Lower Parel
CS #242, Near Viva Centre, Mathuradas Mill Compund, Lower Parel West, Mumbai
GET DIRECTIONS
June 1 | 8:00 PM - 12:00 AM
antiSOCIAL, Lower Parel, Mumbai
Invite your friends
and enjoy a shared experience