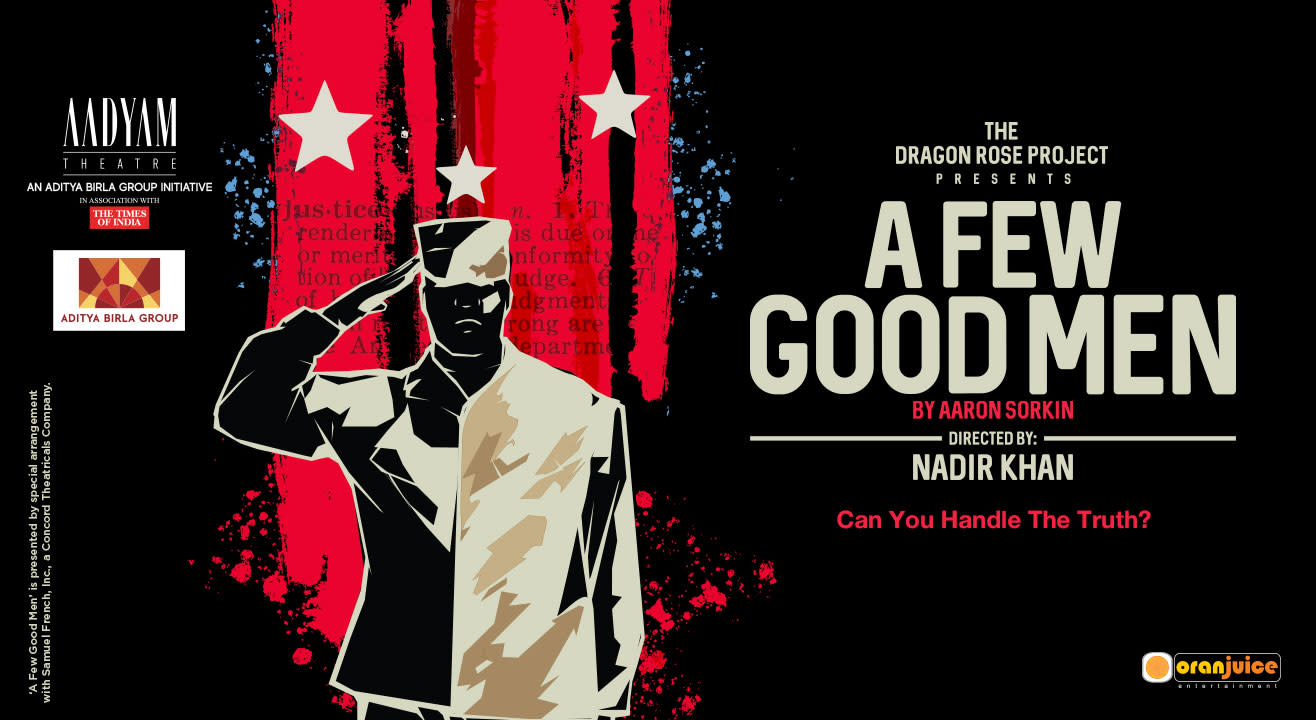 Theatre
Aadyam Theatre presents - Aaron Sorkin's A Few Good Men
Catch the live adaptation of the Oscar and Golden Globe-nominated Broadway hit about the trial of two Marines for complicity in the death of fellow Marine sizzles on stage.
Synopsis
Written by Aaron Sorkin
Directed by Nadir Khan
Summer, 1986, Guantanamo Bay Naval Base, Cuba. Private First Class William T. Santiago is found dead with his head shaved and a rag stuffed in his mouth. Two of his fellow Marines have now been charged with his murder. They are being held in Washington D.C., awaiting trial.

Aaron Sorkin's groundbreaking play and Oscar and Golden Globe-nominated film, tells the story of a group of military lawyers assigned to defend these two marines. In this explosive military drama, they make a valiant effort to defend their clients and in doing so, put the military mentality and the Marine code of honour on trial.
Watch the drama unfold live, in a theatre near you:
Crew
Director - Nadir Khan
Associate Director - Arghya Lahiri
Production-in-charge - Spriha Nakhare
Scenographer - Toral Shah
Set Design - Juhie Gupta
Costume Design - Pallavi Patel
Lights Design and Execution - Asmit Pathare
Music - Kaizad Gherda
Sound - Varun Bangerra
About Aadyam
We (Aditya Birla Group) have been bringing theatre to people; now we want to bring more people to the theatre. We want people to give theatre a chance, because we know once they're hit with the magic on stage, the magic of theatre, for the first time, they'll find it hard to stay away. With the landmark Season 5 of Aadyam, we aim to initiate the uninitiated to the theatre community. Over the course of the season, we will break down the walls (fourth or otherwise) to allow our audiences a glimpse into 'everything theatre'. The experience is no longer limited to watching the play. If you're interested, we'll be showcasing the elements that are usually invisible behind-the-scenes through our new blog Stage-Write & Aadyam's very own theatre club.
Subscribe to receive our newsletter!
Find the best experiences happening out there in your city or enjoy handpicked content while sitting comfortably at home. Paytm Insider is your go-to place to figure out what to do today!