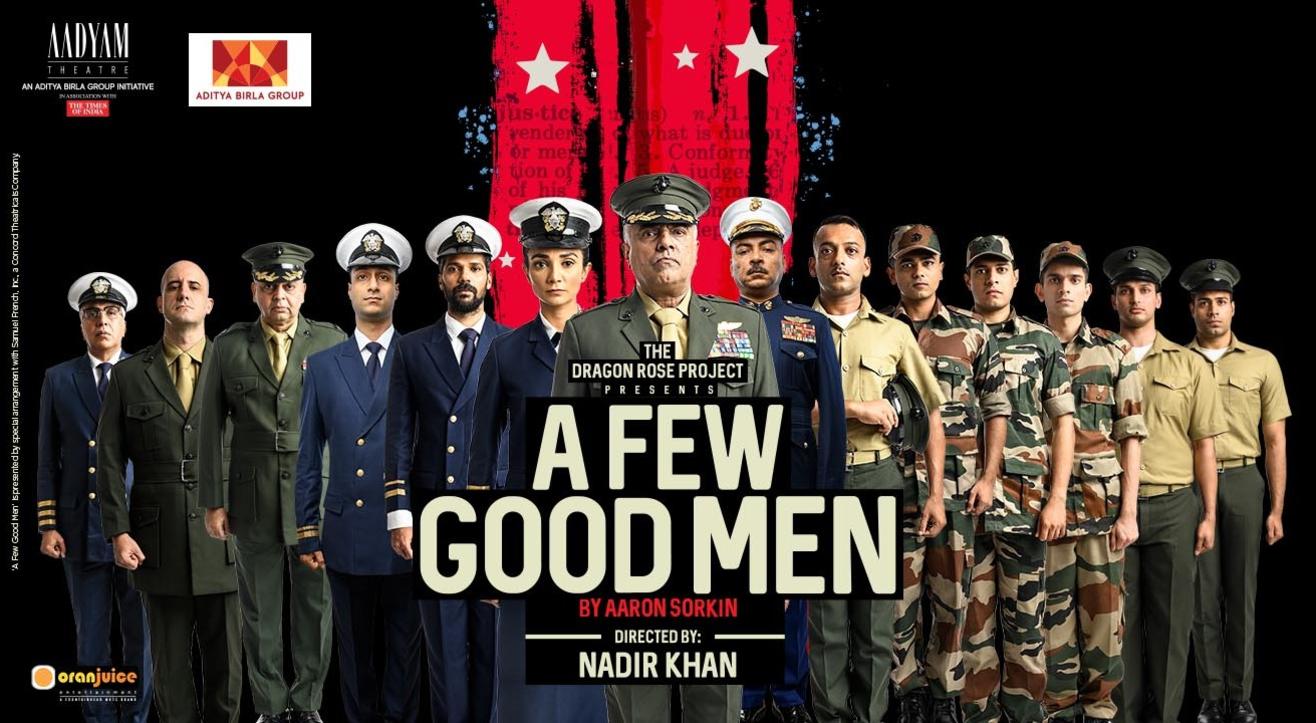 September 28 & 29 | 7:30PM
Step out and enjoy this event
Invite your friends
and enjoy a shared experience
Invite your friends
and enjoy a shared experience
About the Event
The Dragon Rose Project presents 'A Few Good Men'
Written by Aaron Sorkin
Directed by Nadir Khan
Summer, 1986, Guantanamo Bay Naval Base, Cuba. Private First Class William T. Santiago is found dead with his head shaved and a rag stuffed in his mouth. Two of his fellow Marines have now been charged with his murder. They are being held in Washington D.C., awaiting trial.
Aaron Sorkin's ground breaking play and Oscar and Golden Globe nominated film, tells the story of a group of military lawyers assigned to defend these two marines. In this explosive military drama, they make a valiant effort to defend their clients and in doing so, put the military mentality and the Marine code of honour on trial.
Director - Nadir Khan
Producer – Devika Shahani
Associate Director - Arghya Lahiri
Production-in-charge - Spriha Nakhare
Scenographer - Toral Shah
Set Design - Juhie Gupta
Costume Design - Pallavi Patel
Lights Design and Execution - Asmit Pathare
Music - Kaizad Gherda
Sound - Varun Bangerra
Ashwin Mushran
Danish Husain
Ira Dubey
Junaid Khan
Kenny Desai
Neil Bhoopalam
Rajit Kapur
Rohit Dandwani
Sahir Mehta
Siddharth Kumar
Sukant Goel
Suresh Venkat
Tavish Bhattacharyya
Zeus Paranjape
Nadir Khan
Nadir Khan has been working in the theatre since 1998 as director, actor, producer, sound & light technician and stage manager.
He is a co-founder of Q Theatre Productions and a partner in The Industrial Theatre Co. He most recently directed Rahul DaCunha and Bugs Bhargava Krishna's #SingIndiaSing – An Original Indian Musical (Aadyam Season 4 / Oranjuice).
Nadir's other directorial credits include Carl Miller's Anand Express (Aadyam Season 3 / Rage), Reginald Rose's Twelve Angry Jurors (Aadyam Season 2 / Rage), Yasmina Reza's The God of Carnage (Aadyam Season 1 / QTP), Rage's One On One, Neil Labute's Some Girl(s) (QTP), Michael Frayn's Noises Off (ACE Productions), Christopher Durang's Beyond Therapy (QTP) and Michael Cristofer's The Shadow Box.
His acting credits include 27/11 (Rage), Epilogue (Rage), Hard Places (Rage), Sexual Perversity in Chicago (the industrial theatre co.), Hayavadana (the industrial theatre co.) and All My Sons (QTP).
Nadir is also involved with radio drama in the UK and has, so far, line-produced and acted in over 20 radio productions, largely with Goldhawk Productions Ltd. for BBC Radio 3 and 4, including, most recently, Tumanbay Series 1, 2& 3 and the award winning A Suitable Boy and Q&A.
In addition to the theatre, he has also been working in the radio industry in Mumbai since 2001 as a disc jockey, programmer, producer and voice-over professional.
Ashwin Mushran
Bald and incredibly beautiful (when you write your own bio you're allowed to describe yourself like this), Ashwin Mushran is what you could call an all-rounder within the entertainment industry. After completing his BA (Hons.) in English Literature from the Hindu College, under the Delhi University, Ashwin went on to study the Performing Arts at The Drama Studio in London. He came back to India and promptly proceeded to stand in innumerable audition lines till he landed his first commercial, which surprisingly was one he hadn't even stood in line for. Since then Ashwin has been a regular face on both the stage and screen. In his spare time, he moonlights as a Salsa deejay and goes Scuba Diving every time a fat cheque rolls in.



Danish Husain
Danish Husain is an actor, poet, storyteller, and a theatre director. He started his career in theatre with Barry John and went on to work with directors like Habib Tanvir, M.S. Sathyu, M.K. Raina, Sunil Shanbag, Sabina Mehta Jaitly, and Naseeruddin Shah. He was instrumental in reviving the lost art form of Urdu storytelling Dastangoi. He runs his own theatre company named The Hoshruba Repertory in Mumbai and his latest productions includes Guards At The Taj (2017) and Qissa Urdu Ki Aakhiri Kitaab Ka (2017) besides the storytelling project Qissebaazi (2016), and the poetry performance project Poetrification (2016) with fellow actor Denzil Smith.



Ira Dubey
Actively involved in performance since the age of six, Ira Dubey majored in theatre studies at Yale University. There she trained in Shakespeare, Meisner, the Michael Chekhov acting technique amongst other acting theories and performed in several plays including A Midsummer Night's Dream, Othello, The House of Bernarda Alba and Beckett's shorts. Ira's theatrical work in India includes leading roles in 30 Days in September, a play about child sexual abuse that is now available online; Wedding Album, which has completed 300 shows across the world; Adhe Adhure, a modern Hindi classic completed 100 shows worldwide, and August: Osage County with the Primetime Theatre Company.



Junaid Khan
Junaid found himself at the American Academy of Dramatic Arts in Los Angeles, California after three of the most boring years of his life spent getting his Bachelors in Commerce degree in Bombay. After two years of conservatory training and one year of repertory work, he returned to Bombay and has since done Mother Courage and Her Children with QTP for Aadyam Season 3 and A Farming Story with FATS Thearts.



Kenny Desai
A National School of Drama pass out, and an old-time member of Naseeruddin Shah's Motley, Kenneth Desai has been doing theatre within the Mumbai circuit since 1981. Though he makes his bread and butter from television and the occasional feature film, theatre remains his most preferred medium. He has been a part of more than 50 theatre productions ranging from Sophocles and Shakespeare to Becket, Pinter and Ionesco. He has also performed works by a few American playwrights, in addition to a little Anouilh, Ibsen, Brecht and Moliere as well as a few Indian playwrights. He has done theatre in Hindi and Gujrati, in addition to English.



Neil Bhoopalam
Neil Bhoopalam made a name for himself with plays like Noises Off; Shiv Subramanium's, Clogged Arteries; The Merchant of Venice; Rajat Kapoor's, Hamlet the Clown Prince; A Play On Death, directed by Kalki Koechlin; Rage's, One On One; and a play with BBC Radio. Neil has worked as a Radio Jockey for 'Radio Mirchi' where he hosted weekly shows: 'College Se Canteen Tak', 'Baat Banjaye' and the Sunday morning show, and as a video jockey with Channel [V]. He has essayed complex characters on the silver screen too, in films like Shaitan, No One Killed Jessica, Ungli, NH10 and recently featured in the black comedy Kaalakaandi.



Rajit Kapur
Rajit's debut, a dream fulfilled on stage, was back in 1978 as Puck in William Shakespeare's, A Midsummer Night's Dream. After this, followed a series of assorted characters like Jim in The Glass Menagerie; Mr. Frank and Peter in The Diary of Anne Frank; Stanley in Broadway Bound, Dr. Rosenthal in Nuts; and Sher Singh in Larins Sahib (the first Indian play to be staged at the Edinburgh Fringe Festival in the late 80's). He has also acted in Are There Tigers in the Congo?, Love Letters, Class Of '84, Pune Highway, Me, Kash And Cruise, A Walk In The Woods, The Siddhus of Upper Juhu and lately Twelve Angry Jurors. Rajit donned the Director's hat for The Wisest Fool On Earth (a one man show), Epilogue, Mahua (in Hindi) and Tennessee Williams', The Glass Menagerie and most recently Naqqaash (in Hindi).



Rohit Dandwani
Rohit Dandwani has 15 months of acting and production experience with Fireweavers Theatre (a production company in Pune). He also has 2 years of being part of backstage with Ekjute Theatre Group and has been actively involved with Thespo in 2019 and 2020.



Sahir Mehta
Sahir Mehta is an actor and director from Delhi. He has been involved with theatre for the last 5 years, having initially developed an affinity for the stage in school while compering various school events and participating in multiple improv competitions. Through his career he has donned multiple hats - working backstage, doing sound and light design, acting, and directing. While in college, he won multiple, best play and best director awards at various college fests, and performed sold out shows at India's top venues including Indian Habitat Centre, the NCPA, and Prithvi Theatre, with plays such as Veronica's Room, Speed-the-Plow, and The Goat or Who is Sylvia?



Siddharth Kumar
Siddharth Kumar is an actor and writer who has worked in the theatre space for over 15 years. He has acted in over 20 productions including D for Drama's, Dhumrapaan; Rage Production's, Anand Express; and the Akvarious Production, What Planet are you on? His first full length play as a playwright - The Interview, won several awards at the Mahindra Excellence in Theatre Awards and was selected for the Hotink Festival at the Lark in New York. His other playwriting credits include Spunk, In the Cat House and Under the Chestnut Tree with Akash Mohimen.



Sukant Goel
Sukant Goel has worked on the Mumbai stage for the last 9 years having started his journey with Pt. Satyadev Dubey. He has worked in Hindi and English plays with various groups and directors, notably, Sunil Shanbag, Atul Kumar, Rajit Kapur, Rahul Da Cunha, Makrand Deshpande, Nadir Khan, Gagan Riar, Gopal Dutt, Purva Naresh and Trishla Patel. His direction work includes the Hindi/Punjabi musical - Ishq Aaha along with Gagan Riar that opened at the NCPA Center Stage Festival in 2015, as well as a dramatized reading of the German play, 'Going to the Sea' which was staged at Tamaasha Theatre as part of the German Play Readings program in Association with The Goethe Institute, Mumbai in 2018.



Suresh Venkat
Suresh Venkat's current roles include that of a media consultant, design curator, talk show moderator and actor. Suresh is a seasoned media professional with over 20 years of media experience in lifestyle and business media. He is widely renowned both for his unique insights into business and his irreverent style as an anchor. He has been the curator of the Lexus Design Awards in India since 2018. Previously, Suresh has worked with CNBC TV18, Star TV and Titan Watches. He has also appeared in character roles in a few films including Bank Chor, Two States and Dharam Sankat Mein. He is currently part of the ensemble cast of the theatre production of Twelve Angry Jurors.



Tavish Bhattacharrya
Over the last 10 years, Tavish has directed and acted in over 50 short and full-length plays. He played the role of LeFou in Disney India's, Beauty and the Beast in 2015 and Jayshankar "Jazzy" Iyer in the 2018 hit musical "Sing India Sing" - both performances that received raving reviews. His other productions include Matt Cameron's, Ruby Moon; Melissa James Gibson's, [SIC]; Harold Pinter's, The Caretaker; Neil Simon's, Fools; and many more. Tavish is also a professional voice over artist (having lent his voice to radio, TVCs, audiobooks, animated films and such) and a music composer. Tavish has produced jingles, composed music for theatre, and even spent 6 weeks in Cambodia composing music for a show with the Cambodian Circus!



Zeus Paranjape
Zeus has been a sportsman his entire life, but always found time to be a part of theatre even while in school. He was part of the school musical productions of The Jungle Book and Nicholas Nickleby playing Nick in the production. He has performed a wide variety of musicals and children's theatre over the last two years. Having played extremely varied roles ranging from the lead antagonist of a circus ringmaster, to a lead protagonist of a Dhobi and so on. Recently he was a part of the Disney musical, Aladdin, playing the part of Razoul the Head of the Royal Guards, which was produced in India. Zeus always wonders what is next in store for him.
1. Are tickets available at the venue?
Only if we are not sold out. We advise patrons to book in advance as these shows sell out very quickly.

2. Would I be allowed in in-case I am late for the show?
Yes, Late Entry is allowed, however the auditorium doors are sealed during certain scenes. You will be allowed into the auditorium at the discretion of the organizers. We recommend that you arrive at least 30 minutes prior.

3. Can I go out & come back during the show?
Yes, re-entry is allowed. We do however recommend you try to keep movement in and out of the auditorium to a minimum to ensure that there is minimal disturbance to the actors on stage and your fellow audience members.

4. Do we get specific seat numbers or is it free seating?
Yes, you get to choose specific seat numbers & category while booking.

5. Will there be food & beverages at the venue?
Yes. Refreshments will be available for purchase at the venue. No food or drinks will be allowed inside the auditorium however.

6. How is the auditorium & seating?
The auditorium is fully air-conditioned with cushioned bucket seats.

7. Are wheel chair ramps or elevator facilities available at the venue?
Yes. We advise you to buy corner seats for the differently abled & senior citizens.

8. Is parking available at the venue?
Limited parking is available in the venue premises. Kindly plan to reach the venue well in advance to avail the same.

9. Can I buy tickets using cash?
Yes, you can buy tickets in cash from the box office counters. The counters will go live at the venue 5 days prior to the show.

10. Do you accept cards for purchase of tickets?
We accept all debit/credit cards including Master Card, Visa, Maestro, American Express and Diners Card

11. Can I upgrade my tickets?
Yes. Depending on Availability only.

12. What is the duration of the play?
It will be 120 minutes + interval

13. Will I be able to get a refund for the tickets if I do not attend the play?
No refund will be provided for tickets.

14. Can my tickets be transferred?
No, the tickets cannot be transferred.

14. Where can I read the ticketing `Terms & Conditions'?
All terms & conditions are mentioned in the T&C tab on the event page.