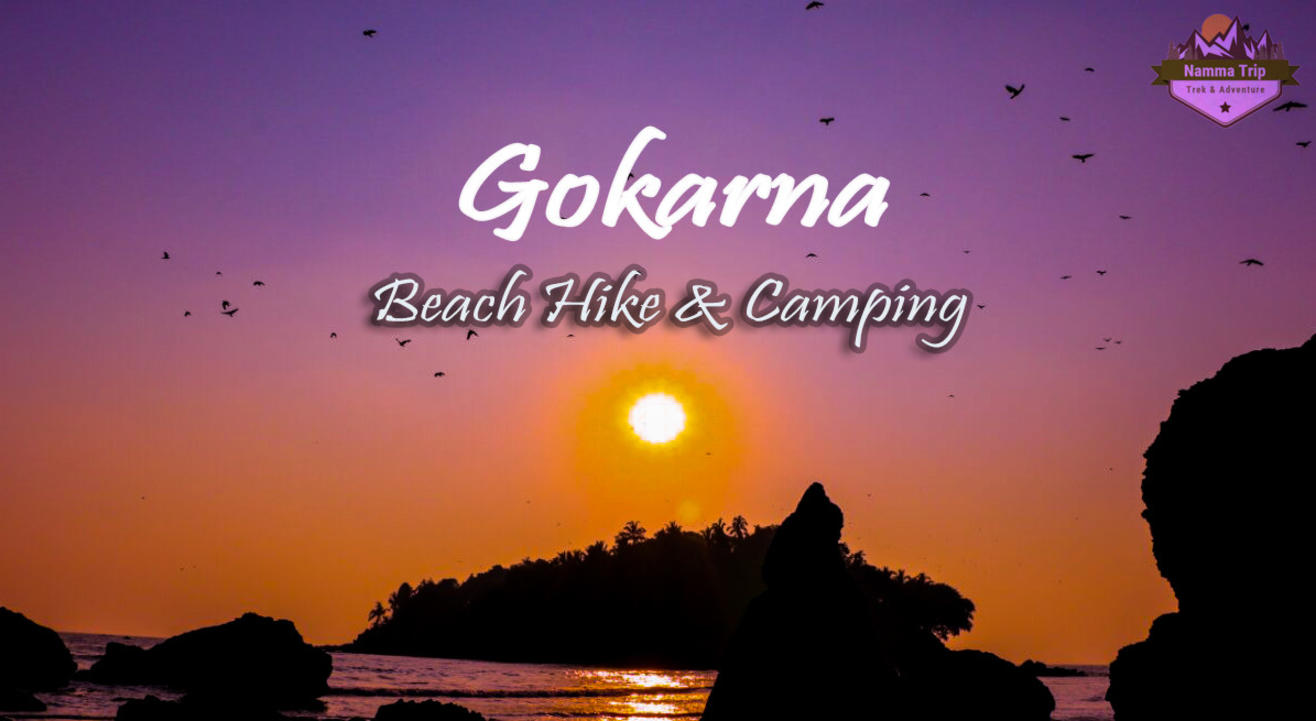 A Hippie Trip to Gokarna | NammaTrip
August 4 | 7PM - August 7 | 5AM
Invite your friends
and enjoy a shared experience
A Hippie Trip to Gokarna | NammaTrip
August 4 | 7PM - August 7 | 5AM
Invite your friends
and enjoy a shared experience
Invite your friends
and enjoy a shared experience
About
Admire the immaculate beauty of Gokarna with our customizable 2 Nights 2 Days trip to this wonderful coast. Your tour itinerary will start with the exploration of sightseeing attractions on the way to Gokarna and finally, you will dig out the gems of Gokarna.
Information:
Slots for the trip: Limited between 10-20
Stay: At our cozy Beachside Homestay on sharing basis with neat & clean basic facilities
Food: 2 Breakfasts, 1 Dinner (All veg included)
Local Style Home Based Food.
Trek difficulty: Easy
Duration of the Trip: 2 Days/3 Nights
Where: Gokarna. The beautiful coast of Karnataka
Trek Distance: 5 kms Approximate
Trail Type: Stunning Landscape with the sea on one side and a hill on the other.
Travel:
Traveller or Mini-bus with Push-Back seats depending on final numbers (Non-AC)
Starting time: Friday night at 7 PM
Ending time: Monday early morning around 5 AM
Check the Pick-Up points Tab below for more information
Every place we visit Cleanliness is our Top Most priority and we expect every participant to follow it. Do not Litter, do not throw trash out in the open. Please keep our nature as beautiful as it is.
ITINERARY
DAY 0
Pick up starts from Bangalore on Friday evening at 08.00 PM.
DAY 1
Reach the beach campsite in Gokarna early in the morning and freshen up.
Have breakfast and get reach for the beach trek.
Trek to Beaches of Gokarna
Walk through the lost road to visit some of the most beautiful and unique beaches of Karnataka.
Head back to our beach camp by night.
Delicious dinner will be served.
Chill on the beach and relax. Indulge in some conversation/music sessions with fellow travellers.
DAY 2
Wake up in the morning.
Freshen up and have some good breakfast.
Pack your bags, get ready and Laze around the campsite for a while.
Leave for Mirjan Fort. Explore Mirjan Fort.
Self Sponsored Lunch
When done with, Drive back towards Bangalore, Have Dinner on the way.
Reach Bangalore by early morning 5.00 AM on Monday and end this amazing adventure.
INCLUSIONS & EXCLUSIONS
INCLUSIONS
Transportation (To & Fro Bangalore)
Accommodation at our cosy Beach-side Homestay on a sharing basis - Separate for men & women
Meals - 2 Breakfast, 1 Dinner
Tickets & Entry charges to places visited in the itinerary
Trek Leads from NammaTrip
EXCLUSIONS
Any personal expenses like snacks, water, etc
Any kind of insurance
Water Sports/Boat Rides/Activities
Anything not mentioned in inclusions
Things to Carry
Small Backpack to carry your essentials
Water Bottles
Comfortable clothes. Enough for all days of the adventure. Do carry an extra pair of clothes to change into once wet.
Comfortable Shoes with good grip for hiking
Torch - to be used at night
Sweaters/Jacket to bear the cold weather
Raincoat/Poncho in case of rains
Slippers/Flip-Flops to walk around the campsite
Personal Medication Kit (if any)
Portable Charger/Speakers
Cap/Hat/Sunglasses
Towel/Toothbrush/Soap and other essentials
Camera/DSLR if interested
Extra cash for Personal expenses/Meals not included
Pick Up Points
Silk Board
KTM Mekhri Circle
Yeshwantpur
Once you've booked your tickets, we will reach out to you and provide you with more information like exact pick-up times, exact location, coach details and more.
Any changes in Pick Up locations will be notified to the participants 10-12 hrs before the start of the trip.
Cancellation Policy
If cancellations are made 15-30 days before the start date of the trip, 50% of the total tour cost will be charged as cancellation fees.
If cancellations are made within 0-15 days before the start date of the trip, 100% of the total tour cost will be charged as cancellation fees.
In case of unforeseen weather conditions or government restrictions, certain trips or activities may get canceled. In such cases, we will try our best to provide an alternate feasible. However, a refund will not be applicable for the same.
Cancellations are strictly subjected to cancellation policies mentioned on the website & are irrespective of the date of booking.
Terms & Conditions
Our facilities are neat and basic, not luxurious.Our accommodations are many times sleeping bags and Tents, Dormitories, rooms with beds and sometimes just sleeping bags under the glittering sky.
The average level of fitness is required to participate in the trek. We will not be responsible if any participant is unable to get to the summit due to their own limitations.
The food provided will be basic delicious Vegetarian food.Non-Vegetarian if mentioned in the itinerary.
NammaTrip shall not be responsible for any of your belongings, valuables, jewelry, etc.
We expect every participant to be responsible about littering. Please keep every place we visit clean.
You agree to indemnify yourself for the risks involved in the outings varying from destinations to destinations.
In case of damage or loss of any of the equipment or Items of NammaTrip, the responsible member has to bear the cost.
We have designated pick up and drop points, make your own arrangements of transports to the desired pick-up point accordingly.
We may revise the Terms and Conditions from time to time by updating this posting. The revised terms will take effect when they are posted.
Nammatrip is not responsible if any injuries or accidents occur during the event.
Any client consuming alcohol, misbehaving, causing delay during the event will be terminated from the event without any prior warning and no refund will be given.
Such clients should arrange their own transport to the way back, Nammatrip does not hold the responsibility of terminated clients.
Littering, smoking & consumption of alcohol is banned outdoors or anytime during the trek. We will provide you with a time and place to enjoy your drinks.
In case of unforeseen weather conditions or government restrictions, certain activities may be canceled and in such cases, we will try to provide an alternate feasible activity. However, no refund will be provided for the same.
If we cancel the event, we offer a full refund to all the participants. Cancellation / Refund is done by the third party based on their policies.
About NammaTrip
We as an Adventure company aim to show you nice people the most beautiful and pristine places in Karnataka.
Preserving the cleanliness & beauty of our beautiful land is our topmost priority.
Go deep into nature
Hike to see the beauty of the sunrise.
Trek to beautiful mountains.
Dip in the beaches of our beautiful coast.
Hike through the mystical rainforest of the Western Ghats.
Come Experience Namma Karnataka
A Hippie Trip to Gokarna | NammaTrip
August 4 | 7PM - August 7 | 5AM
Invite your friends
and enjoy a shared experience