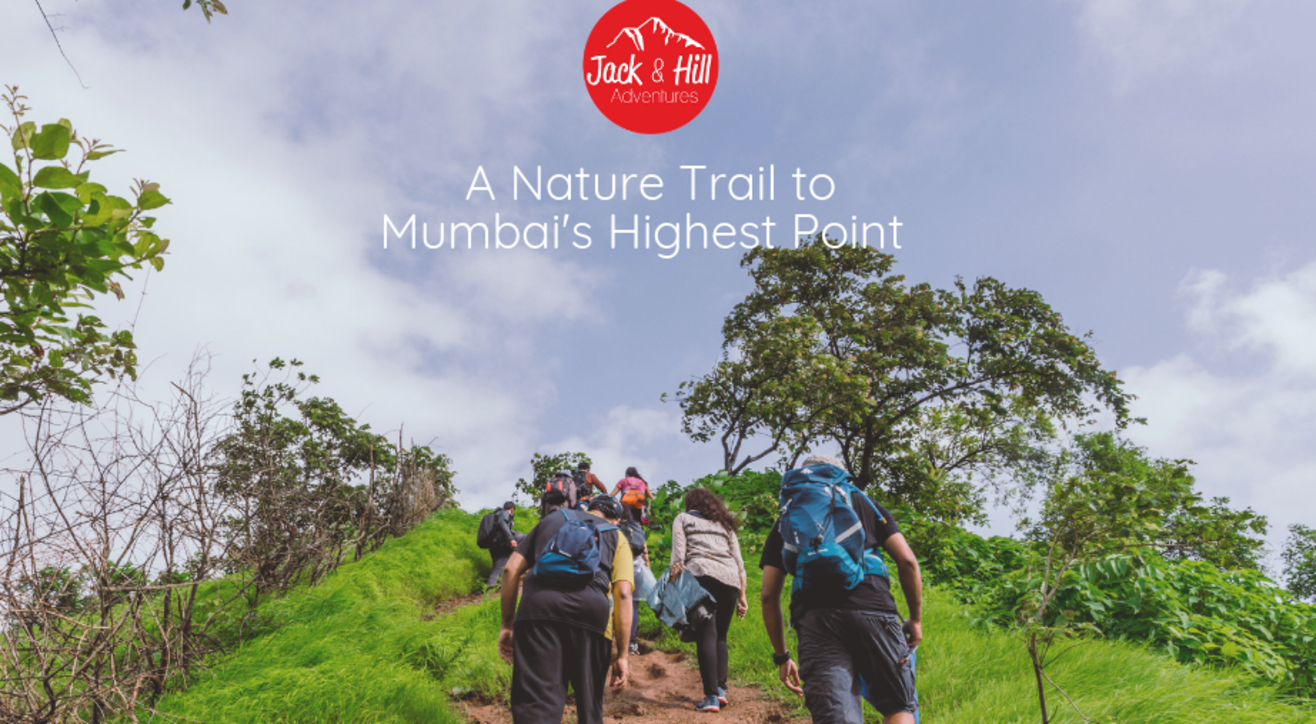 Trek
A Nature Trail to Mumbai's Highest Point
Sanjay Gandhi National Park, Mumbai
About
A Nature Trail to Mumbai's Highest Point" is a trek to Jambulmal the highest point in Mumbai which is located in the core of Sanjay Gandhi National Park Borivali (E) above the Kanheri caves complex.
This trail is conducted in collaboration with the Nature Information Center (NIC). The NIC plays the vital role as an educational arm of the SGNP management. The NIC organizes activities like nature trails, bird-watching excursions, butterfly watches, treks and overnight camps led by experts.
With our wildlife expert's guidance and presence on this trail, one stands to experience and learn much in detail about the wondrous wildlife specifically in the SGNP forest. This trial is bound to be an enriching experience for any nature lover.
-----------------------------------------------------------------------------------------
**About Jambulmal:**
'Jambulmal' is considered as the highest point in Mumbai at a staggering height of 468 meters (1535 ft) above sea level. Enveloped by a dense forest in the core area of Sanjay Gandhi National Park, the trail is 2.5km from the gate of Kanheri Caves.
This trail is ideal for beginner trekkers and wildlife enthusiasts. At the top of Jambulmal, one witnesses an absolute amazing view of Tulsi and Vihar lakes along with a panoramic view of Powai to Dahisar.
This event is open to both children and adults.
Min required age for children is 12 years.
-----------------------------------------------------------------------------------------
Meet at Sanjay Gandhi National Park main gate at 7 a.m.
Meet and greet the team and other participants.
Start journey to Jambulmal via vehicle.
Reach Kanheri Caves and have a briefing about the trek.
Start the trek with bird watching, identifying flora and fauna enroute.
Reach the summit by 10 a.m. and indulge in the beauty of being at the highest point of Mumbai.
Feast on breakfast.
Descend towards Kanheri caves and board the vehicle back.
(Trip ends by 12 - 1 p.m.)
Transportation by vehicle (Taxi/bus) from the main gate of SGNP to and fro
Main Gate Ticket, Kanheri Caves Ticket
Permissions and Special Ticket for entering the restricted Jambulmal trail
Breakfast (Poha, Maggi for vegetarians and egg-based breakfast for non vegetarians)
Wildlife Expert fee
Certified Trek Expertise
First Aid by Certified Wilderness First Responder (WFR)
The difficulty level of this trek is MEDIUM, however this varies from person to person.
Most of the trek consists of wide trails; some patches have natural rock-cut steps and a few small boulders. Participants must be ready to walk uphill for a maximum of 2 and a half hours, and walk downhill for about an hour. There will be stops during the trek for rest and rehydration. If you haven't trekked before, you should know that there is a lot of walking. Moderate treks present more of a challenge to first time trekkers. So these treks are suitable for any walker looking for something a little more challenging and energetic. However, we believe that the best views come after the hardest climbs. The payoff is always equivalent to the effort. At every summit, you are welcomed to the most majestic views & at the end of every trek, you take back home memories for a lifetime.
Rule no 1- Pack light. The less heavy your bag is, the easier your trek will be.
Grab a small to medium sized bag with things you only really really need.
To have a comfortable trek it's best to stay hands-free.

SHOES:
This is CRUCIAL! A bad pair could turn your trek into a nightmare
Trekking shoes are best and recommended, running shoes or canvas might be troublesome.
Check your shoes for possible wear and tear.

ESSENTIALS:
2 litres of water
Snacks and munchies to keep you high on energy
Personal Identification
Personal medication if any (Please do let us know in advance about any medical conditions).

CLOTHING:
Trekking gear is the best choice, sportswear is ideal too.
Full clothing is recommended to avoid itchiness from flora and fauna.
Jeans, saree is not recommended.
Ensure that you are comfortable in what you choose to wear and that the material does not restrict your movement while hiking or climbing.
Staying open minded, positive and faithful. A trek in the forest requires for one to stay positive and open minded at all times regardless of the situation. Mother Nature could choose for the weather and environment to be tough or easy on us. However it is important for us to stay grounded and keep our heads over our shoulders, to not panic and to keep confidence in the decision of the trek leaders.
Cancellation policy: 50% Cancellation Fee will apply if your booking is cancelled before 12pm, 5 days prior to the event date.
100% Cancellation Fee will apply if your booking is cancelled after 12pm, 5 days prior to the event date.
To cancel your booking, send us an email on info@jackandhilladventures.com

Note for Foreign Tourists
As per the pricing regulations of the Archaeological Survey of India, Foreign Nationals have to pay an additional amount of Rs. 300/- This amount must be paid at the venue on arrival.