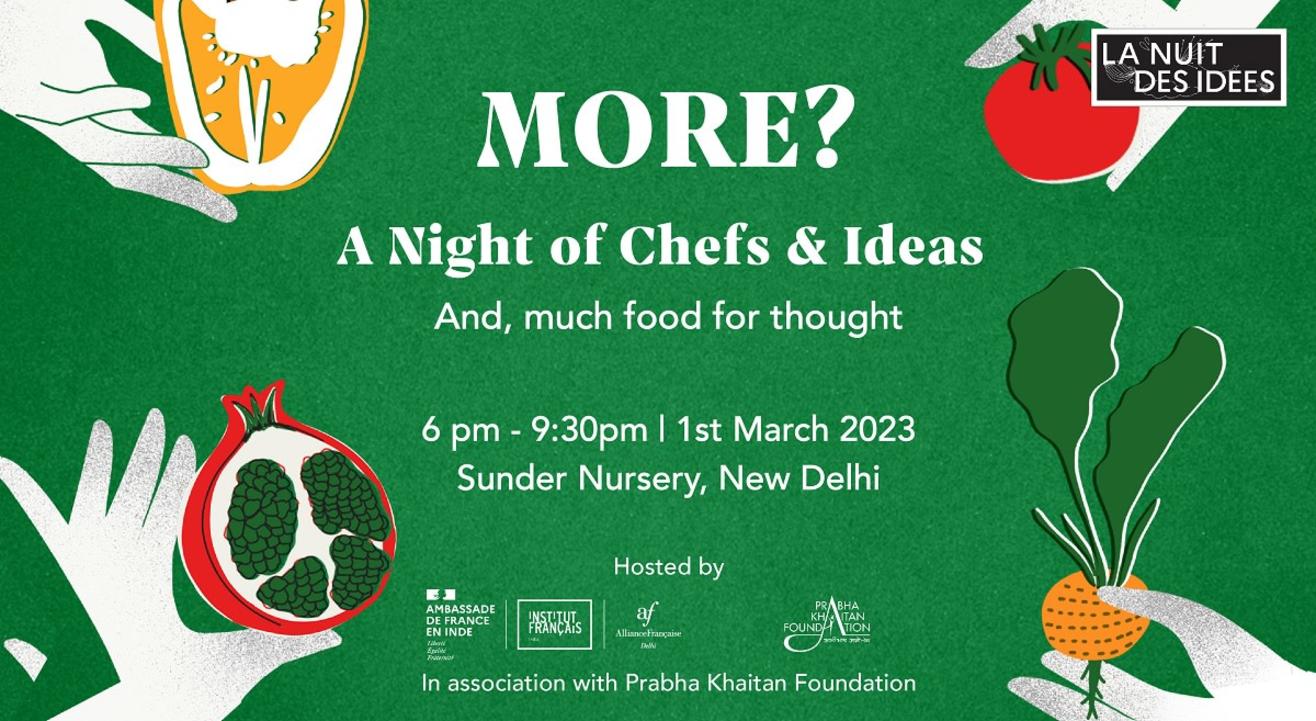 Amphitheater @ Sunder Nursery, Delhi
Step out and enjoy this event
Event Guide
For Age(s)
Family Friendly
Invite your friends
and enjoy a shared experience
Amphitheater @ Sunder Nursery, Delhi
Step out and enjoy this event
Event Guide
For Age(s)
Family Friendly
Invite your friends
and enjoy a shared experience
Event Guide
For Age(s)
Family Friendly
Invite your friends
and enjoy a shared experience
The Night of Ideas is a French initiative bringing together prominent thinkers across the globe to discuss major topical issues every year. With this year's theme intriguingly titled "More?", the Indian edition, A Night of Chefs & Ideas, will highlight the kaleidoscopic story of food in India – with French accents. Chefs, experts, policy makers, historians, economists, and practitioners will come together for a night of creative thinking.
The conversations – exciting, riveting, thought-provoking – will be moderated by award-winning journalist, editor, and curator, Shoma Chaudhury.
Join us at the Open-air Amphitheatre, Sunder Nursery, New Delhi.
On 1 March, 6 pm onwards.
For more debate. More diversity. More proximity. More solutions. More bridges. More stories.
And a delicious, specially curated, dinner by a French chef from the Indian countryside.


Menu:
6 pm – 6:30 pm: Welcome drinks and Night of Ideas Mela
6:30 pm – 6.35 pm: Welcome Address by French Ambassador H.E. Mr. Emmanuel Lenain
SESSION 1: Diversity | 6:35 pm – 7:10 pm
Eat, Pray, Love: My discovery of India
Diaries of 2 super chefs
Radhika Khandelwal I Chef owner, Fig & Maple, Ivy & Bean
Saransh Goila I Chef-owner, Golia Butter Chicken
SESSION 2: Security | 7:10 - 7:50 pm
The State, the Farmer, and the Plate
The holes in our food systems. And how to fix them
Ajay Jakhar I Farmer, Policy expert
Mekhala Krishnamurthy I Farm markets expert, Ashoka University, CPR
Rajeswari Raina I Agriculture policy expert, Shiv Nadar University
SESSION 3: Culture | 7:50 pm – 8:15 pm
Indian Roots 1: History, harmony and the politics of food
Pushpesh Pant I Food historian
DINNER | 8:15 – 9 pm
French Chef from an Indian Countryside
SESSION 4: Sustainability | 9 pm - 9:30 pm
Food transformers: Meet the people changing their country's guts. For good
Corinne Morel-Darleux I Eco-socialist
Swati Renduchintala I Natural farming strategist
SESSION 5: Conscious Living | 9:30 pm - 10 pm
Indian Roots 2: The intelligent art of eating well -- for self & society
Rujuta Diwekar I Nutritionist & fitness expert
Prachi Prabhat Pandit I Nutritionist
Admission is free and on a first-come, first-served basis.
It is mandatory to register beforehand.
Please bring a digital copy of the confirmation email from the French Institute in India at the time of the event.
The venue and organizers reserve the right to deny entry in the case of overcapacity or any misbehavior."
Amphitheater @ Sunder Nursery
Sunder Nursery, Nizamuddin, near Humayun's Tomb, H6WW+79H, Nizamuddin, National Zoological Park, Nizamuddin West, New Delhi, Delhi 110003, India
GET DIRECTIONS
Amphitheater @ Sunder Nursery, Delhi
Step out and enjoy this event
Event Guide
For Age(s)
Family Friendly
Invite your friends
and enjoy a shared experience