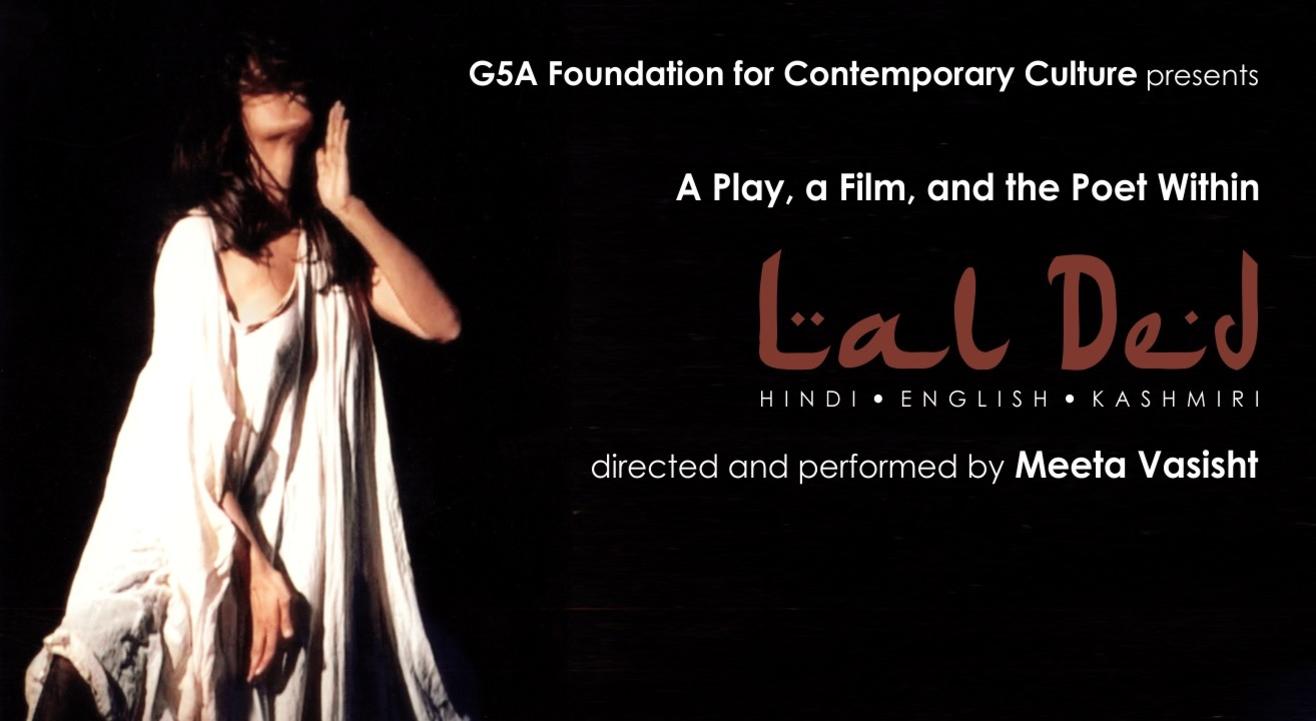 A Play, a Film, and the Poet Within | LAL DED
G5A Foundation for Contemporary Culture, Mumbai, Mumbai
Invite your friends
and enjoy a shared experience
A Play, a Film, and the Poet Within | LAL DED
G5A Foundation for Contemporary Culture, Mumbai, Mumbai
Invite your friends
and enjoy a shared experience
Invite your friends
and enjoy a shared experience
G5A Foundation for Contemporary Culture presents A Play, a Film, and the Poet Within - a project by Meeta Vasishth
LAL DED | The Play
A solo performance in Hindi, English, and Kashmiri directed and performed by Meeta Vasisht.
The most celebrated woman mystic - poet of 14th century Kashmir: the iconic Lal Ded continues to be the shared archetype for all Kashmiris, Hindus and Muslims, from seven hundred years ago, right up to the present day.
Women of ecology.
Women of earth, ether, and sky.
Women who lived within themselves the displacements of body and being.
On such woman is LAL DED. The great mystic woman of Kashmir, who celebrated these displacements and whose words became colloquialisms that slipped off the tongues of ordinary people, not just during her lifetime but for centuries to come.
Who was this child of ordinary Hindu Brahmins that grew into a woman of transgressions?
At an early age she discarded the clothes she was wearing and for the rest of her life she would remain that way - the body was of no consequence to her any more - she was in search of the spirit of Sahaj - the greater self.
The rhythm of her poetry was brilliant and powerful - she uttered short verses that touched the lives and concern of all the people of Kashmir - the political became personal and the religions in her verses, became secular.
Her vaakhs drowned out the fundamentalist voices. She was of everyone and everyone gave her a name - Lalla, Lal Ded, Lalleshwari, Lal Meuj
Everything about her - her life, and her vaakhs, challenged dogmas and perceptions.
SHE OF THE FOUR NAMES | The Film
The film begins with an evocation of Lal Ded, the great woman mystic poet of 14th century Kashmir, and almost immediately engages with the people of Jammu and Kashmir in the present day.
The film then moves between the deeply personal narratives about Lal Ded by the Kashmiris, (from across the length and breadth of J&K) to fictionalised depictions of her life.
The contemporary theatre performance, on Lal Ded, woven briefly into the docu-feature narrative, helps to bridge the transitions in the vast spectrum of the Lal Ded legend, and revels her influence even among the non-Kashmiris.
THE POET WITHIN | The Workshop
The workshop is a master class where in the actress, writer, and co-director of the play deconstructs the process of arriving at the performance.
She makes the process exciting and relevant and revelatory to every participant, whether they are performers or members of the audience.
SCHEDULE
Lal Ded | Jan 31 to Feb 09, 2020 [Weekdays: 8:00 pm, Weekends: 7:00 pm
She of the Four Names | Feb 01 & 02, Feb 08 & 09, 2020 [Weekends: 8:00 pm]
Workshop | Feb 10, 2020 [12:00 pm to 4:00 pm]
G5A Foundation for Contemporary Culture, Mumbai
Laxmi Mills Estate, Shakti Mills Lane Off Dr E Moses Road, Mahalaxmi Mumbai 400 011
GET DIRECTIONS
A Play, a Film, and the Poet Within | LAL DED
G5A Foundation for Contemporary Culture, Mumbai, Mumbai
Invite your friends
and enjoy a shared experience