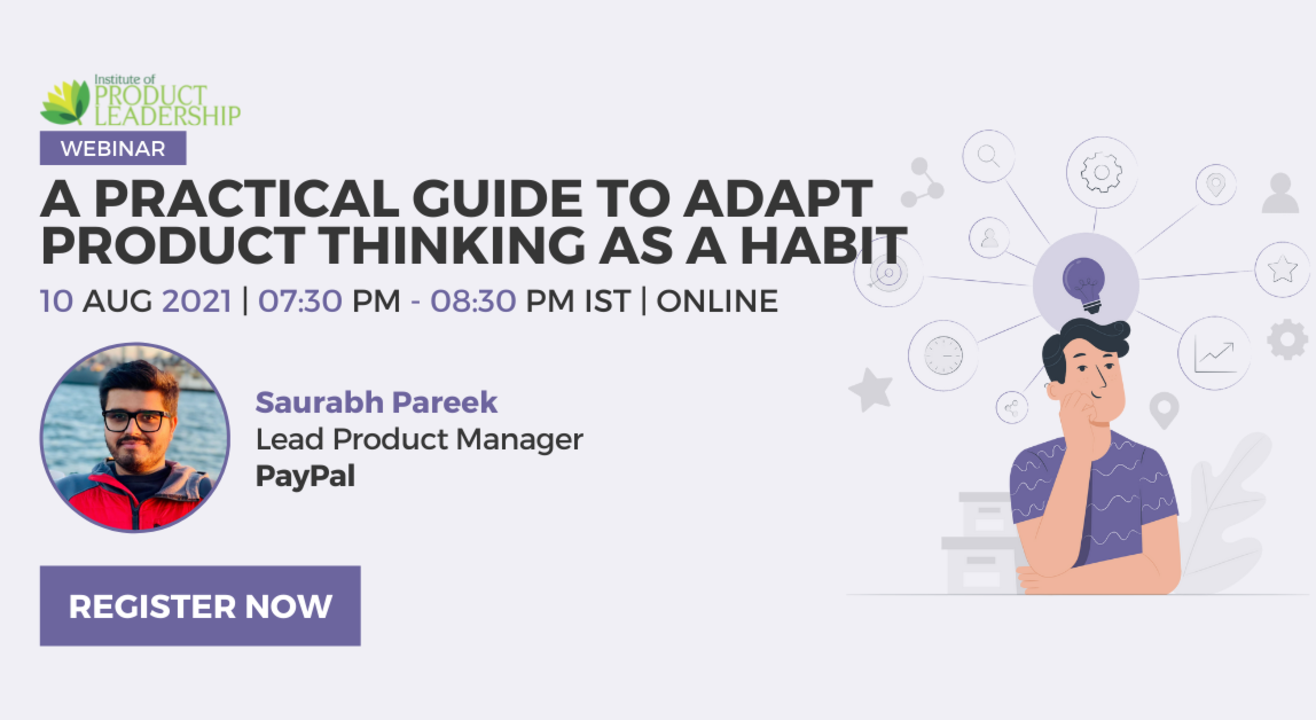 A Practical Guide to Adapt Product Thinking as a Habit
Enjoy this event from your home
Event Guide
Live Performance
Enjoy a unique experience
Invite your friends
and enjoy a shared experience
Event Guide
Live Performance
Enjoy a unique experience
Invite your friends
and enjoy a shared experience
About the Event
Product Manager is not an unknown word anymore as it used to be a decade or two ago. Though, there is still a kind of ambiguity around what a Product Manager really does, or should do to be a great Product Manager. Some believe an MBA is required, where some may expect them to come from an engineering background. No one definition will fit everyone. A great PM would be one who has a deep understanding of the customers, proficiency of the market & the competitors operates with knowledge & confidence, and is able to help steer all other stakeholders in the right direction-not with the force of position or power but as a true servant leader.
What becomes essentially fundamental is the skills & product thinking mindset required to be a great PM and how can one acquire them - whether you are an experienced PM upskilling yourself, a newly inducted PM, or an aspiring PM. Product Thinking makes you focus on the outcome than the output & truly building the products that the customers will love! Developing & nurturing product thinking is not rocket science, but it takes time. And for a technology startup or a company focused on product-driven innovation, it absolutely makes sense to invest in people who reflect customer & product-focused mindsets.
What do you need to bring along?
An Open Mind
Curiosity and Questions
Key Takeaways:
In this session, Saurabh talks about how individuals at any level - whether they aspire to be a PM vs already a PM at various stages of their career need to continuously learn/unlearn to build a solid product mindset & product thinking culture for their organizations.
ABOUT THE SPEAKER
Saurabh is a young professional & entrepreneur with extensive experience in product management, business strategy, and growth. Been part of start-ups, multi-national corporations, as well as the not-for-profit sector in domains including payments, e-commerce, ed-tech, media, data privacy, and content management space where I led teams to build products of great impact & challenged the status quo. He is a strongly purpose-driven PM and deep believer that access to the best financial services, education & healthcare are basic rights and we as product innovators are responsible to build products that are easily accessible, simple, cost-effective & non-discriminatory. Focused & committed to contributing towards solving pieces of these complex problems, every day. Currently, he leads financial services products for 300M+ customers across 200+ markets at global payments leader, PayPal based in Bay Area, CA. In the past, was part of the initial Product team at one of India's most known startups, Paytm during an early & growth year journey of 10M to 200M+ customers. He also led product & business at Careers360 (India's well-known Ed-Tech media startup) and had his start-up stints at Technox & N3uron amongst others.