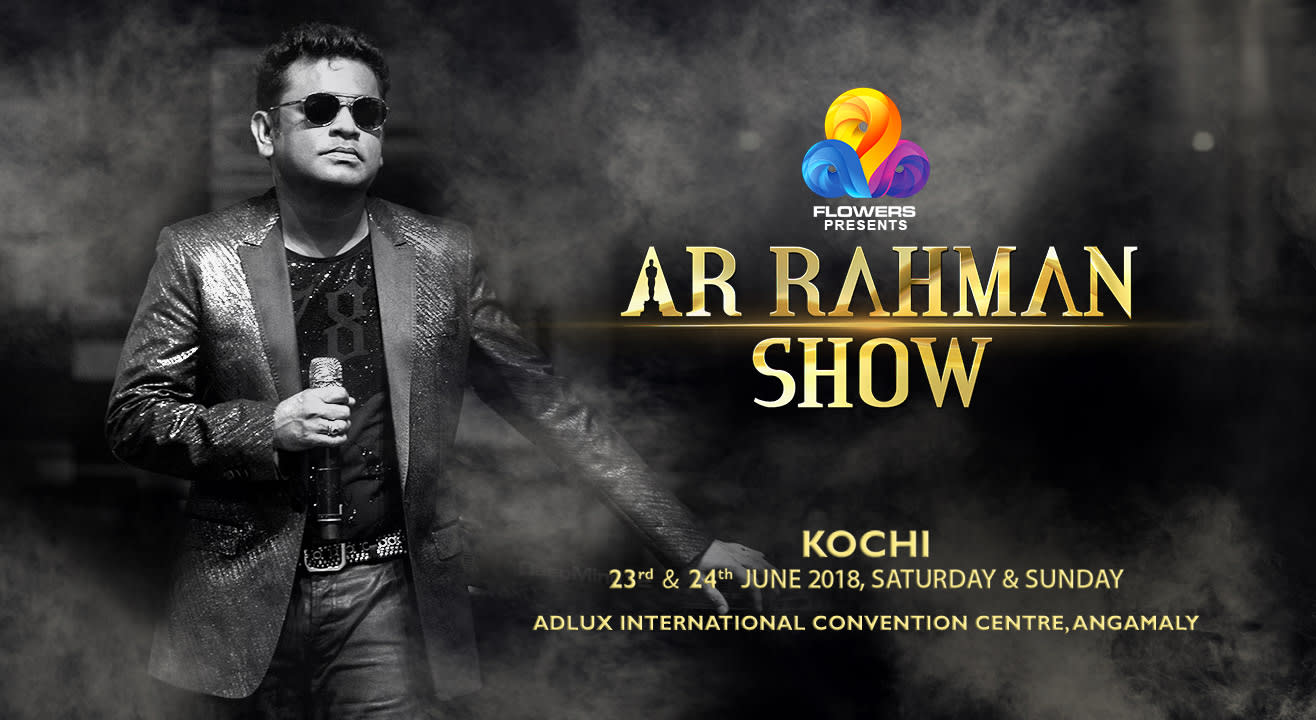 June 23 & 24 | 6:30PM (Gates Open 4PM)
Adlux International Convention & Exhibition Centre, Kochi
Step out and enjoy this event
Invite your friends
and enjoy a shared experience
June 23 & 24 | 6:30PM (Gates Open 4PM)
Adlux International Convention & Exhibition Centre, Kochi
Step out and enjoy this event
Invite your friends
and enjoy a shared experience
Invite your friends
and enjoy a shared experience
Presenting: AR Rahman's first ever show in Kochi, and his first in 10 years in Kerala: 2 days, with a 100-strong crew!
AR Rahman is a name that that needs no introduction to Indian music fans. To call him just a musician or composer would do his impact and legacy no justice. It is hardly an exaggeration to say that he changed the course of popular music in the country, and to this day, remains one of the most sought-after composers. Fans can look forward to 3 hours of outstanding music, on not one, but two dates - 23rd June (Saturday) and 24th June (Sunday), at ADLUX International Convention Centre, Angamaly, Cochin. The venue is air-conditioned, with a seating capacity of 6500 - making it ideal for the maestro's long-awaited return to the state!
In the early 90s, he broke through with smash hits primarily in his native language, Tamil. Those soundtracks, Roja and Bombay, were subsequently remade in Hindi, and with blockbusters such as Rangeela & Dil Se..., Rahman had become a household name across the country. He incorporated western instruments, orchestral music elements, qawalli, and even electronics, with traditional Indian music. While he has won several National Film Awards, BAFTA Awards and Filmfare Awards, he has also garnered international acclaim with two Grammy Awards and a Golden Globe, for his work on Slumdog Millionaire. Throughout his illustrious career, Rahman has composed music for some of the biggest names in the Bollywood and Tamil film industry, and with some of the best singers and musicians. He has several international collaborations as well - including English, Chinese and Iranian films. He has worked with Ranjit Barot, Shivamani, Clinton Cerejo, and international stars like Michael Jackson, Mick Jagger, Kylie Minogue and Zayn Malik.
Adlux International Convention & Exhibition Centre
Angamaly, Cable Junction, Ernakulam District, National Highway 47, Karukutty, Kerala 683576
GET DIRECTIONS
June 23 & 24 | 6:30PM (Gates Open 4PM)
Adlux International Convention & Exhibition Centre, Kochi
Step out and enjoy this event
Invite your friends
and enjoy a shared experience