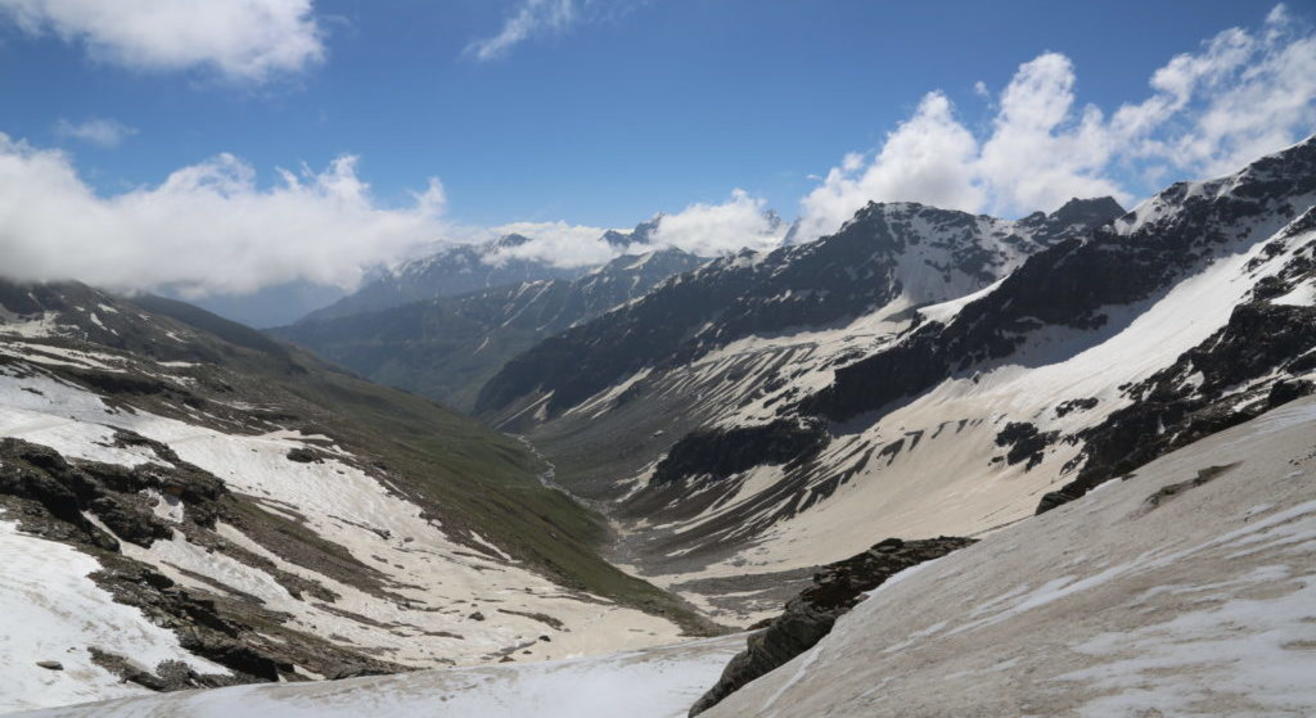 Trek
A Serene Rupin Pass Trek | Wandertrails
About
Rupin Pass Trek is one of the most beautiful trek in The Himalayas which takes you from Uttarakhand to Himachal Pradesh and the scenic beauty which it offers is an unmatch to any other trek in the himalayas. Rupin Pass Trek we start from Dehradun to Dhaula vaillage drive and starting from Dhaula to Sangla by Trekking. During the rupin pass trek you get to see the change in culture from Dhaula to Sangla and then to Shimla.
DIFFICULTY : MODERATE – DIFFICULT
DURATION : 8 DAYS 7 NIGHTS.
Detailed Itinerary:
Day 1: Drive from Dehradun to Dhaula (8 Hours)
We assemble at Dehradun Railway Station and board our transport which will take us to Dhaula. The drive winds along the rivers and valleys and after crossing small towns of Purola and Mori we reach Dhaula. Overnight at Dhaula.
Day 2: Trek from Dhaula to Sewa (7 Km, 6 Hours)
After breakfast we start towards Sewa, our first campsite enroute the beautiful trek, we get to witness some beautiful views of Rupin River as we go ahead the trail. However the trail is long but its relatively easy. The trail ascends among Apple and Apricot Orchards and finally reaches Sewa Campsite. After Dinner Overnight at Sewa Camp Site.
Day 3: Trek from Sewa to Jhaka (9 Km, 7 Hours)
After breakfast we head towards Jhaka, the trail ascends today will be one notch up compared to previous day's trek. As we ascend we soon cross the a wooden bridge which marks the border of Himachal And Uttrakhand, soon we walk along the road headed towards Kwar Village in Himachal and soon after crossing another bridge on the road we take the trail headed towards Jhaka. The trail from here is precarious as its cut out of a sheer cliff, we recommend you to walk carefully and follow your trek leader's instructions by the word as it's important for your safety. We reach Jiksun Village and take another one hour's hike from the Forest to get to Jhaka Village.
Day 4: Trek from Jhaka to SaruwasThach (6 Kms, 5 Hours)
After breakfast we head towards SaruwasThach, the trek today is interesting as it takes us through streams, forests, snowy patches, rhododendron forests & boulders. This mix of terrain is one of the most exciting part of the trek. Centuries old Pine Forests are a sight to be seen, soon we approach SaruwasThach. A beautiful "U" Shaped Valley with the Rupin Waterfall as a setting at the background of this campsite makes it all the more special. After dinner overnight at SaruwasThach Camp Site.
Day 5: Trek from SaruwasThach to Dhanderas Thach (5 Km, 4 Hours)
Today will again be a mix of varied terrains and we will be camping at one of the Largest Known Meadow in the entire Himalayan range DhanderasThach. The trail takes us through a forest lined with Silver Birch Trees and then to oak and pine forest soon we will be crossing Rivers, climbing boulders, with hundreds of waterfalls making the trek more mesmerising and enchanting. After 4 Hours of trek we soon will find ourselves in another "U" Shaped valley which seems endless. We camp at DhanderasThach Camp Site. After dinner overnight at Camp Site.
Day 6: Trek from DhanderasThach – Upper Waterfall Camp (3 Hours with 2 Hours of Steep Climb)
Today's trek will mostly be snow trek, we will train you on how to trek on the snow. Some basic skills will be instructed so it becomes easier for you to trek on Snow, the trail will ascend to 4000 Meters some 1500 Meters above the DhanderaThach. The trek will take you through snow and snow bridge. Crossing rivulets and finally a steep climb to take us Upper Waterfall Campsite.
Day 7 : Trek from Upper Waterfall – Rupin Pass – Ronti Gad (10 Km, 11 Hours)
After breakfast we begin our final assault to climb up to the 15250 Feet high Rupin Pass, the trail will take us through thick snow cover as we ascend we soon will encounter loose rocks and undefined trails with some breath taking views of the Himalayas. As we reach the top we witness endless snows in all sides one of the most beautiful scenes that the mighty Himalayas can offer. After spending sometime at the top we head down towards Ronti Gad, if you choose you can even slide down to save time and energy. Overnight at Ronti Gad Campsite.
Day 8: Trek from Ronti Gad – Sangla (12 Km, 6 Hours)
Last day of trek begins with a small ascent and a sharp decent thereafter, after breakfast we head towards Sangla, as we descent we are treated with splendid views of Mt. KinnerKailash (Winter Abode of Lord Shiva) and the entire KinnerKailash Range in Greater Himalayas, after few hours we will reach the lake of Sangla Kanda, a short break here and we descend through blue pine forest to reach the Baspa River and another small ascent marks the end of the trek. From Sangla one can plan to stay overnight or leave straight away in Cab or Buses which regularly ply from here towards Shimla.
Inclusions:
Accommodation Camping / Home stay on sharing basis
All Meals while on trek (Veg) from day 1st dinner to day 8th breakfast.
All fees and Permit (only for Indians).
Trek equipments: Sleeping Bag,Tent,Carring Mat,Kitchen & Dining Tent,Toilet Tent and cooking utensils
First aid medical kits and oxygen cylinder.
Qualified and experienced Trek Guide and support staff.
Exclusions:
Any surface transfer during the trek.
All fees and permit for Foreigner
Porter / Mule for carrying personal luggage.
Packaged water bottles or any other beverages.
Unscheduled stay due to landslide.
Anything not mentioned in above above inclusions.
Unscheduled stay due to landslide.
Cost Escalation due to "Force Majeure" and evacuation charges.