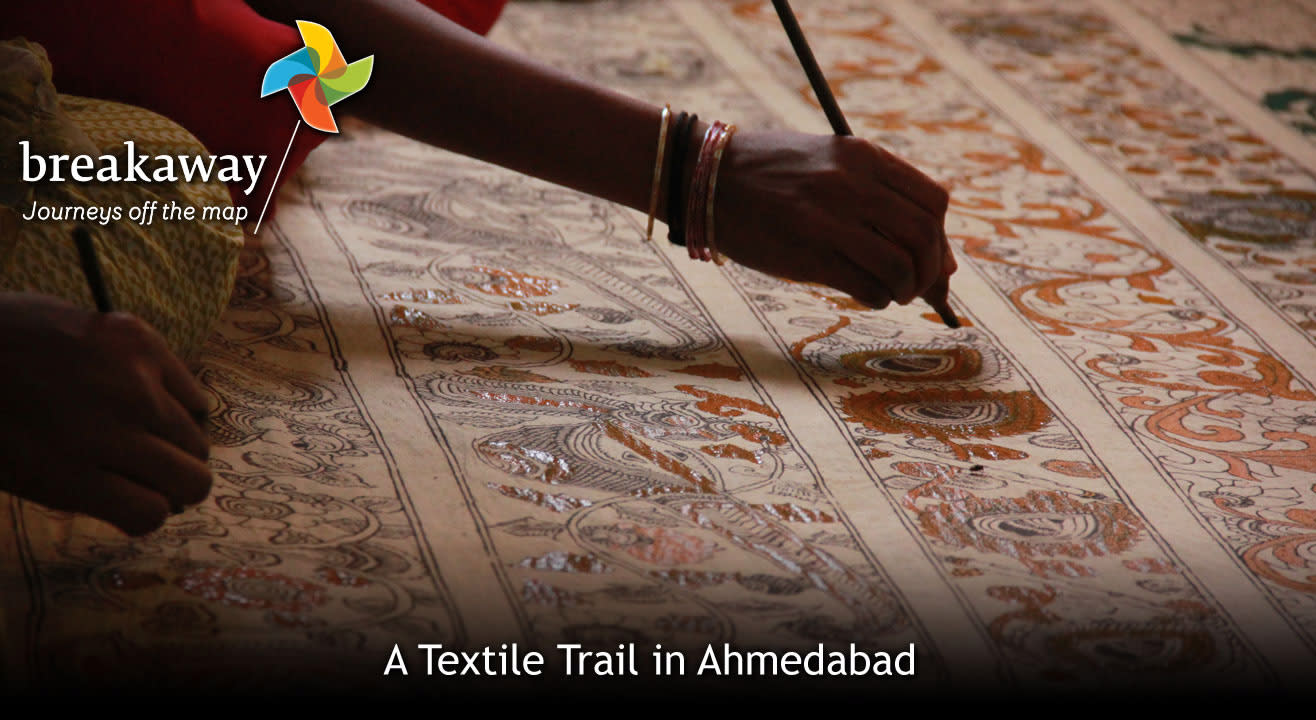 Guided Walks
A Textile Trail in Ahmedabad
About
Breakaway ventures into the stories and traditions that have created the fabric of contemporary India and provided the world with some of the finest threads and most sought after textiles.

Start your day in Ahmedabad with a curated walk around the world-renowned Calico Museum of Textiles, archiving textiles from the Mughal and Provincial Courts with a display of intricate dyeing, weaving, printing and embroidery techniques from across India.

Visit a store which empowers women artisans, practices sustainable ways of garment production and promotes conscious consumerism. Get introduced to traditional Indian embroidery techniques like Aahir embroidery, Rabari embroidery, etc.

Go back to Gandhi era & see how cotton was spun & contributed to the Indian Freedom Movement. Interact, observe & learn the art of spinning from a master weaver whose father initiated Gandhiji & taught him to make his own clothes on the spinning wheel.

Meet the Chitaras, a handful of artists that still make hand painted Pachedis - a kalamkari art form traditional to Gujarat.
During this trail you see for yourself the love, hard work, skill and artistry that goes into the making of fabrics the world celebrates.
How do we get to the location?
Breakaway assumes you will already be in Ahmedabad and wish to plug this day into an existing plan. Their facilitator will meet you at your hotel or at a designated spot that is convenient to you.

What are we doing on this trip?
This trip promises to offer a unique and personalised interaction with traditional artists & a curated walk around a world renowned textile museum.
How long is the trip?
You can start the trail at about 10:00 AM & finish it by to 7:00 PM, including a break for lunch and tea. You will be moving around by foot and by car.

We are a large group, what is the maximum group size possible?
A minimum of 2 and a maximum of 8 people can go at one time. Breakaway does not want to compromise on the quality of the experience for their guests and hence would like to restrict group size.

Can we customize our trip?
Breakaway can plan additional interactions at an additional cost. Call them, and they will do their best to work out a plan for you.

This is my first trip to Gujarat. Can I stay back a few days and can you help me plan this time better?
Yes they can. Please talk to Breakaway about the time you have available and they will help put together a plan to cover some other interesting experiences of Gujarat.

Can you work this walk on our dates as per our convenience?
Breakaway can change dates subject to availability of their craft expert and at least 2 confirmed guests to work within the prescribed cost structure. No refunds on purchased ticket are possible, even in case of any rescheduling.
Venue
Gate of Calico Museum
At the Gate of Calico Museum, The Retreat, Airport Rd, Opp. Rani Sati Mandir, Jain Colony, Shahibag, Ahmedabad