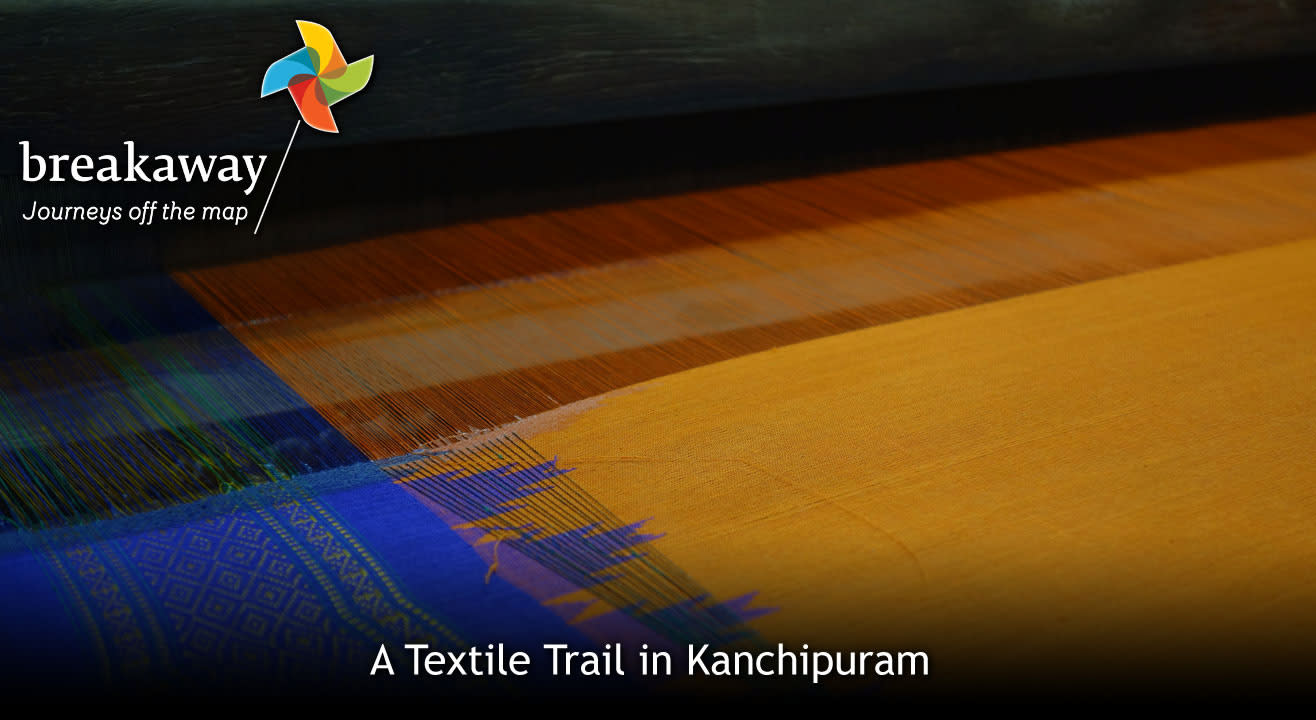 Guided Walks
A Textile Trail in Kanchipuram
Adayar Ananda Bhawan Restaurant
About
The temple city of Kanchipuram is also the silk city of India. Kanchipuram is where the famous Kanchipuram (also known as Kanchivaram) silk saris come from. The glamour of the Kanchipuram silk sarees in its colour contrasts, temple borders, checks, stripes and floral "buttas" are traditional designs you will find in a Kanchipuram sarees. In a genuine Kanchipuram sarees, the border, body and border are woven separately and then interlocked together. The joint is woven so strongly that even if the sarees tears, the border will not detach. . Kanchipuram has more than thousands of handlooms and skilled weavers that make its silk sarees one of the best in the entire world.

Kanchipuram is also known for two other major textiles – the Angavastram weaves (shoulder cloths) and the Konrad Sari, both typically seen draped on deities in the Temples.

We start our tour with visit to Shiva temple from where the artisans get inspiration & you will see the motifs & designs on the temple walls which are produced on the sarees.

You visit the looms and watch exquisite fabrics come to life. Your facilitator acts as a bridge between you and the artisans, explaining the nuances of the elaborate weaves. We will see different techniques of weaving.

Come breakaway & discover a small fraction of the rich textile of India.
How do we get to the location?
We assume you will already be in Chennai and wish to plug this day into an existing plan. Our facilitator will meet you at your hotel.
What are we doing on this trip?
This trip promises to offer a unique and personalised interaction with traditional artists. You visit the looms and watch exquisite fabrics come to life. Meet the weavers & their families. Also see the dyeing operations and the punching of cards for jacquard weaving . Lunch at Sarvana Bhavan, and time permitting you can go to the Kailasanatha temple for darshan.
How long is the trip?
We can start the trail at about 8:30 am & finish it by to 6.00 pm, including a break for lunch and tea. We will be moving around by foot and by car.
We are a large group, what is the maximum group size possible?
A minimum of 2 and a maximum of 8 people can go at one time. We do not want to compromise on the quality of the experience for our guests and hence like to restrict our group size.
Can we customize our trip?
We can plan additional interactions at an additional cost. Call us, and we will do our best to work out a plan for you.
This is my first trip to Tamil Nadu. Can I stay back a few days and can you help me plan this time better?
Yes we can. Please talk to us about the time you have available and we will help put together a plan to cover some other interesting experiences of South India.
Can you work this walk on our dates as per our convenience?
We can change dates subject to availability of our craft expert and at least 2 confirmed guests to work within the prescribed cost structure.