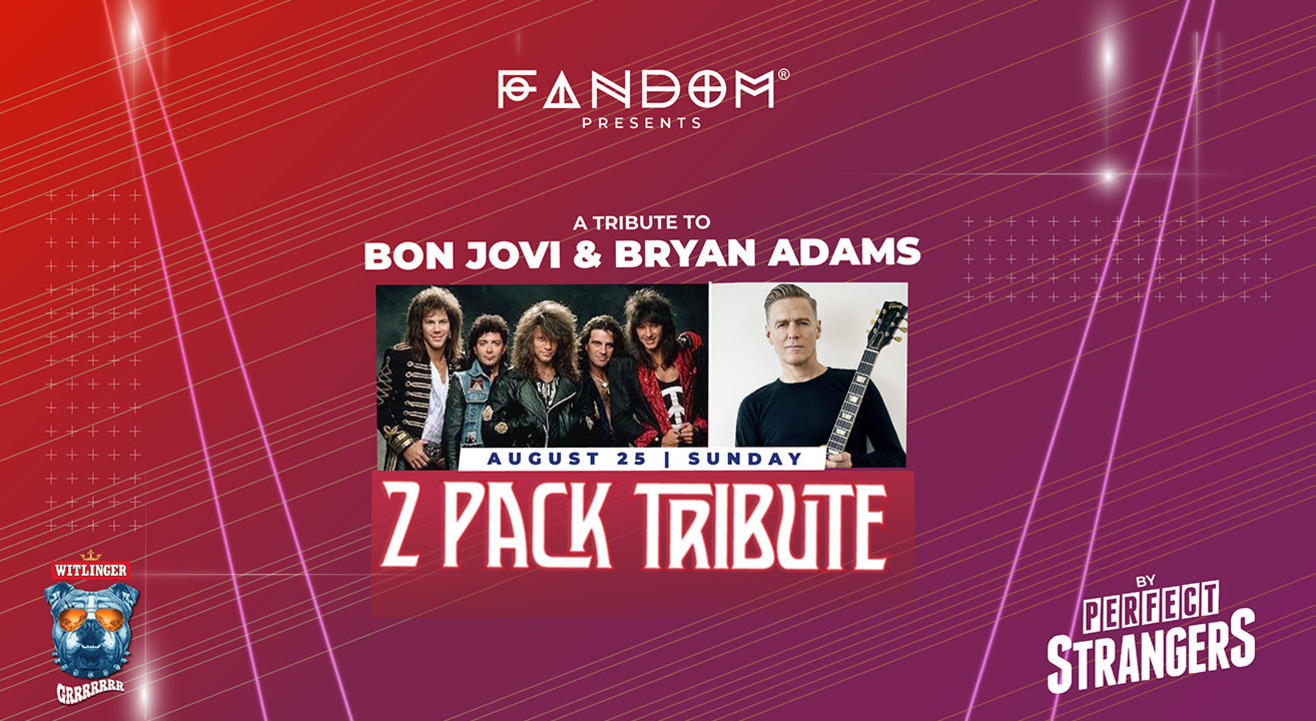 Music
A tribute to Bon Jovi and Bryan Adams by Perfect Strangers
Fandom at Gilly's Redefined
About
A Timeless tribute to the legendary Bon Jovi and Bryan Adams the perfect strangers
Bon Jovi
Bon Jovi is an American rock band formed in 1983 in Sayreville, New Jersey. It consists of singer Jon Bon Jovi, keyboardist David Bryan, drummer Tico Torres, guitarist Phil X, and bassist Hugh McDonald. Previous bassist Alec John Such was dismissed in 1994, and longtime guitarist and co-songwriter Richie Sambora left in 2013.
Perfect Strangers pays a tribute to their best of Bon Jovi tracks on 25th August. Expect timeless hits 'It's my life' , 'Living on a prayer' , 'You give love a bad name' , 'Bad medicine', 'Always', 'Bed of Roses' and many more.
Bryan Adams
Bryan Adams is a Canadian rock singer-songwriter, photographer, and social activist whose hit albums Cuts Like a Knife (1983) and Reckless (1984) made him one of the most popular and successful recording artists of the 1980s.
Watch Perfect Strangers pay tribute to this rockstar's music and legacy and sing along with hits like 'Everything I do', '18 till I die', 'Summer of 69', 'Run to you' and many more evergreen songs from his discography.
Perfect Strangers
A versatile band formed in 2013, Perfect Strangers play both originals and covers, without restricting themselves to any genre. The band combines elements of pop, blues, progressive and jazz rock.
Don't be surprised if you hear a jazz-rock based original followed by a peppy pop-rock cover tune. But what you can expect is plenty of new material that demonstrates their versatility.
What really strikes you are the well-executed instrumental passages and the multi-part vocal harmonies that give them their unique sound.
What is Fandom At Gilly's Redefined?
At Fandom, our new live venue, prepare to be blown away by sensational live performances. Our 500 standing capacity venue is fully equipped with a grand stage and a robust sound and lighting system. To find out who is performing at Fandom, just check out our Event Calendar!
What is Gilly's Redefined?
Gilly's Redefined is the next step in the gastronomic evolution of our signature resto-bars - Gilly's. We have kept in mind the years of feedback we've received from our guests, threw in some spices of inspiration and hard work, blended it with yumminess, and topped it off with top-notch entertainment throughout the week so that every day feels like the weekend.
We have carefully and lovingly curated three floors of unique experiences - our vibrant resto-bar, Myu Bar and towering rooftop, The Terrace.
Be it a working lunch, catching up with friends, a relaxing event with family… you can celebrate it here within one groovetastic destination because it's always a good time at Gilly's!
*Club rules apply.
Venue
Fandom at Gilly's Redefined
1st floor of Gillys redefined, # 413, 100 Feet Road, 4th Block, Koramangala, Bengaluru, Karnataka 560034