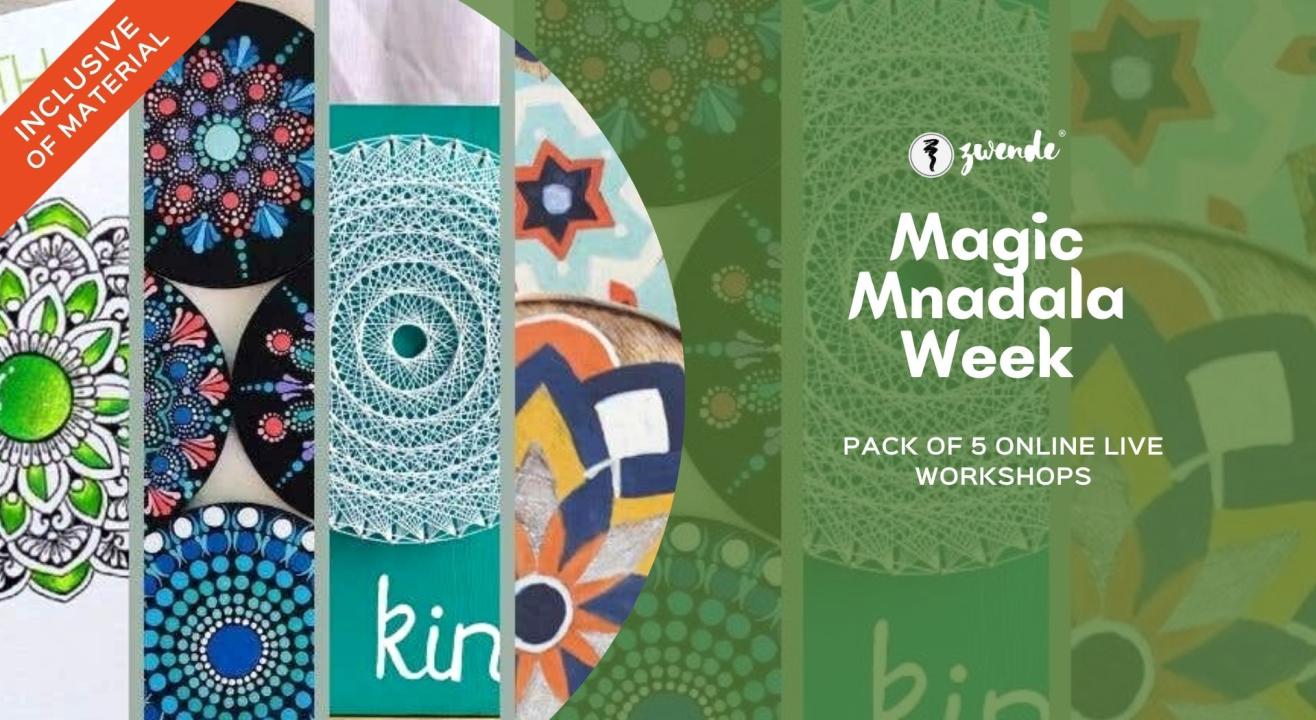 A Week of Mandala Magic! [Pack of 5 online live workshops]
August 23 | 3:30PM - August 27 | 6:30PM
Enjoy this event from your home
Event Guide
Masterclass
Learn from an expert
Invite your friends
and enjoy a shared experience
Event Guide
Masterclass
Learn from an expert
Invite your friends
and enjoy a shared experience
About the Event
A Week of Mandala Magic!
Immerse yourself in the wonderful world of Mandalas with this week dedicated to the artform. Mandalas are spiritual symbols which help bring peace to one's mind. Master this craft and treat yourself to a relaxing and calming week of art!
This delightful week of art includes...
Mandala on Wooden Plate
Unwind with art and create an alluring mandala on a wooden plate!
Mandala on Coasters using Dot Art
Unwind, relax and indulge yourself in the intricate artform of dot art and mandala!
Mandala with Pichwai Art
Dive into the intricate world of mandalas and learn basic structures of the Pichwai artform.
Mandala with String Art
Combine the art of Mandalas and String Art to create a piece of home decor!
3D Mandala with Gemstones
Dive deep into the art of mandalas. Learn to draw a 3D gemstone mandala!
Who is this bundle for?
Anyone who is interested to explore and master the art of drawing Mandalas can register.
All the workshops in this bundle are beginner-friendly. (Age 10+)
Experience calmness and tranquility, right at home!
About the Artists
Uttara Garg
@tangytinge
She is a freelance illustrator who works out of her Bangalore studio. Her style is very whimsical, playful and calming. She loves to tell her stories through art. Her Instagram is an entertaining place filled with characters and animals, that all feel like they have their own story behind them. Join her as she will take you to a magical artistic journey.


Shrutika Dhomse
@nartikacreatives
She creates handcrafted, hand-painted home décor products using Mandala/ Dot art as an artform, which not only adds colors & beauty to space but also brings calmness and tranquility to space. She pursued her Masters in Fashion Management from NIFT and was a Fashion Merchandiser by Profession. To beat the stress of the corporate world, she spent her free time practicing the art of Mandala and Pottery which eventually became her full-time profession.
Divdrisht Suri
@mandalas_by_divdrisht
Being a finance graduate from J.D. Birla Institute, Department of Management, she was set to pursue a master's degree in finance from HEC, Paris, until the time she stumbled upon this beautiful artform called mandalas and zentangles. Since then, for her, there's been no looking back and she has gotten herself completely submerged in it. All her work is delineated using pen, ink, and paper. They're all hand-curated designs, in black and white, trying to capture the essence of in-line symmetry and asymmetric art-forms using extreme intricacy.
Leepi Dedhia
@wow.here
She is an art enthusiast who loves creating beautiful and unique things and is constantly venturing into new art forms and mediums. Her small venture started as a short-term plan and now it has been over four years. Her love for the same has been increasing day-by day!
Aakriti Agrawal
@arthbyaakriti
Driven by passion, she is a self -taught practitioner and learner of art. She makes intricate artforms like Mandalas, Zentangles, pattern arts and doodles. She has conducted multiple workshops, art exhibitions and has collaborated with many brands. In addition to this, she also helps beautify the spaces of offices, homes and cafes.
Further prospects and application of what you will be learning
After the workshop you will be able to create more Mandalas of different designs. These artworks can make for mesmerizing home decor pieces and can be used to beautify offices as well. This is a therapeutic exercise, which you can turn into a relaxing hobby to pursue in your free time.
They're intricate, beautiful and mesmerizing! They're Mandalas!