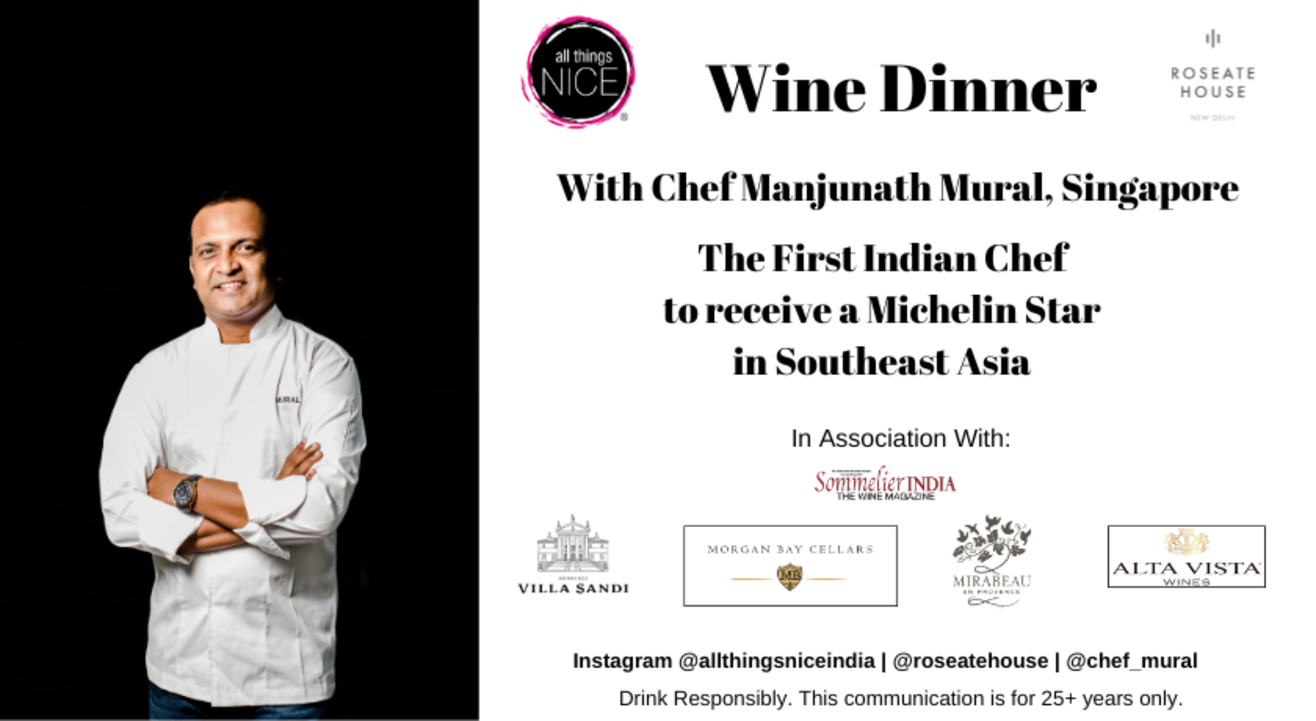 A Wine Dinner with Chef Mural & Sommelier Nikhil Agarwal
September 23 | 1:30PM - September 29 | 11:00PM
Invite your friends
and enjoy a shared experience
A Wine Dinner with Chef Mural & Sommelier Nikhil Agarwal
September 23 | 1:30PM - September 29 | 11:00PM
Invite your friends
and enjoy a shared experience
Invite your friends
and enjoy a shared experience
All Things Nice is proud to host an exclusive Wine Dinner with Chef Manjunath Mural, Executive Chef of Singapore's highly acclaimed restaurant Song of India.
Chef Manjunath Mural is the first Indian Executive Chef to score a Michelin star for an Indian restaurant in Southeast Asia. At the helm of Song of India, a modern Indian restaurant that features regional flavours across India, he was recognised for his decades of hard work in 2016 when the restaurant was awarded one Michelin star in Singapore. In 2017, he once again led his team at The Song of India to garner a Michelin star - still the only Indian restaurant in Southeast Asia to have the honour.
Chef Mural's lifelong dream and vision is to present Indian cuisine at its pinnacle on an international level, where it can be understood, accepted and respected on the same platform as haute French cuisine.
Since Song of India, Chef now operates Cali Chilli in California and Adda in Singapore.
We will be showcasing a 5 course dinner paired with 5 international wines, as selected by the renowned sommelier, Nikhil Agarwal.
Roseate House
Asset 10, Northern Access Rd, Aerocity, Hospitality District, Indira Gandhi International Airport, New Delhi, Delhi 110037, India
GET DIRECTIONS
A Wine Dinner with Chef Mural & Sommelier Nikhil Agarwal
September 23 | 1:30PM - September 29 | 11:00PM
Invite your friends
and enjoy a shared experience