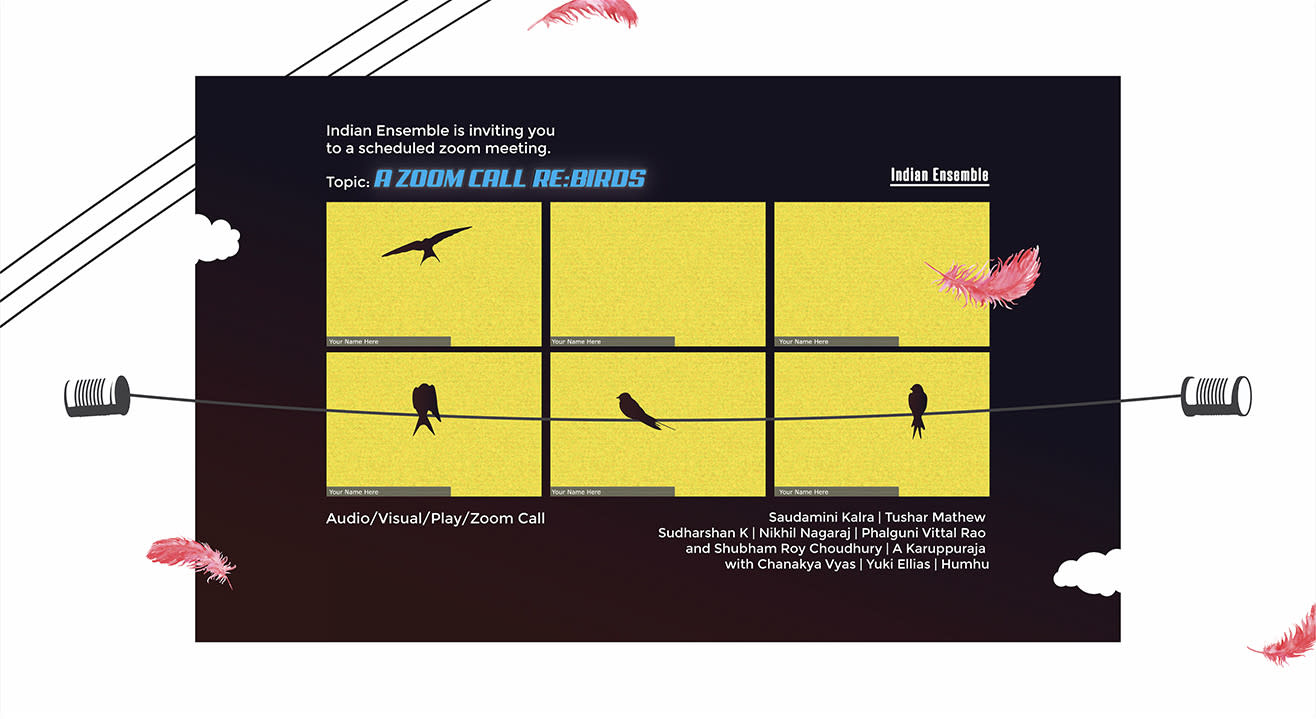 March 19 - March 28 | 7:30PM
Enjoy this event from your home
Event Guide
Digital Event
Join on Zoom
For Age(s)
Family Friendly
Live Performance
Enjoy a unique experience
Invite your friends
and enjoy a shared experience
Event Guide
Digital Event
Join on Zoom
For Age(s)
Family Friendly
Live Performance
Enjoy a unique experience
Invite your friends
and enjoy a shared experience
About the Event
A Zoom Call Re:Birds is a performative audio-visual experience that combines theatrical and old-school radio programming elements. Using a medium synonymous with the pandemic, this Zoom call moves away from what we may have come to understand of this platform, and weaves together a mosaic of fictional and non-fictional elements with mild participant interaction and moments of quiet reflection.
While the call is propelled by the creators' curiosities about birds and their subsequent excitement to share, at its heart is a series of audio interviews with A. Karuppuraja, a young man from Pothakudi village in Tamil Nadu, who found himself at the centre of a grassroots movement triggered by a mysterious bird.
We will be keeping our videos OFF the whole time so don't worry about the hairstyle or the weird pajamas. See you there!
Duration: 75 minutes
Language: English and Tamil
For ages 12 years and above
Written and directed by Saudamini Kalra and Tushar Mathew
Graphic design by Sudharshan K
Sound design by Nikhil Nagaraj
Production Manager: Phalguni Vittal Rao
Translation: Samyuktha PC and Shuaibur Rahman
Karuppuraja's story: A Karuppuraja in conversation with Chanakya Vyas
Publicity: Shubham Roy Choudhury
CAST
Dadi-Golunath story voiced by Yuki Ellias and Humhu
About Us
Indian Ensemble, a Bangalore based theatre group, was started in 2009 by Abhishek Majumdar and Sandeep Shikhar, who were co-artistic directors until 2018. The group has performed several shows to great acclaim in India and abroad, including Sandeep Shikhar's Treadmill, Irawati Karnik's Gasha and Abhishek Majumdar's Kaumudi, Thook, Muktidham and Supernova. Apart from producing over a dozen plays in the last eleven years, Indian Ensemble also devotes a large part of its attention to the training and developing of new and young talents in the theatre through various residencies and training and internship programmes.
Chanakya Vyas, Shubham Roy Choudhury and Saudamini Kalra are the current Artistic Director, Executive Director and Associate Director respectively.
Please Note: If you are a student or someone from an economically disadvantageous position who is unable to buy the ticket, but is eager to watch the show please write to us at indianensemble@gmail.com. We may have a few tickets for you, but choice of show and availability of these tickets will be a last moment decision.
Visit us at: indianensemble.in
Facebook: facebook.com/indianensem
Instagram: @indianensemble
A Zoom Call Re:Birds | Trailer