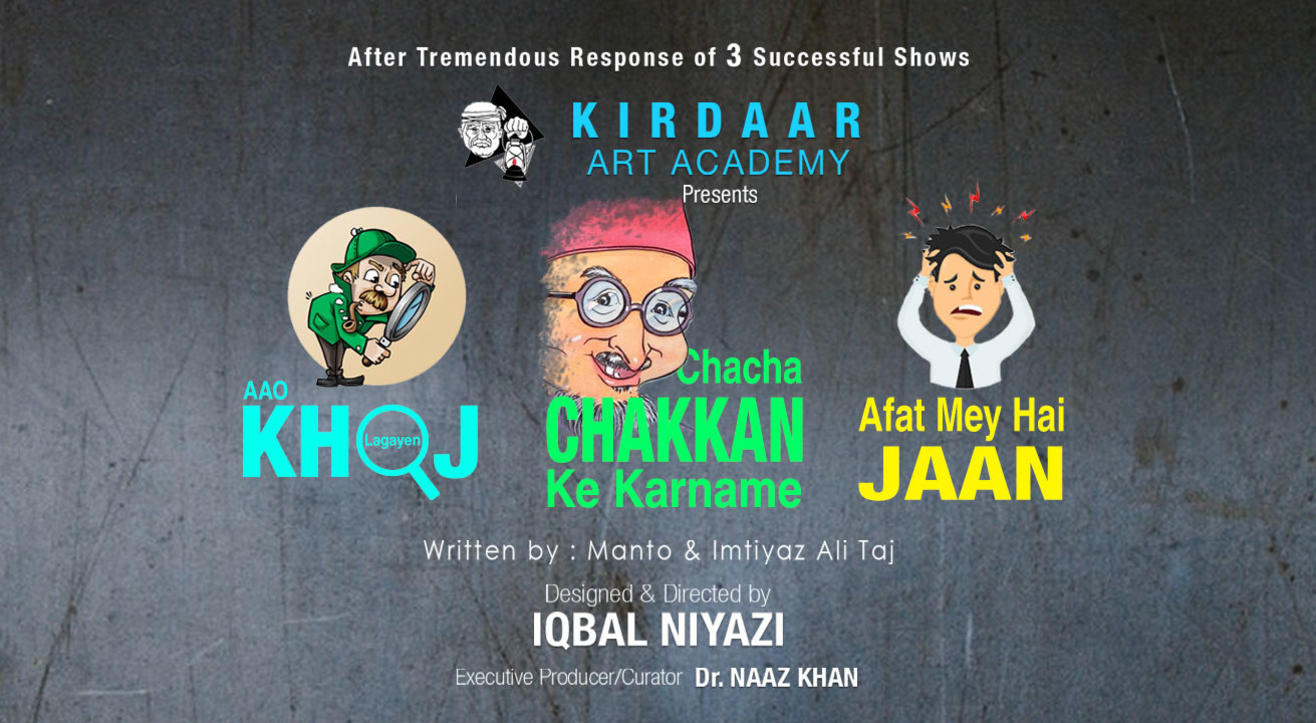 Drama
Aao Aisa Karein & Aafat Mein Hai Jaan & Chacha Chhakkan Ke Kaarnaame
Acting Institute: Kreating Charakters, Mumbai
About
CHACHA CHHAKKAN KE KAARNAME :
The latest one from the Kirdaar-"Chacha Chchakkan Ke Kaarnaame" – is a humorous reflection of life.
The play is penned by renowned playwright Qudsiya Zaidi.
It centers around Chacha Chakkan, a 45 year old gentleman, and his family, particularly his wife known as Chachi. It brings into focus the quirky misadventures of Chacha Chakkan in view of his uncalled for penchant for interfering in house-hold affairs.
It begins with Chacha Chakkan's chaotic search for his lost "Eyeglasses". Interestingly, he does so while wearing the same. By afternoon, he decides to take care of his ailing son, but ends up messing it up by administering wrong dosages of right medicine to the patient. Not discouraged by his idiocy, he, in the evening, decides to manage himself the task of giving out dirty clothes to the washer woman. He, this time, finishes up giving away the clean dresses for being washed, including the golden button studded silk short of his wife.
Premiered in October 2018, the play has 15 shows to its credit, performed in Delhi, Mumbai, Chandigarh, Bhopal, Lucknow, Barelliey, Ghaziabad, Gurgaon etc.
EXCERPTS FROM PRESS REVIEWS
Chacha Chakkan In Action is a hilarious exposure of life in and around us -- The Hindustan Times
Even without its giveaway name, M Sayeed Alam as Chacha Chakkan is the star attraction of the play, carrying the lead role with impressive aplomb – The Hindu
A play that makes you laugh all the way, from beginning to end without indulging into any farcical and made up situation – Mid-Day (Mumbai)
A very ,very funny account of the life of a man who can not imagine going wrong, but is always doing wrong to family friends and others – The Tribune (Chandigarh)
The play kept the funny bone of the audiences tickling with the best kind of verbal comedy not seen in Chandigarh since long time – Amar Ujala (Chandigarh)
The play captures the little details of quotidian life of an ordinary family and depicts the socio-cultural milieu of our country in a light, humorous way - The Indian Express
Qudsiya Zaidi's genius scripting and Iqbal-Alam's careful artistic directions never dilute the edge of comedy and you laugh exactly where you are intended to – The Pioneer
A Laugh Riot -- do not miss the performance of Pierrot's Troupe's Celeberated Hindi Comedy, Chacha, Chachi & Children – The Hindustan Times (National Edition)
AAO AISA KAREIN :
The play centralizes the daily chores of a husband and wife who always never miss a chance to argue with each other . Their arguments take a most hilarious turn aftr the entry of their friend narayan who laways try to heatup the argument between them and keep the two in suspecion from whose side he is talking.
This play reveaps the comic side of Manto who is known for his controvercial intense writings by many people.
AAFAT MEIN HAI JAAN:
The play revolves around the sick man who is suffering from common illness but the people who come to meet him, potrey his illness as major life threatening disease and compelled him to change his thoughts. Every new commer gives him a prescription which is way beyond logic and create a huge laughter among audience.
This play reveals the comic side of Most controversial writer Manto.
All plays are directed by Times national awardee, Mr. Iqbal Niyazi.
Venue
Acting Institute: Kreating Charakters, Mumbai
Bunglow Plot No. 202-224, After Dhanlaxmi Building (Ahead of MTNL RDP-6 SVP Nagar, Mhada Rd, Swastik Cooperative Housing Society, Four Bungalows, Andheri West, Mumbai, Maharashtra 400053