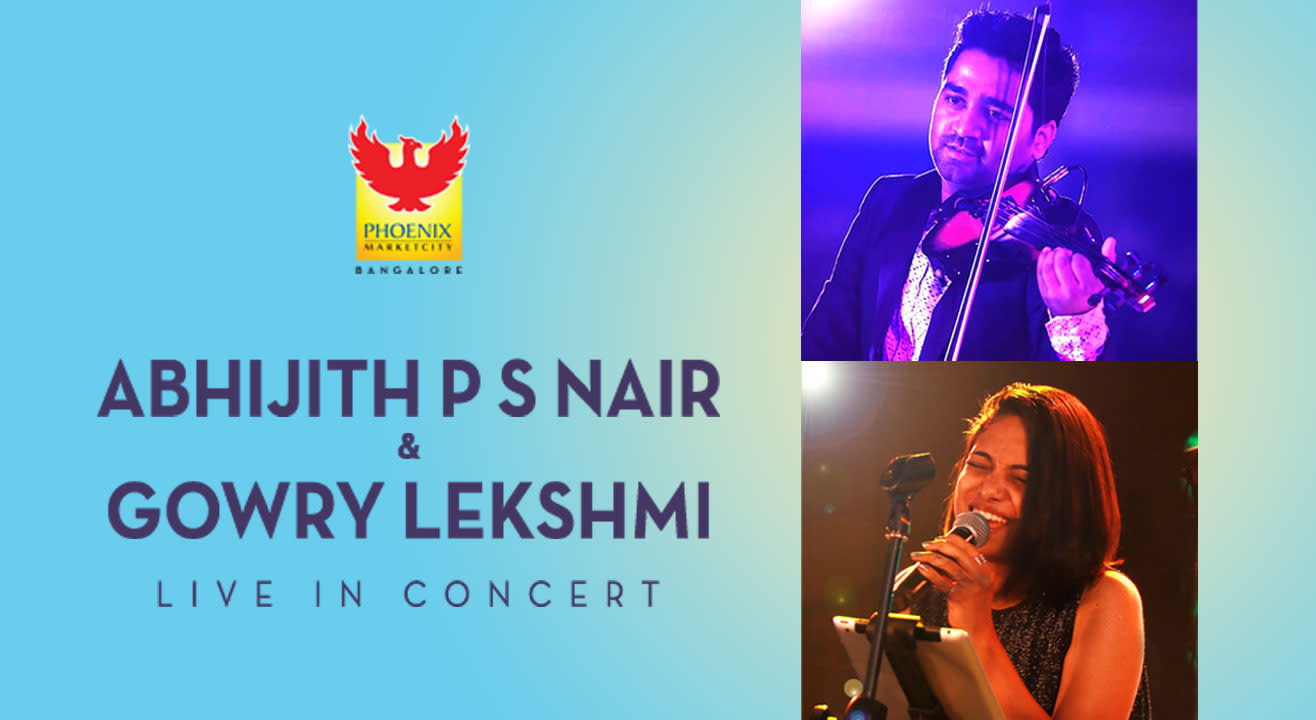 Music
Abhjiith P S Nair & Gowry Lekshmi LIVE
Courtyard, Phoenix Market City, Bangalore
About
Indulge in a surreal musical experience on 28th April when Abhijith PS Nair & Gowry Lekshmi perform LIVE at Phoenix Marketcity Bangalore.
Abhijith P S Nair (born 18 October 1991) is an young sensational Violinist, Arranger and Composer based in India, known for instrumental video projects. He is the man who brought Instrumental Flashmob concept to india, and its video crossed a total of 10 Million viewers in Youtube, Facebook Social media platforms within a month.

More recently, he has collaborated with International legendary drummer Dave Weckl for his first international instrumental Jazz Fusion Album 'Saraswati At Montreux'. This album is a duo instrumental project of Guitar Prodigy Sandeep Mohan and Abhijith P S Nair. First song from the album also featuring Bass Guitar Prodigy Mohini Dey. It went viral on social medias. This album got featured in so many radio stations including BBC.

His second track from the album already announced and released the teaser featuring the legendary drummer Ranjit Barot (who is along time associate of A.R.Rahman and John mclaughlin).
He has shared stage with the great artists like Padmashree K.J.Yesudas, Hariharan, Shankar Mahadevan, Kalaimamani A.Sivamani, Mandolin U.Rajesh, Mattannor SankaranKutty Marar, Stephen Devassy and many more. He was called as a promoter of the Cochin Tuskers Cricket Team(IPL), and was accompanied by Malayalam Rock band Avial.
The entry into malayalam film industry as a music director at the age 18 through the film Akashangalil has only enhanced his stardom.


Gowry Lekshmi, 23 yrs of age who held the hand of music close from her childhood days, has been writing and composing songs. Director Rosshan Andrrews, who liked her song "Sakhiye", used it in his Mohanlal-starrer Casanova that came out in 2012. She was only 13 when she composed the song. The song was used in the movie when she was 15. Gowry's work was much appreciated and got tremendous media coverage then.

The BA Music course in RLV College of Music and Fine Arts, Thrippunithura has cemented her knowledge of music. She continues her music studies in Chennai and has rendered voice for a few Tamil film songs too. Gowry is the youngest lady music director of Malayalam film industry and is the holder of Performer's Certificate Holder from Trinity College of London.

Right now, she is the youngest female music director and lyricist in India. After a short break, she did the promotional song for the movie 'Kunthapura', a movie by the debut director Joe Eeshwar. She also sung the song "Aaro Nenjil" from Godha(won "Best Upcoming Singer - Indywood excellence awards" for the same), "Kaalam Maarunne" from Lord Livingston 7000 Kandi ,"Orkathe" in the Lal Jose's movie Ezhu Sundara Rathrikal. She already performed with prominent music bands and artists including Vijayprakash, Rock of Ages(Cochin based choir band), Job Kurian, Naresh Iyer, Shwetha Mohan, Alphonse Joseph, Bennet and the band, Thalavattam and 5th element.

Gowry, who is extremely passionate about performing live on stage than singing elsewhere, has composed quite a good number of tunes as an independent artist. Thoni is her biggest work so far and she has made sure that she gets the best of the industry as her collaborators.
She has performed in Kappa TV Music Mojo, released nearly 15 own compositions and has been getting great reviews.
Venue
Courtyard, Phoenix Market City, Bangalore
Whitefield Main Road, Mahadevpura, Bengaluru, Karnataka 560048