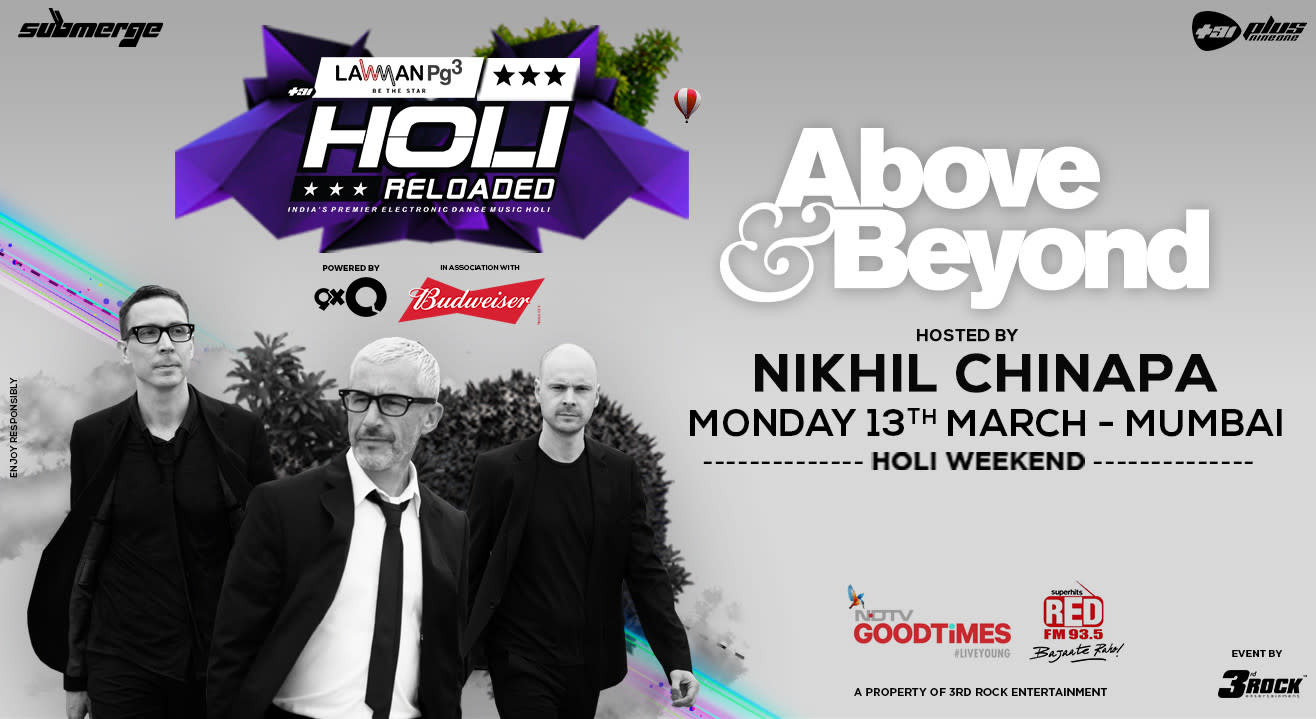 Lawman Holi Reloaded with Above & Beyond, Mumbai
JVPD Grounds, Juhu, Mumbai
Invite your friends
and enjoy a shared experience

Lawman Holi Reloaded with Above & Beyond, Mumbai
JVPD Grounds, Juhu, Mumbai
Invite your friends
and enjoy a shared experience
Invite your friends
and enjoy a shared experience
Legendary dance music act Above & Beyond come down to India for a 4-city Holi tour from March 10-13 across Chennai, Hyderabad,Bangalore and Mumbai. Possibly one of India's favourite international acts, celebrate Holi weekend with the Grammy-nominated electronic act. The Mumbai show, in partnership with Holi Reloaded, will be hosted by Nikhil Chinapa.
The four-city tour has been organised by dance music promoters Submerge – who have been behind all of Above & Beyond's tours of India, including the very special show at Bangalore's Jayamahal Mahal in November 2012.
"India has always been a special place for us, it's the birthplace of Group Therapy Radio and the spiritual home of our Anjunabeats label. Visiting our friends and fans during Holi - a colourful celebration of togetherness - will be a truly special thing," said the band in a statement.
Above & Beyond are known and loved for their grand sweeping melodies and emotional lyrics. The band comprises of Jono Grant, Tony McGuinness, and Paavo Siljamäki. The trio have played at all the world's leading dance music festivals from Glastonbury, Creamfields, Electric Daisy Carnival to Pukkelpop and Lollapalooza, and also own two widely-respected label, Anjunabeats and Anjunadeep. Their radio show, Group Therapy reaches 30 million listeners in 35 countries – every week. The only act ever to win Essential Mix of the Year on BBC Radio 1 twice, they are also the first British DJs to sell out New York's Madison Square Garden. They also managed to get Bryan Cranston to revive his much-loved character, Walter White - albeit briefly - at EDC, Las Vegas in August 2015 on their 2013-released track, 'Walter White'.
If making chart-topping albums wasn't enough, their stripped back, acoustic reworkings of their best-selling songs like 'Sun & moon', 'Sticky fingers', 'We're all we need' and 'Love is not enough' have been performed at iconic venues around the world like Royal Albert Hall in London, Hollywood Bowl in Los Angeles, Sydney Opera House among others.
Above & Beyond have started 2017 with a peak-time anthem, 'Balearic balls'.
About Submerge
Submerge is an electronic music outfit that focuses on booking and curating some of the most notable acts from around the world. They are responsible for bringing down some of the biggest dance music properties to India, such as Trance Around the World with Above & Beyond', One Last Tour with Swedish House Mafia and many more. They've also recently conceptualized and executed The Exchange, a music conference and showcase aimed at strengthening business ties between India and the UK. Nikhil Chinapa, Hermit Sethi and Pearl, the three founders at Submerge, aim to connect fans with their music idols and have helped build the foundation for establishing India as the go to destination for electronic dance music in Asia.
Message from Nikhil Chinapa
What makes someone Indian?
Is it the place in which she was born?
Is it the colour of his skin?
Or is it something else entirely?
Is it the love that they feel, for this land, and its people?
Tony, Jono, and Paavo of Above & Beyond may not be from here. But that doesn't mean they're not Indian.
Because they are: Indian on the inside. Indian enough to almost intuitively understand the spirit of inclusiveness and community that make this country work.
Indian enough to have helped launch not one but two of India's largest dance music festivals.
Indian enough to have chosen Jayamahal Palace in Bangalore to host the first episode of their phenomenal global radio show, Group Therapy Radio, which attracts millions of listeners every week.
Indian enough to have returned to this country, every year, without fail, to share their experience and their passion and their timeless music with this country's dance music community.
This year, one of the most iconic groups in India's dance music history celebrate one of India's most iconic holidays for the first time: Holi.
I think it's fitting that a group so attached to celebrating colour, from the ribbons on their Group Therapy album art, to the fantastic visuals that accompany their performances should will be providing the soundtrack to India's most exuberant holiday.
At its core, Above & Beyond's music is about being comfortable in your own skin, and open with who you are. And I think Holi is about being uninhibited, about sharing your own joy with your loved ones, and the world.
This is going to be a really special occasion -- I think most importantly because Above & Beyond make party music for the thinking man (and woman!) It's not just about being mindless. It's about celebrating your own humanity, by treating yourself and others with respect.
I see this is a huge cultural celebration -- an East-West mashup that brings together the best of both worlds.
And I can't wait to see you all there on March 11, 12, and 13.

There's always an OYO near You.

We've got 70,000 rooms in 7,000 hotels across 200 towns. So no matter where you may find yourself, one thing is for sure – you'll also find OYO's hassle-free hotels right next door :)

To find an OYO near the venue, click on OYOs in Mumbai

For more information, please call +91 9313931393

Terms and conditions:
Check-in Time - 12:00 PM
Check-out Time - 11:00 AM

Identification requirements: Please carry your Driving License/ Voter ID/ Passport/ Ration Card or Aadhar Card at the time of check-in. Guests won't be allowed check-in if they are unable to provide a valid photo identity proof.
PAN Cards are not accepted.

Hotels reserve the right to admission to ensure safety and comfort of guests.


JVPD Grounds, Juhu
30, Devle Rd, Juhu, Mumbai, Maharashtra 400049
GET DIRECTIONS
Lawman Holi Reloaded with Above & Beyond, Mumbai
JVPD Grounds, Juhu, Mumbai
Invite your friends
and enjoy a shared experience