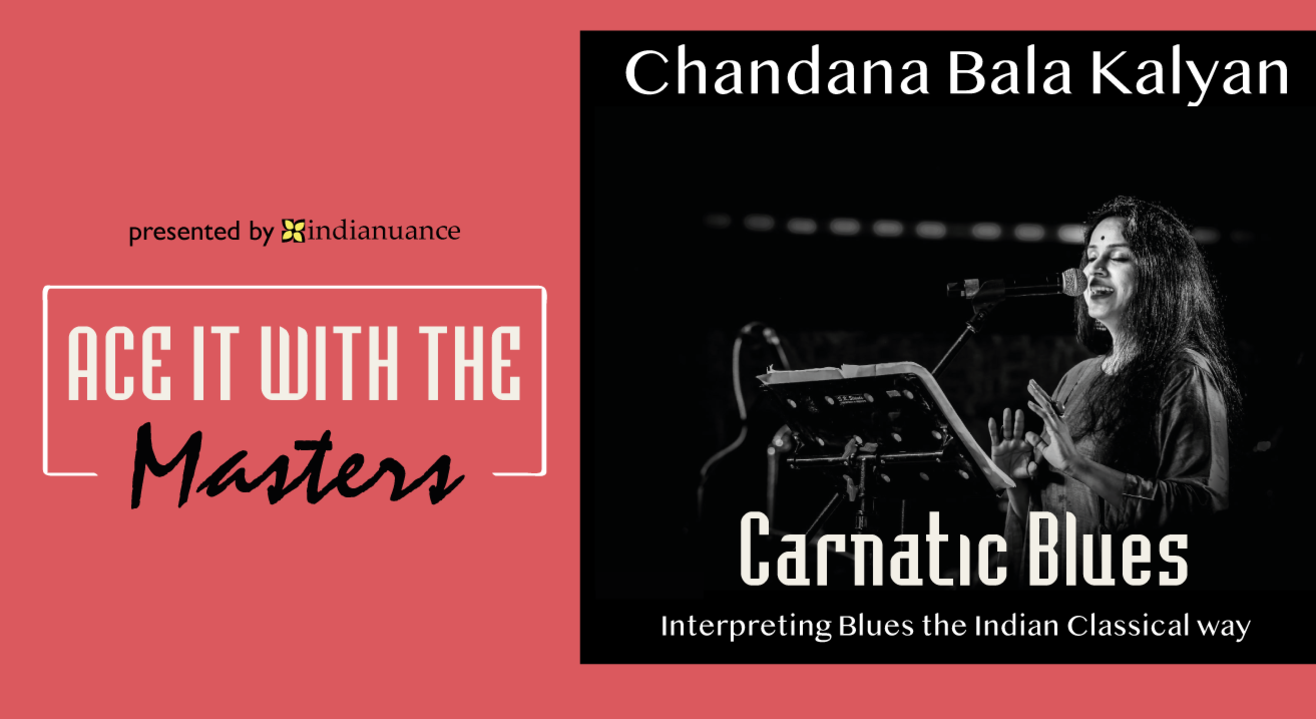 Ace it with the Masters, Chandana Bala Kalyan
Enjoy this event from your home
Event Guide
Digital Event
Watch on Zoom
Masterclass
Learn from an expert
Invite your friends
and enjoy a shared experience
Ace it with the Masters, Chandana Bala Kalyan
Enjoy this event from your home
Event Guide
Digital Event
Watch on Zoom
Masterclass
Learn from an expert
Invite your friends
and enjoy a shared experience
Event Guide
Digital Event
Watch on Zoom
Masterclass
Learn from an expert
Invite your friends
and enjoy a shared experience
Nov 1 and Nov 2, from 7 PM to 8 PM IST (2 sessions)
Session Description
These 2 sessions are a rare opportunity to learn a unique musical language from a Master who has become synonymous with merging the style of Indian classical music with the Blues. Those who take this course can be sure to gain some great tips on how two unique styles can find common ground for experimentation and improvisation.
Session 1 (60 minutes), Nov 1, 2020
Introduction to the notes of the Raga Shudhdha Dhanyasi (the Carnatic raga closest to the Blues scale)
Demonstration of the Raga in the Carnatic style touching on some aspects of improvisation.
Transcription of 'Birds Flying High' in swaras.
Demonstration of fusing the 12 bar blues with an Indian composition (Neela Varnane Krishna)
Session 2 (60 minutes), Nov 2, 2020
Recap of Modes emerging from the C Major scale and understanding Carnatic equivalent ragas of the Modes.
Learning to Move the sa gradually from one note to the other in the C major scale.
A Q&A segment will conclude each session.
Post session
Participants will be given an assignment to learn and transcribe a Jazz standard into sargams. All entries will receive feedback and comments from the Master, alongwith a certificate of course completion. Two entries will be chosen by the Master to have 'aced the masterclass'.
For who
Anyone with knowledge of the basics of Indian classic music.
Any one with an understanding of Jazz & Blues and an interest in it's Indian interpretation.
About the Master
Trained and steeped in the Carnatic classical tradition, Chandana brings a unique sensibility to the music she creates and performs.
She has trained under stalwarts in the Carnatic tradition, (R.K Srikanthan and H.S Sudhindra), Chandana is also an A grade artist with The All India Radio.
Many have called her a vocal gymnast, owing to her incredible ability to traverse scales and move between genres as diverse as Carnatic, Hindustani, Sufi and Jazz.
She has taken the Carnatic idiom and given it newer expressions in her experiments with different musical styles.
Chandana is among the few Indian artists to re-interpret classic Jazz through Carnatic vocals.
Her interpretation of the cover of "Take Five" is trending at 2 million plus views on Facebook.
Ace it with the Masters, Chandana Bala Kalyan, Carnatic Blues
Ace it with the Masters, Trailer