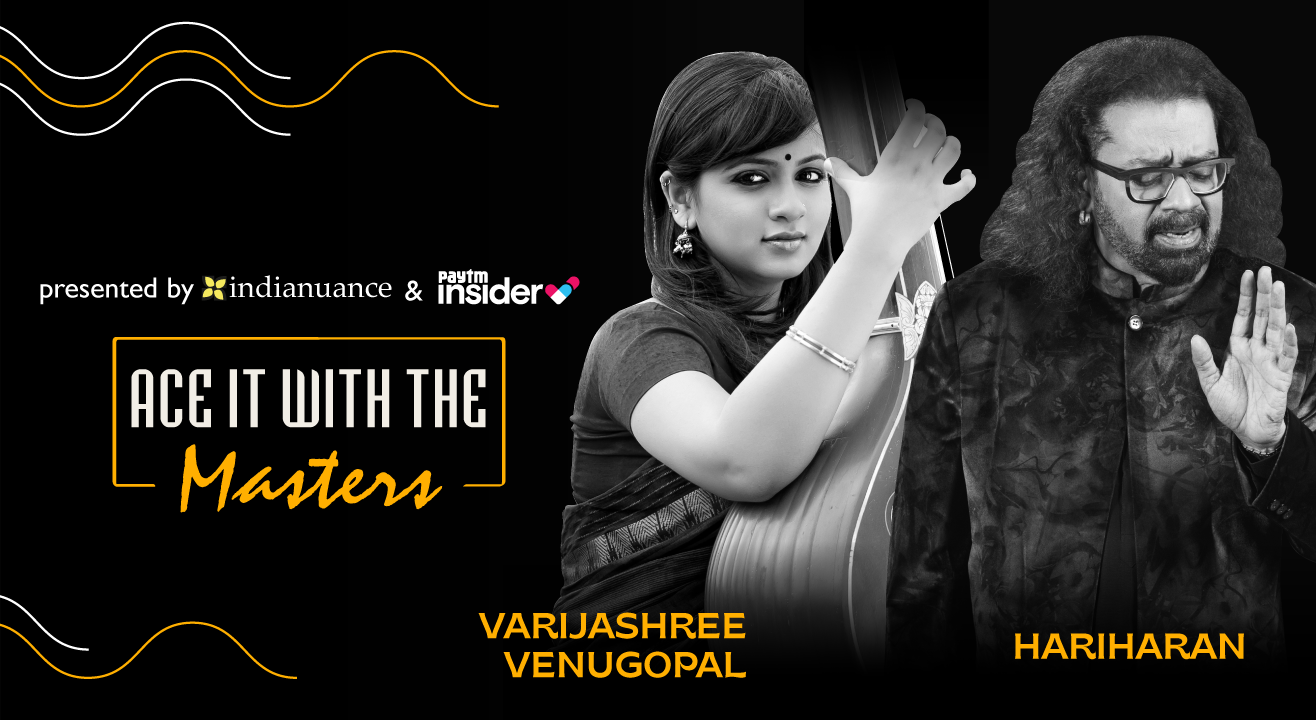 After a stellar series of masterclasses Ace it With The Masters is back with Vol. 2!
From the legendary Hariharan and Varijashree Venugopal - you'll get to learn a lot of diverse musical skills!
Learn music from the legends themselves. Making memorable music is no easy feat, and yet, these musicians have done it time and time again. Getting to learn nuances about their respective fields from these celebrated musicians makes it a special experience for each attendee! With their vast knowledge and impressive discography, we're excited to see everything these Masters have in store for you!
Sign Up for Ace it with the Masters Edition 2 now:
Backing the success of Edition 1, Ace It With The Masters Edition 2 has a lot lined up as well!
What's Coming Up?
The celebrated musician Hariharan will teach the participants a newly composed ghazal of Ghalib, prepared especially for this masterclass. The participants, over two sessions will be able to understand the finer nuances of lyrics and melody.
The sought after performer - Varijashree Venugopal's masterclass will take the participants on The Swara Tour focusing on the various aspects of the Sapta Swaras in Carnatic Music. Over 4 sessions, the participants will be introduced to the notes in a way where they will eventually be able to put them together in a Raga.
Recap of Edition 1:

Edition 1 of Ace it with the Masters saw masterclasses from Sanjay Divecha, Shubha Mudgal, Chandana Bala Kalyan. Students learned the fundamentals of Jazz and Guitar from the virtuoso composer Sanjay Divecha. He taught the Jazz standard, and also covered chords, scales & arpeggios. The session gave the students a good foundation that can be applied to different styles of music!
Pioneer of Indian Classical music - Shubha Mudgal taught compositional learning of devotional music. Over the course of 8 sessions, her masterclass covered Nirgun se Sagun. The students learned to sing devotional verses in traditional classical style.
The Carnatic Classical Vocalist - Chandana Bala Kalyan covered how to adapt Indian Classical to Blues and Jazz. In the 2 sessions, she not only covered a sangam approach to the Blues, but also taught tonic shifts, and explored Carnatic equivalents of the modes emerging from the major scale. With this masterclass, the students learned how to improvise and adapt their training to Blues & Jazz.
Subscribe to receive our newsletter!
Find the best experiences happening out there in your city or enjoy handpicked content while sitting comfortably at home. Paytm Insider is your go-to place to figure out what to do today!