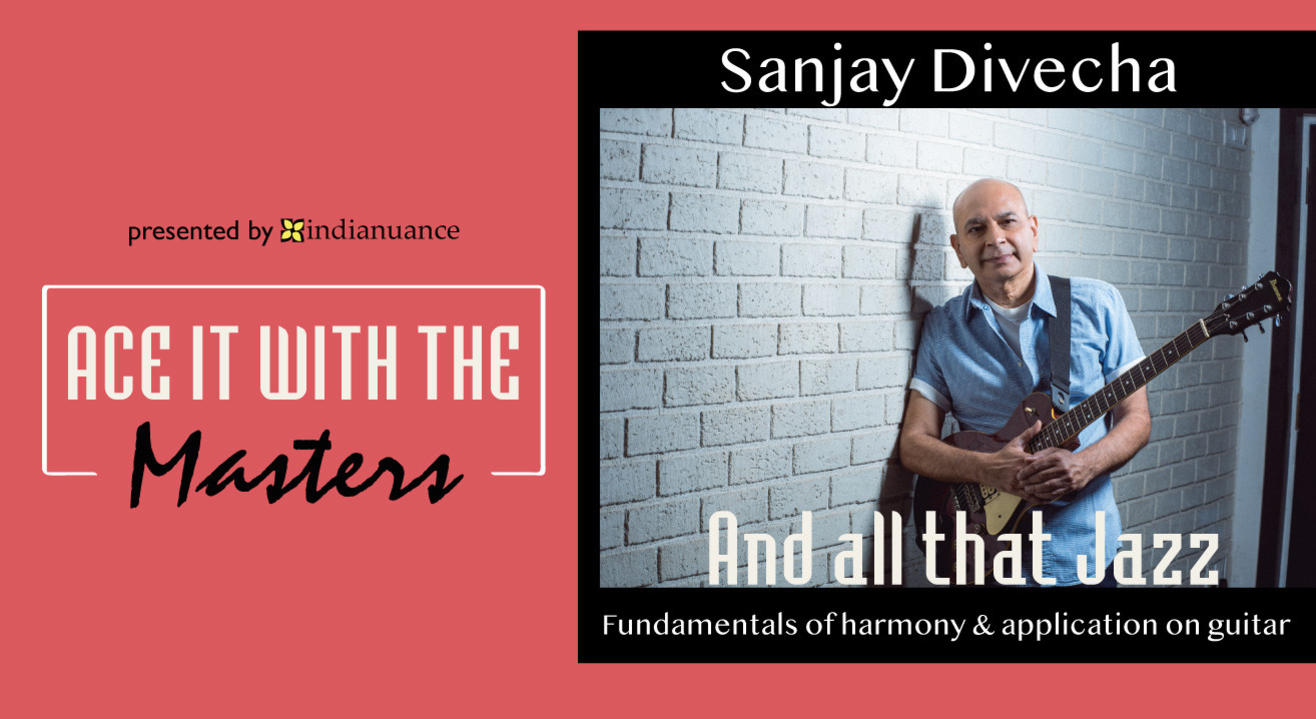 Ace it with the Masters, Sanjay Divecha
Enjoy this event from your home
Event Guide
Digital Event
Watch on Zoom
Masterclass
Learn from an expert
Invite your friends
and enjoy a shared experience
Ace it with the Masters, Sanjay Divecha
Enjoy this event from your home
Event Guide
Digital Event
Watch on Zoom
Masterclass
Learn from an expert
Invite your friends
and enjoy a shared experience
Event Guide
Digital Event
Watch on Zoom
Masterclass
Learn from an expert
Invite your friends
and enjoy a shared experience
Nov 1 and Nov 2, 6 PM to 7 PM IST (2 sessions)
Session Description
These 2 back to back sessions will do a deep dive into the fundamentals of harmony and guitar playing, by one of India's most revered guitar players, Sanjay Divecha. The sessions will be hugely beneficial to all students of jazz music and guitar players, who have an intermediate level of understanding, and want to up their game.
Session 1 (60 minutes), Nov 1, 2020
Major scales in 5 positions
Scale exercises
Arpeggios - Major7 , Minor 7 , Dominant and Minor 7 b5.
Session 2 (60 minutes), Nov 2, 2020
Chord shapes and their inversions. - Maj 7, Min7 , Dominant and Minor7b5
How to study a song .
Song that will be studied is Autumn Leaves
A Q&A segment will conclude each session.
Post session
An exercise will be given for students to work and send back to the Master for correction and feedback.
Certificates to all participants from the Master and a special video message to the top 2 participants who 'aced the masterclass'.
For who
Intermediate level players who want to up their game
Anyone who is considering music as a profession and/or is getting ready to join music school
Those who need a good foundation that can be applied to different styles
Prior training in contemporary Western music is preferred
Prep work
Basic theory of how harmony functions, although these will be briefly touched upon in the class. However, a proper understanding of the following concepts will help.
1. Interval
2. The major scale
3. How triads and 7th chords are formed
4. Ear training - The ability to sing/ recognise intervals.
About the Master
Through a luminous 35 year long career, Sanjay has worked with artists such as Angelique Kidjo, Carlos Santana, Dave Weckl, Louis Johnson, Dumazz and Sambaguru among others.
He also collaborated with A.R. Rahman on the Danny Boyle movie "127 Hours" that won 'Best Original Score', the OST for the movie "Woman on Top" and has also scored for the movie 'Leela' by Somnath Sen which won a Special Jury Award at Toronto Reel World Film Festival.
Sanjay's quest has brought him face to face with legends, visionaries and doyens. Sanjay is a part of the hugely successful supergroup CROSSCURRENTS led by Zakir Hussain and featuring stalwarts such as Dave Holland, Chris Potter, Shankar Mahadevan, Louiz Banks and Gino Banks.
Sanjay leads three diverse ensembles, Sanjay Divecha & Secret, MERKABA, and his Trio.
www.sanjaydivecha.com
Ace it with the Masters, Sanjay Divecha, Fundamentals of Harmony
Ace it with the Masters, Trailer