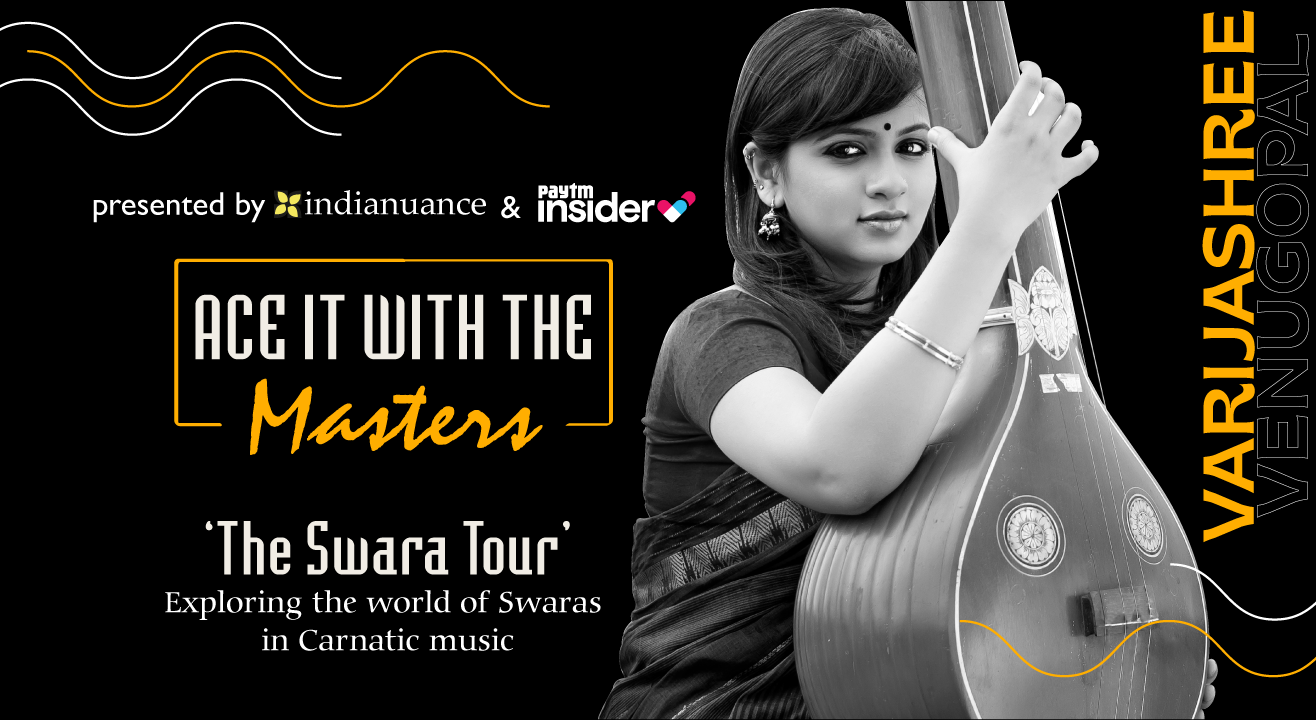 Ace it with the Masters | The Swara Tour with Varijashree Venugopal
October 30 & 31 | 6PM - 8PM
Enjoy this event from your home
Event Guide
Digital Event
Join on Zoom
Masterclass
Learn from an expert
Invite your friends
and enjoy a shared experience
Ace it with the Masters | The Swara Tour with Varijashree Venugopal
October 30 & 31 | 6PM - 8PM
Enjoy this event from your home
Event Guide
Digital Event
Join on Zoom
Masterclass
Learn from an expert
Invite your friends
and enjoy a shared experience
Event Guide
Digital Event
Join on Zoom
Masterclass
Learn from an expert
Invite your friends
and enjoy a shared experience
'The Swara Tour' will focus on various aspect of the Sapta Swaras in Carnatic Music. The masterclass will cover the introduction to the notes, recognizing them and eventually how to put them together to form a Raga.
Varijashree will also explain the different Ragas in detail with respect to their rules, compositions and also how to make improvisations in them. Over the 4 sessions, Varijashree will go into detail about the notes and sounds of Carnatic music in theory as well as practical applications. The 1st and 3rd Sessions are mostly theory based where Varijashree will also sing for the attendees along with explanation of the concepts. The 2nd and 4th Sessions will be application based sessions. A Q&A segment shall conclude each session.
Masterclass Schedule
Session 1
• Introduction to the system of Sapta Swaras - the Indian solfege and the 12 positions in an octave. These 12 positions and their names and nomenclature, values, etc. will be discussed, followed by the more intricate system of 16 notes in an octave according to the Carnatic system of music and their nomenclature.
• The next exercise will familiarize students with the sounding of each of these 16 notes and their positions in an octave, the intervals in between these notes, how to understand them, hear them, recognize them, and apply in singing.
Session 2
• How to recognize a note or how to recognize notes with respect to a tonic? This session is going to cover practical applications of what was taught in the 1st session. Students shall practice how to spot the tonic and how to register the root note or tonic note and then recognize all the other notes with respect to that.
• Varijashree will prepare phrases or a small set of compositions that she will be singing for students. She will sing the composition and explain how to decipher the tonic and other notes in the composition.
Session 3
• The system of ragas with respect to Carnatic music will be discussed. Varijashree will give examples of a few Ragas that she will sing and play for the students.
• The types of Ragas according to the theory of Carnatic music will be discussed, along with examples from the Carnatic system of music as well as some Hindustani Raags as well so that students can relate to it and get familiar with the concept of a Raga.
Session 4
• This session will be all about application of Ragas and how to make your own phrases inside a Raga.
• We will be exploring 5-6 Ragas where Varijashree will explain how to go about or improvise in those Ragas individually and then give students exercises to try after which the participants can come up with their own phrases.
Who is this Masterclass for?
• Participants with a basic level of exposure to Carnatic or any other Classical or Non-Classical styles of music
• Instrumentalists with a basic level of background in Carnatic music are also welcome
About Varijashree Venugopal
Varijashree was born to musician parents Vidwan Sri H.S. Venugopal and Smt. T.V. Rama. and is a solo flute performer and a sought-after recording session artist.
She was found to have the rare ability to identify about 50 ragas when she was a 18 month old toddler and about 200 ragas at the age of 4. She made her Carnatic vocal debut at the tender age of 7. Having trained in one of the strongest classical forms of music – Carnatic, Varijashree finds her own space and unique language by fusing different genres of music, yet retaining the authenticity of her musical roots. These cross cultural experiments have led to her musical collaborations as a singer and composer to spread across a variety of platforms. Today, she is known for her versatility and the ease with which she navigates through any given style of music.
Requirements for the Masterclass
• A stable internet connection. We advice the use of a laptop or desktop to get the best experience
• A notepad & pen to take notes
Etiquette to keep in mind for the Masterclass
• Q&A sessions will only cover queries and doubts on the content being taught in the masterclass. Generic questions related to the artist, their musical journey, likes/dislikes, or requests to sing popular songs, will not be entertained
• The sessions shall not be recorded by any of the participants. If any such recording is noticed, that participant may be asked to leave the masterclass without any refunds
• The sessions will start strictly on time. Any delay from the participants to join on time or attending the sessions will not be adjusted later
• All participants will receive an e-certificate signed by Varijashree Venugopal upon successfully attending all sessions of the Masterclass.
Ace it with the Masters | The Swara Tour with Varijashree Venugopal
October 30 & 31 | 6PM - 8PM
Enjoy this event from your home
Event Guide
Digital Event
Join on Zoom
Masterclass
Learn from an expert
Invite your friends
and enjoy a shared experience