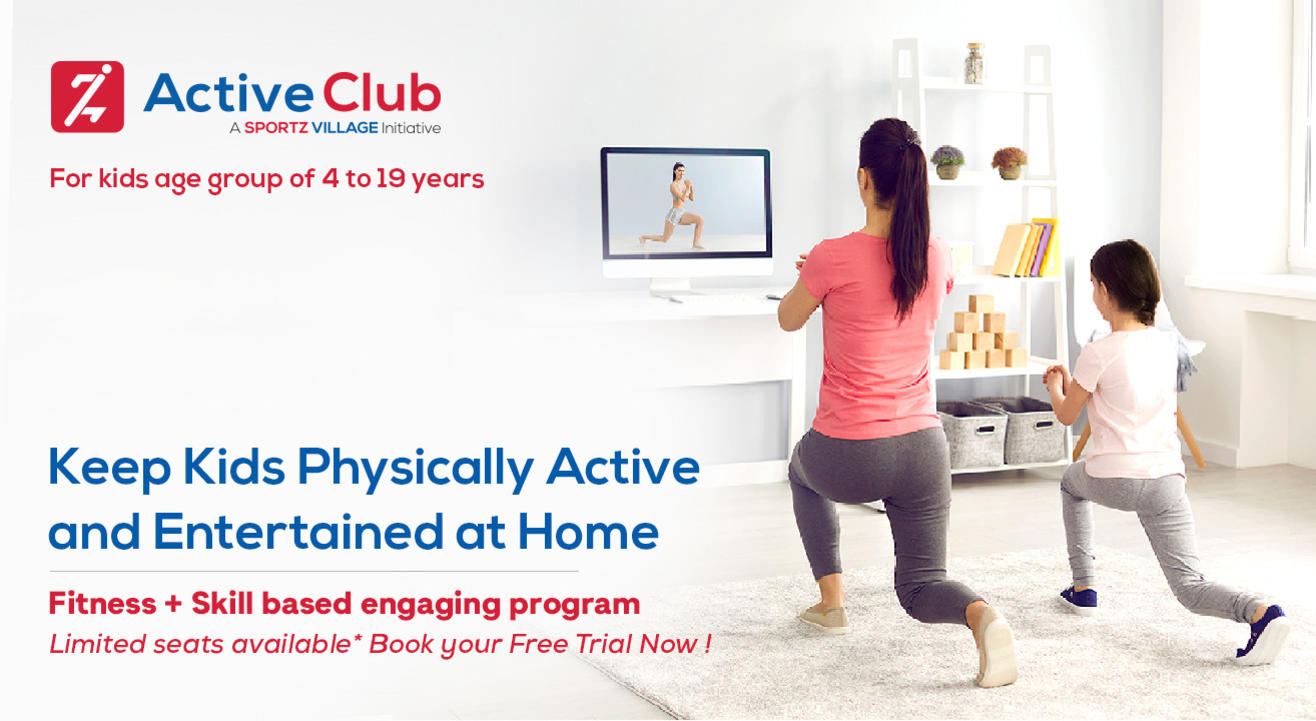 Active Club - Physical Activities for kids at Home (4-19 years)
January 8 | 7:10PM - February 28 | 11:55PM
Enjoy this event from your home
Event Guide
Live Fitness
Workout with a pro
Invite your friends
and enjoy a shared experience
Event Guide
Live Fitness
Workout with a pro
Invite your friends
and enjoy a shared experience
About the Event
Active Club is an initiative by "India's largest youth sports platform - Sportz Village" - an exclusive online interactive platform for children's to keep them active indoors & develop their skills holistically. Adding physical activities that kids enjoy to the routine will increase their confidence and ability to perform well.
Key features of Active Club:
Live, interactive, fun and engaging physical activity (Fitness + Skill) Program
1200+ Experienced Trainers across cities with proven expertise of engaging with kids
Personalized sessions + modules built appropriately for specific age, ability and gender
Designed by panel of experts including educationalists, physical education experts & nutritionist
Activities We Offer:
Complete Fun and Learning Activities for Kids
Rhythmic Movements - A series of music-based activities to develop co-ordination, movements and rhythm
Sport Skills & Fitness - Activities to develop fundamental skills of popular sports and improve the major components of fitness (endurance, strength, etc.)
Yoga & Martial Arts - Activities to strike a balance between mind and body
What you get:
Enhanced sports skills
Improved fitness and immunity levels
Improved emotional quotient
Get unlimited access to our videos and repository (On Subscription)
Active workbook and SLAM content (On Subscription)
Regular worksheet for fun and learning (On Subscription)
Active Club Subscription Packages:
You can also avail a FREE TRIAL SESSION to get an overview of how our sessions is designed & engaging for kids.
1. Active Pack with 4 Sessions – Price ₹ 1180/- incl. GST
1 Session to develop the basics of sports
2 Sessions to develop fitness
1 Session to develop body coordination through rhythmic activity
Home assignments after every session along with nutritional tips
2. Active Pack with 8 Sessions – Price ₹ 2360/- incl. GST
2 Sessions to develop the basics of sports
2 Sessions to develop fitness
1 Session to develop body coordination through rhythmic activity
1 Yoga or Martial Arts session
1 Fun based competition
1 Guest session to build good eating habits and healthy lifestyle
Home assignments after every session along with nutritional tips
3. Active Pack with 16 Sessions – Price ₹ 3021 /- incl. GST
4 Sessions to develop the basics of sports
4 Sessions to develop fitness
2 Sessions to develop body coordination through rhythmic activity
2 Yoga and Martial Arts sessions (1 each)
2 Fun based competitions
2 Guest sessions to build good eating habits and healthy lifestyle
Home assignments after every session along with nutritional tips
4. Active Pack with 32 Sessions-Price ₹ 5570 /- incl. GST
10 Sessions to develop the basics of sports
10 Sessions to develop fitness
2 Sessions to develop body coordination through rhythmic activity
4 Yoga and Martial Arts sessions (2 each)
4 Fun based competitions
2 Guest sessions to build good eating habits and healthy lifestyle
Progress Report
Home assignments after every session along with nutritional tips
Keep Kids Physically Active & Entertained at Home with Active Club