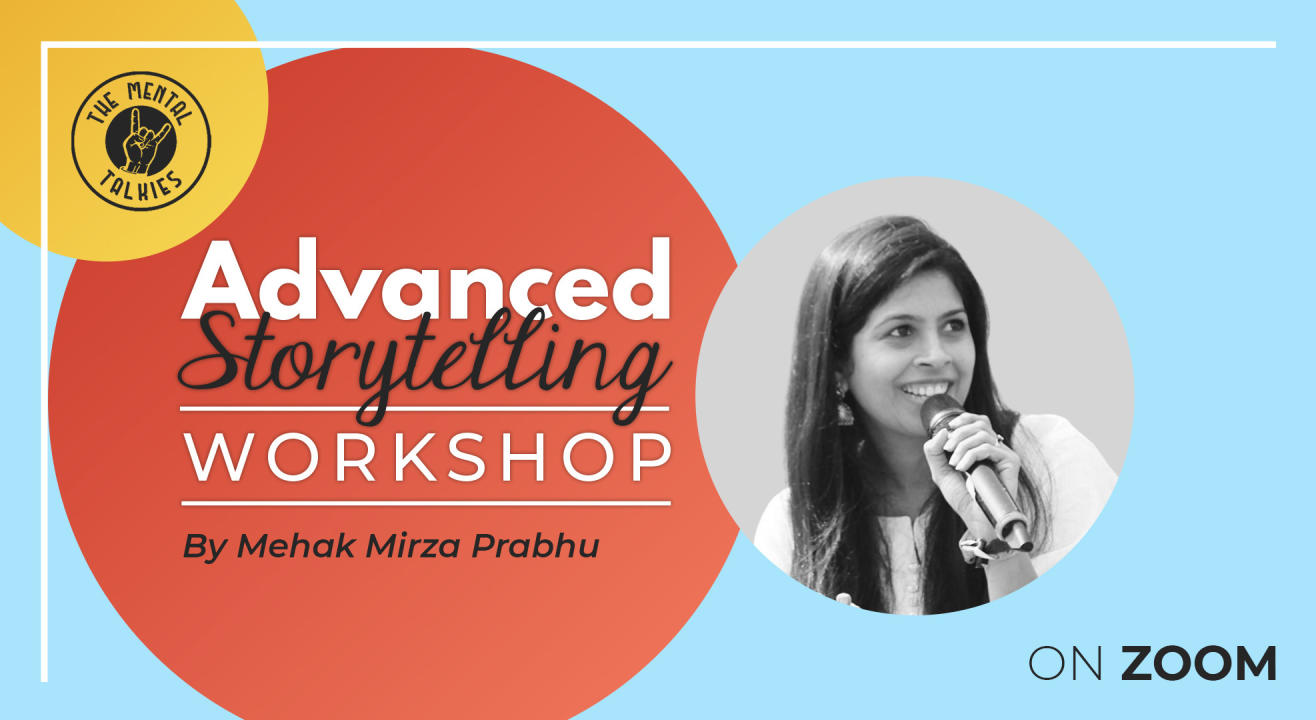 Advance Storytelling Workshop
Enjoy this event from your home
Event Guide
For Age(s)
Family Friendly
Interactive show
Be a part of the show
Invite your friends
and enjoy a shared experience
Advance Storytelling Workshop
Enjoy this event from your home
Event Guide
For Age(s)
Family Friendly
Interactive show
Be a part of the show
Invite your friends
and enjoy a shared experience
Event Guide
For Age(s)
Family Friendly
Interactive show
Be a part of the show
Invite your friends
and enjoy a shared experience
The Mental Talkies Presents Advance Storytelling Workshop.


Area of focus in Advance Storytelling Workshop:
1. Voice modulation: How to use the volume and why it is important to use it at the right time. Give your characters distinct personalities and separate them clearly by using pitch.


2. Storytellers Riyaaz: We will make you learn and demonstrate/practice on how to pitch and tell your stories to the audience, rehearsing on voice, speech and flow of your story to make sure that the audience is engaged with you throughout.


3. Body Language: Make you learn and demonstrate the techniques of body language which you should be using while showcasing your story. The focus on to improve Body movements, Posture, Eye contacts, and Pitch.


4. Emotion Exercises: How to build emotions will be demonstrated through our sessions.


5. Understanding Your Audience: We will be focusing on how to engage your audience through various techniques and go beyond that and learn how to tell a moving story well, one that will entertain, enlighten and ultimately move people to act.


All Participates will work in groups to create and perform a story.


After completion of workshop every Participates will get Certificate and Free E-Voucher for DiGi Open Mic Poetry and Storytelling


About Mehak Mirza Prabhu is a storyteller and writer from Mumbai, who creates fictional stories in Hindi, Urdu, Marathi and English. Audio visual storytelling through voice modulations is one of her unique strength.
Also a certified Life Coach, scriptwriter, social reform enthusiast, motivational speaker on Tedx and Josh Talks; runs an online storytelling school; 'Jhumritaliaya', dedicated towards merging classic storytelling form, with original stories that reflect recent times. She strives for her vision of Innovating Original Fictional Storytelling.