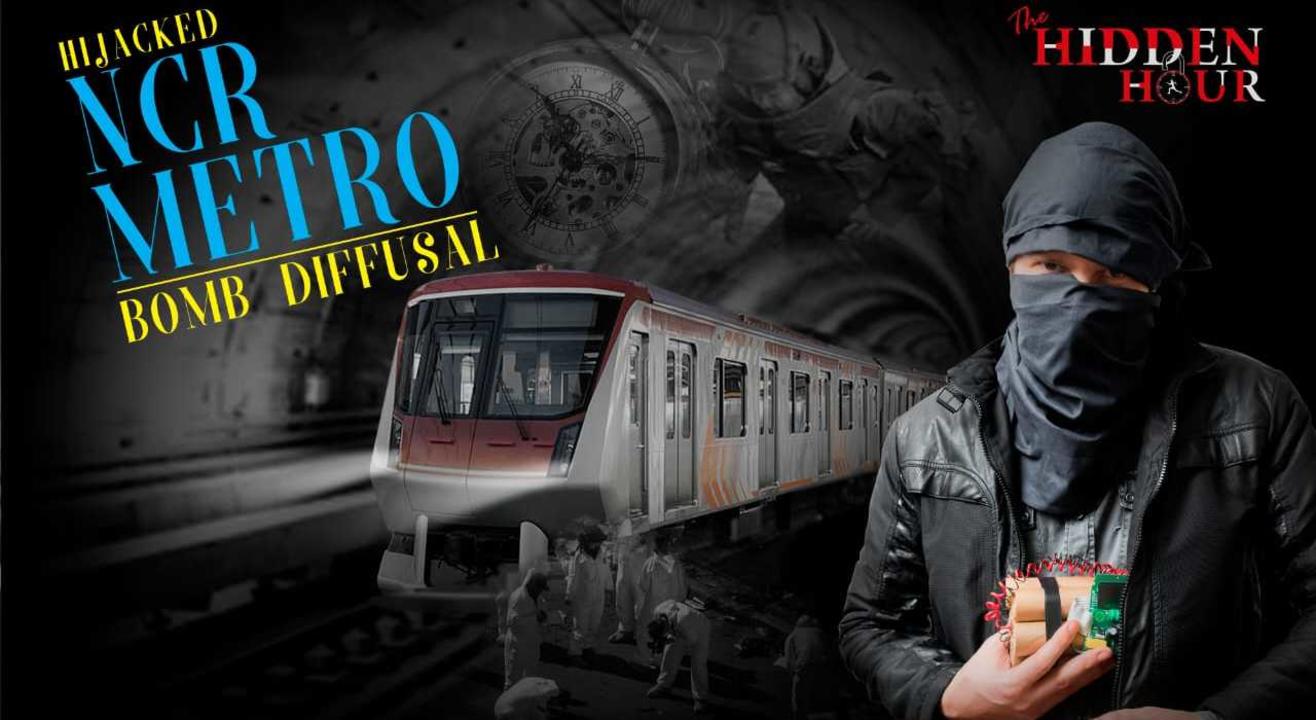 Adventure Games - The Hidden Hour, Gurugram
The Hidden Hour Gurugram - Mystery Escape Rooms, Gurugram
Event Guide
For Age(s)
Family Friendly
Game
Participate and have fun
Invite your friends
and enjoy a shared experience
Adventure Games - The Hidden Hour, Gurugram
The Hidden Hour Gurugram - Mystery Escape Rooms, Gurugram
Event Guide
For Age(s)
Family Friendly
Game
Participate and have fun
Invite your friends
and enjoy a shared experience
Event Guide
For Age(s)
Family Friendly
Game
Participate and have fun
Covid 19 Safety Measures
This event adheres to the following

Health & safety measures
Temperature Checks
Face Masks Required
Sanitisation before the show
Organisers wear masks
Invite your friends
and enjoy a shared experience
Covid 19 Safety Measures
This event adheres to the following

Health & safety measures
Temperature Checks
Face Masks Required
Sanitisation before the show
Organisers wear masks
WHAT IS THE HIDDEN HOUR?
The Hidden Hour is India's No. 1 Escape room company that offers both play at center and play at home/office games. The objective is to accomplish the mission in 60 minutes by finding hidden clues, answering riddles and solving puzzles in rooms full of mystery. If you are an adventure game lover and looking for thrilling games full of
suspense and entertainment, then The Hidden Hour games is the best option.
The game is suitable for all age groups from 5 to 70 years and requires no physical exertion. It's a perfect place for friends, families, couples, students, corporate events and birthday parties. We provide private experience and you only play with your own group. We take all the Covid precautions with compulsory sanitization of rooms after each game.
TripAdvisor and Google have ranked us Top Gaming Attraction in India.
Missions in Gurugram:
HIJACKED NCR METRO – BOMB DIFFUSAL
BREAKING NEWS – NCR Metro 'HIJACKED'!!! Five armed men hijack a NCR metro train and plant a bomb inside it. The metro stands at underground tunnel right below the Delhi airport and bomb is going to explode in next 60 minutes.
You are a member of the Special Task Force and have been selected for this operation to diffuse the bomb. Will you be able to take on the challenge, break the code and save DEADLY METRO in this race against time…Remember the CLOCK IS TICKING!! 60.. 59.. 58..
Recommended Players: 2-10
Difficulty Level: 4/5
MAGIC SHOW – A TREASURE HUNT
The city's famous magical show 'Great Indian Tamasha' runs in the 19th century-old building. As per the stories, this building houses one of the most valuable treasures in the world. Today is the last show before the building is seized by the Government.
You are one of the treasure hunters looking to capture the masterpiece, but you only have an hour to unravel the mystery of this magical world. EXPLORE... ESCAPE...
Make your mark in history!!
Recommended Players: 2-10
Difficulty Level: Very Hard
Success Rate: 8%
HIJACKED NCR METRO - BOMB DIFFUSAL @ THE HIDDEN HOUR - ESCAPE ROOM GAME
The Hidden Hour Gurugram - Mystery Escape Rooms
2nd Floor, Shop No. 50, MGF Metropolis Mall, Mehrauli-Gurgaon Rd, Maruti Housing Colony, Sector 28, Gurugram, Haryana 122002, India
GET DIRECTIONS
Adventure Games - The Hidden Hour, Gurugram
The Hidden Hour Gurugram - Mystery Escape Rooms, Gurugram
Event Guide
For Age(s)
Family Friendly
Game
Participate and have fun
Invite your friends
and enjoy a shared experience