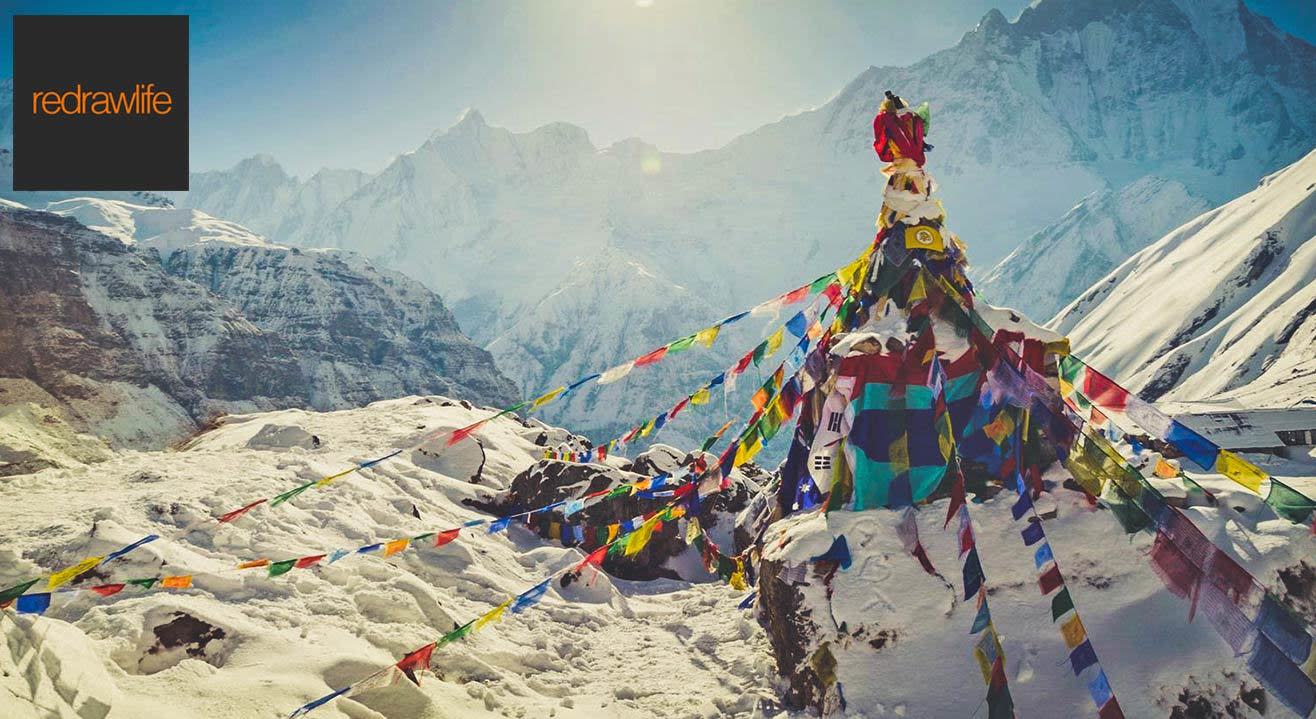 Adventure
Adventure Of A Life Time: Everest Base Camp Trek
Three Dots and a Dash, Bangalore
About
Imagine! After two days hard trekking, finally you see it. Jagged, snow-shrouded, and utterly awe-inspiring – Everest rises ahead. So far on this epic Himalayan expedition, you've climbed to a height of 3400m. You're hot, dusty and have eleven more days of hiking ahead – traversing mountain trails, skirting glaciers and bunking down in teahouses. You'll grow used to wet-wipe washes, develop a symbiotic relationship with odd pieces of gear, and forge new friendships in this unforgiving environment. Your objective is the Everest Base Camp. Snow-fringed and framed by fluttering prayer flags, it sits at the testing height of 5346m, at the foot of the Khumbu Icefall.
Everest Base Camp is so much more than just a trek. It's a challenge that is bound to make you stronger. It's about getting out of your comfort zone, going 12 days without a proper shower, being with a group of strangers, surrounded by incredible culture in the most famous mountain region in the world. These treks broaden people's horizons because they take us away from the comforts of home and put us in the land of simplicity!
This trip features 2 nights in Kathmandu and a 11-day long trek to the base of Everest. Gorak Shep is our highest camp, from where we hike to Mount Everest Base Camp, and then climb Kala Pattar, the Black Rock (5 550 m), from where we admire the huge South Col of Everest, the tongue of the Khumbu glacier and more than 15 spectacular Himalayan peaks. This is without doubt one of the best mountain viewpoints in the world!
Day 1 – Arrival in Kathmandu ​
Pick-up at Tribhuvan International Airport, meeting with our guide and transfer to the hotel. First impressions of Kathmandu (1 350 m) – walk to medieval Kathmandu Durbar Square and explore the beautiful complex of palaces, temples, shrines and courtyards built by the ancient Nepali kings between the 12th and 18th century. We bring you to Thamel - the vibrant tourist area with hotels, restaurants, bakeries and outdoor shops. We get to know each other over a welcome dinner, check formalities and equipment and discuss your itinerary.

Day 2 – Flight to Lukla & Trek to Phakding​
We drive to Tribhuvan Domestic Airport to take the flight to Everest region. After breakfast in Lukla (2850 m) we start trekking through beautiful settlements to join soon the main trail in Churi Kharka. We follow the east bank of the Dudh Kosi- the River of Milk- where you will witness true Nepal terrace culture, slate roofed houses and views of the majestic peak Kusum Kangaru (5579 m). We reach Phakding (2640 m) after 3-4 hours gentle walking.

Day 3 – Trek Namche Bazaar ​
On this day we make a challenging hike to Namche Bazaar (3440 m), which takes 6-7 hours from Phakding. We climb up along the west bank of the Dudh Kosi to the tiny village of Toktok. We get our first glimpse of Thamserku peak (6 608 m) and reach Benkar (2 710 m). The cliffs above the village are decorated with huge paintings of Buddhist deities. We cross the colorful suspension bridge and enter the Sagarmatha National Park at Monjo (2 840 m). After Jorsale we follow the riverbank over gravel, climb through a pine forest and cross the Dudh Kosi by a big suspension bridge. Then we face a continuous zigzag ascent of 2 hours through dense pine forests. In the early evening we reach the vibrant center of Namche Bazar, on of the most attractive settlements of Solu-Khumbu district.

Day 4 – Rest day Namche Bazaar ​
Rest day in Namche. Optional walk to the Sherwi Khangba Sherpa Culture Museum or day hike to the Hotel Everest View in Khumjung village (3 700 m) and Khundi Hospital in Khundi Village, the first hospital build in Khumbu Region by Sir Edmund Hillary and Himalayan Trust in 1966.

Day 5 – Trek Tengboche​
Trek to Tengboche (3 860 m), 5-6 hour long hike from Namche Bazaar. The first part of trail is a winding smooth path which offers fantastic views on Mount Everest (8 848 m), Thamserku (6 618 m), Ama Dablam (6 814 m). After the trail goes down to the riverbank and then we make a strenuous 2 hour ascend to Tengboche. We walk through rhododendron forests where musk deer and Himalayan 'tahr' or mountain goat live. At the rest place you can enjoy the views towards Kantega mountain (6 783 m). Tengboche, is famed for the Buddhist Tengboche Monastery (where you can attend the daily puja), Cafe Tengboche and the view point.

Day 6– Trek Dingboche​
Trek to Dingboche (4 410 m), 6-7 hours walking from Tengboche. We descend through conifer and rhododendron forest to the beautiful settlement Deboche where you have a close view at Ama Dablam. We cross the suspension bridge and look over the surging white waters of Imja River. Soon after a snow white stupa with gorgeous all seeing eyes is mirroring the Ama Dablam, this is a marvelous place for a picture! Then the trail ascents gently to the village of Pangboche (3 860 m), where we climb above the treeline. After, the trail passes numerous farmer pastures with big yak populations before we reach Dingboche valley.

Day 7 – Rest day Dingboche​
Optional acclimatization trek (5-6 hours) to the remote village of Chhukung (4 730 m) and Chhukung Ri (top) located at 5 550 m. We have magnificent sights at Island Peak (6 189 m), Amphulapche (5 663 m), Baruntse Base Camp (5 400m) and the white ice lake of Imja Tsho.

Day 8 – Trek Lobuche​
After ascending 150 m up to the main road, we reach a viewpoint where we have outstanding sights at Tawachee (6 495 m) and Cholatse peak (6 440m). After our lunch camp in Dugla (4 620m) the trail goes directly up the gravely terminal moraine of the Khumbu glaciers for about one hour. The trail leads to a row of memorial monuments of lost climbers and sherpas. The trail then drops a little and follows the western side of the valley to Lobuche. After four to five hours hiking we reach the small settlement of Lobuche which is situated at 4 930 m. We sleep in a lodge at Gorakskhep, a semi-permanent village at the bottom of the Khumbu Icefall.

Day 9 – Trek Gorak Shep ​
The ascent to Gorak Shep (5 160 m) becomes steeper and rougher as we cross several moraines. Soon we see the peak of Pumori (7 145m). We also have our first views at Nuptse (7 864 m), Kala Patthar (5 545 m) and Mount Everest. At the right side you look over the Khumbu Glacier, an enormous tongue of ice which marches down the slopes of Everest. We reach Gorak Shep by lunchtime and trek to Base Camp in the afternoon. In total we hike six-seven hours today.

Day 10 – Trek Pheriche​
Early morning we climb to Kala Pattar – the Black Rock - located at 5 545 m and marked by a tangle of prayer flags. At this viewpoint - one of the most astonishing views on earth- you have a 360 degree panorama of Himalayan giants from Pumori and Lobuche West to Nuptse, Lhotse and Everest. We return back to Gorak Shep via the view points of the ice lakes of Pumori and Everest. After breakfast we return in 4 hours back to Pheriche located at 4 215 m.

Day 11 – Trek Namche Bazaar​
Trek from Pheriche to Namche Bazaar (3 440 m). We descend approximately 5 hours.

Day 12 – Trek Lukla​
We start this 6 hours during trek with a strenuous descent from Namche Bazaar to the Dudh Kosi (hard work for the knees), after the path climbs up to Monjo and then runs easily to Benkar, Phakding and Lukla.

Day 13 – Flight to Kathmandu​
After breakfast we fly in about 40 minutes from Lukla to Kathmandu. Arrive at Tribhuvan Airport and transfer to hotel.

Day 14 – Transfer to Tribhuvan Airport.
Back to your home with a lot of memories!
In Kathmandu
2 nights in Hotel Potala double standards room (without breakfast)
Welcome dinner at Nepali Chulo (Authentic Newari food and cultural dance party) and a short sight seeing(as the time permits)
All airport transfers.

In Everest
Return Lukla ticket for Everest
Accommodation and 3 times meals every day during trek.
During the meals we provide coffee and tea. We will provide water for purification after breakfast, lunch and dinner as per your needs. (explained below)
Assistance (trekking guide), one porter for two members as well as their expenses including insurance
Entry fee for the Sagarmatha National Park, TIMS Card (Trekking Information Management System), domestic airport tax, all ground transportations and governmental taxes.)
In case of delay because of weather conditions we are prepared to cover unusually for the members the costs for one night lodging in Lukla and one night in Hotel Potala. All further costs will be on personal charge of the travelers.
World Heritage entry fees in Kathmandu while sightseeing
Personal expenses like laundry
Communication
Shopping
Meals in Kathmandu except welcome dinner
Tips for guides and porters or staffs
International Flights
Travel insurance etc
A little more about the trip
Visas are free for all tourists who come from a SAARC country. Indian nationals do not need a visa. Carry your Passport, License or your voters id card while on the trip.
For those of you new to trekking, you have a wonderful experience in store.
Trekking is walking, generally on good trails, usually up and down (sometimes 900 m a day), carrying only a day pack, through magnificent scenery. The day starts early, and often the bulk of the day's kilometers are covered in morning hours. The shorter afternoon hike brings you to the site of the lodge to be used that night.
This trip is designed so that an average hiker will require 5-6 hours of hiking per day to reach the evening's camp. In general this is a moderate trek, but remember that trails are often steep in Nepal and at 3 000 m any hiking can seem strenuous.One should walk / trek as per the speed you are comfortable with. On some days altitude gains and looses of up to 900 m can be expected. Strengthen your knee muscles and prepare for several days of steep descents of anywhere up to 900 m. Should anyone have altitude problems during this trek, it will be possible to drop down till Namche.
Personal gear will be carried by porters. Porters can carry two members' duffel bags. Since their load is 25 kg, this means that your duffel cannot exceed twelve kilos.
We stay in locally owned lodges and will receive an insight into family living. All the guest houses have toilets and cold showers. Some of the guesthouses have hot showers available and every lodge is equipped with solar power systems for lightning. The main common room has a heater, nice in the cold nights. Remember that, the latitude of Nepal is between 26 degree and 30 degree N so it will warm at the lower elevations (shorts and T-shirt) while nights will be cool. Day temperatures will be between 10 degree C and 15 degree C at the lower elevations and between 5 degree C and 10 degree C at our highest elevations during spring.
We are fully aware that you can buy bottled waters in this region. The bottled waters are expensive and more over this region is the remotest part of the world and does not have great civic services. Trekkers will consume bottled waters and dump plastics which in-turn will harm this wonderful Khumbu region and we are a bit sensitive to it so we have been requesting our trekkers to use running stream water and purify them. We think it is a very small way we can help the nature and all most all of our trekkers agree to it happily. However, we leave it to your choice and if you like to have bottled waters then you can buy them and have.
Nepal is like not home. It is exotic, it is wonderful, but it is also different. Great elevation changes, differences in customs and language, menu variations, lodge limitations, and the many other mysteries and wonders of travel in Nepal are all conditions you must be physically and mentally prepared for. We want you to participate in the trip with the clear understanding that things can go wrong. Adventure travel does involve certain risks both emotional and physical. One has to be flexible when traveling in Nepal and have a cheerful attitude.
What is the fitness level required for the trek?
The trekking route is indeed challenging and one should be convinced that he/she is going to take this challenge and complete the trek. More often than not, it will be your mental ability than the physical fitness level which will stop us. We have had trekkers who are overweight by 15 -20 Kgs and in their 60s completing the trek. The trekking is long as every day we will be trekking for 5-6 hours on an average and there are 12 days so one needs to have patience.

How do I prepare for the expedition?
We advise you to start walking regularly for as long as possible. This will help you a lot. If possible go for small treks in your vicinity. Try to go for longer morning walks at least 20 days before the trekking date. If you are gym goers then we advise you to not do weight lifting activities at least 10 days before the trek and do only cardio and stretching exercises. Try to walk for long on a treadmill in incline mode. The reason we advise you to stop weightlifting as that has chances of muscle stiffing or muscle injuries and generally it takes a week or 10 days to get back to normal.
A program of cardiovascular conditioning such as running, swimming, biking or aerobics is essential, but try to supplement your exercise with hiking on steep hills or running up and down steps. The more you can condition by closely simulating the activities of trekking, the better off you will be. While the trip is rated as moderate overall, several days will be strenuous, and good conditioning is essential to your enjoyment of the trek.

How to Reach Kathmandu - Everest, Nepal?
Nearest Airport: Tribhuwan International Airport at Kathmandu, Nepal Nearest Rail Head: New Jalpaiguri, West Bengal, Route Hubs: Kakarvitta, Biratnagar
By Air: Reaching Kathmandu by air is the easiest way. Lots of Indian domestic airlines have direct flights to Kathmandu.
By Train: If you travel by railways,you have to reach any of the border stations like New Jalpaiguri in West Bengal or Gorakhpur in Uttar Pradesh, and then walk across the border and take vehicles/buses on the other side to Kathmandu.
By Bus: From Siliguri or New Jalpaiguri Railway Station: Take a shared cab or bus to Panitanki. (Shared cabs go till border, Busses will drop you at Panitanki, from where you need to walk for about 10 minutes to reach the border gate. You reach Panitanki in about an hour from Siliguri.) Vehicles for Panitanki are available from 'Darjeeling More' in Siliguri. Once you cross the border, bus stand is little far away. Walk straight and take the first right turn, or else, ask anyone. Everyone understands and speaks Hindi across the border. From the bus stand, you get Deluxe and Luxury buses to Kathmandu. Mostly, they leave in the evening between 4 PM to 7 PM. Its approximately 14 hours journey.
The following list gives a general idea of the personal items to be brought by you to trek in the Everest region. The most important things are clothes for cold weather. During this trek you have to pack in 2 bags: porters will carry the duffel bag: max weight allowed per person is 12 kilos (porter carry 2 bags). Consider your porter's load before you include that big bottle of shampoo or pair of jeans.
Travelers will be carrying a day pack with items needed for the day like money, water bottle, rain gear, camera, sun cream and toilet paper.
1 duffel bag
1 day pack
1 sleeping bag: comfort zone -20 degrees (can be rented in Kathmandu)
1 windproof warm jacket (lower part)
1 rain poncho or good rain gear
1 down jacket (can be rented in Kathmandu)
1 pair waterproof trekking boots
1 pair of gaiters, good for keeping dust, rocks and snow out of your boots as well as keep your feet dry if necessary
1 pair of sandals
3 pair warm socks (wool) & 2 pair of light socks for the lower/warmer parts of the trail
2 nylon pair short pants (quick dry)
2 pair long synthetic pants or trekking pants
1 power stretch leggings or fleece pants
1 pair hard shell pants (Gore-Tex or equivalent)
3 t-shirts or short sleeved shirts
1 long sleeved shirt
1 warm sweater (wool or fleece)
Underwear/thermal underwear/pajama
1 pair warm gloves (heavier fleece or wool)
1 warm wool of synthetic hat that cover your ears
1 neck warmer
1 hat with sun protection/bandana
1 sun glass 100% UV protection with side shields and a hard-sided storage
1 water bottle
1 flashlight with extra batteries
1 small personal sized first-aid kit with blister treatments such as mole skin, band aides, some waterproof tape, anti-infection ointments, Ibuprofen for general aches and pain, medicines for upset stomach or diarrhea, antibiotics 1 toiletry kit including toilet paper, hand wiper, liquid hand sanitizer, towel, soap, lip balm and sun cream (high SPF value)
1 pair walking stick
Candy bars
Camera equipment
Needle and thread, safety pins
4 plastic bags (organize clothes)
Reading material and music
Redrawlife allows attendees to choose from three standardized cancellation policies (Flexible, Moderate, and Strict) that we will enforce to protect both customer and passionary alike.
Flexible : 90% refund up until 5 days prior to course date
Moderate : 70% refund up until 5 days prior to course date
Strict: 50% refund up until 5 days prior to course date

If you have any queries you can contact our support : Support website or shoot us a mail at: support@redrawlife.com
It's time to live your passion!
Sign up for our newsletter to be informed of all the news and do not miss any events in Redrawlife.
Venue
Three Dots and a Dash, Bangalore
No. 840/1, 100 Feet Road,Binnamangala,1st Stage,Hosalanagar,, Indira Nagar 1st Stage, H Colony, Indiranagar, Bengaluru, Karnataka 560008, India