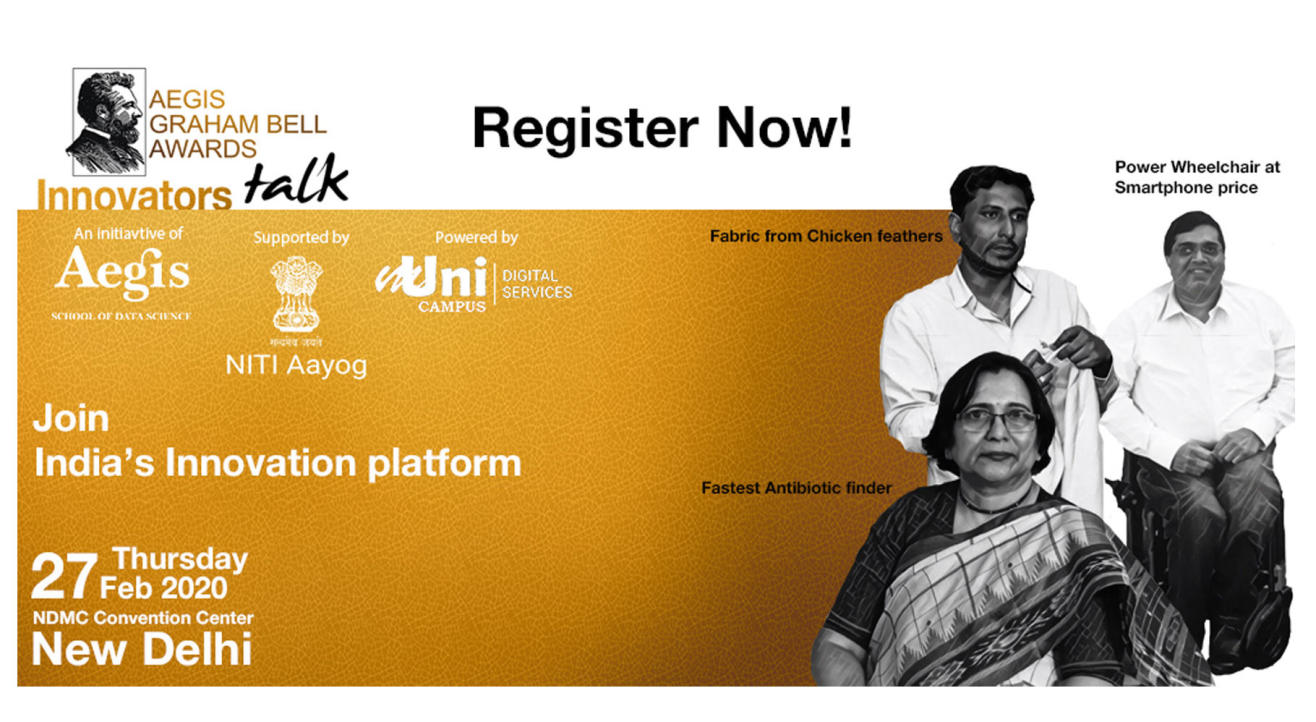 Conference
Aegis Graham Bell Awards Innovators talk
About
With the support of NITI Aayog, Aegis School of Business, Data Science & Telecommunications, Cellular Operators Association of India (COAI); Telecom Centres of Excellence (TCOE) are proud to present the 10th edition of Aegis Graham Bell Innovators Talk to honour the best innovations in the Information and Communications Technology (ICT) domain.
We were often questioned about panache and endowment of our countrymen for being at the power of the innovations, we realized that recognition in India is imperative for innovators and their innovations that are changing the lives of millions. On Thursday, 27th February 2020, we are inviting Indian innovators to take the main stage at the "Innovators talk".
Date: Thursday, 27 February 2020
Time: 2:00 PM to 5:30 PM
Duration of the event: 4 and a half hours
Registration and badge collection: 1:00 PM (with refreshments)
Venue: NDMC Convention Center, New Delhi
Agenda:
1:00 – 2:00 PM Registration and badge collection (with refreshments)
2:00 – 2:05 PM Opening of Aegis Graham Bell Innovators talk
2:05 – 2:20 PM Demystifying motivations for innovators by Ravindra on 'Challenging the odds'.
What will you learn: Learn from the innovator who forged his way through all the odds and now stands where the world dreams.
2:30 – 3:00 PM India at the power of Innovation Keynote Address
What will you learn: Learn a new perspective on India at the power of innovations from someone who is leading the industry
3:00 – 4:00 PM Sehat, Shiksha aur Paisa empowered by Indian Innovators
What will you learn: Learn from the innovators how they are empowering Sehat (Health), Shiksha (Education) and Paisa (Money) for India and its people
4:00 – 4:15 PM Ek Soch: Fabric invention from Chicken feathers by Indian innovator
What will you learn: How an innovator used chicken feather waste and empowered tribal and rag pickers into fabrics which are competitive to Pashmina shawls
4:15 – 5:15 PM From idea to scalable business
What will you learn: Have you ever wondered how a founder initiates an idea and starts his business, attracts buyers, build a scalable business?. Learn from the Founders the journey to start a business
Ravindra for challenging his own odds to being a founder of 4 startups
Venue
NDMC Convention Centre
15, Sansad Marg, Hanuman Road Area, Connaught Place, New Delhi, Delhi 110001
GET DIRECTIONS