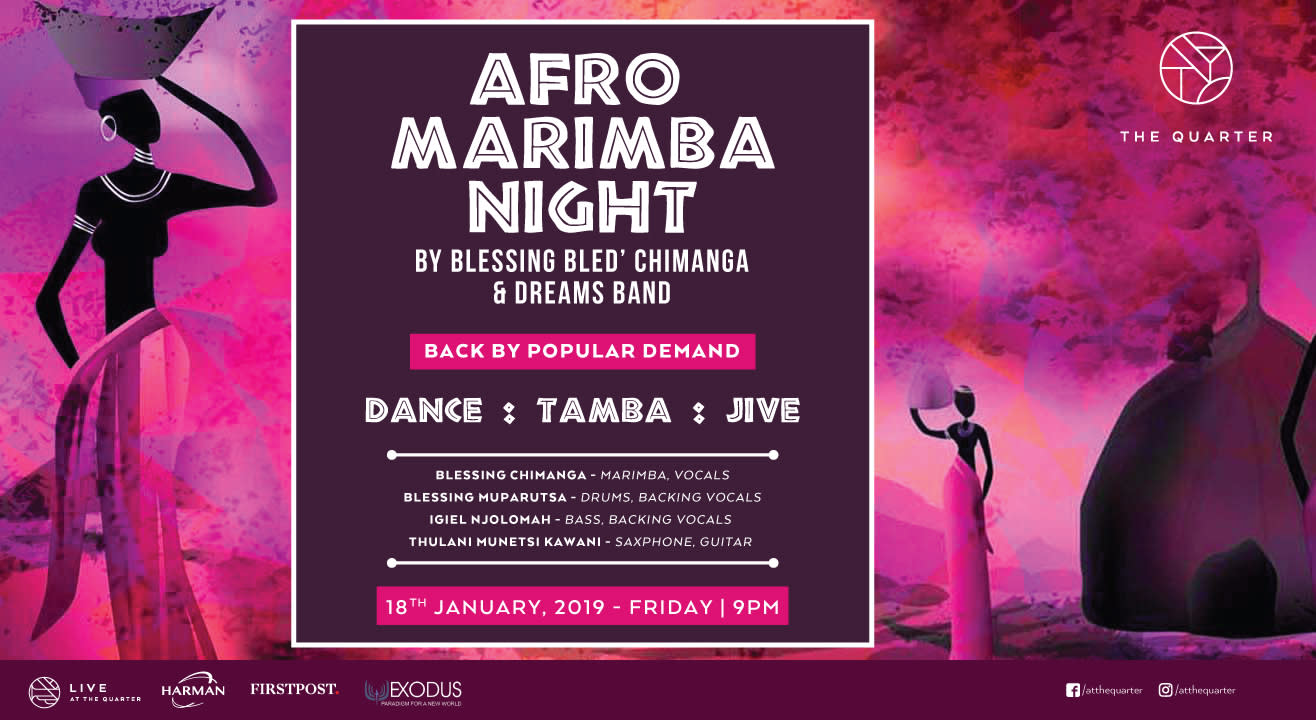 Music
Afro Marimba Night with Blessing Bled Chimanga and The Dreams Band at The Quarter
Friday | January 18 | 9PM
999 - 1,599 (Prices subject to change)
About
They are back by popular demand for yet another African Marimba Night.
Dance, Tamba and Jive to some electrifying Marimba tunes!
The Dreams band led by Blessing Bled Chimanga is specially known for his electrifying marimba skills and high voltage ENERGY on stage. Together with his 4 piece band they are set to blaze the audience.
The night will be a pure African energy night that will surely make you DANCE TO THE BEAT.
***
Free 150 Rs paytm movie ticket for every ticket purchased for any event validity 30 days
Blessing Chimanga is an internationally acclaimed artist as a marimba player, singer, songwriter and percussionist from Zimbabwe. He's been touring world wide (Asia, Europe, North & South America, Africa) with his own African bands as well as with intercultural projects as musical ambassador of Zimbabwe, e.g. Zimboita, Kunzwana #1 or Mama Africa. Blessing's music is marked by a unique sound produced out of his virtuos marimba playing and the true strong rhythms of Africa. The main attraction of the act is the high African energy on stage, but also the outstanding entertaining talent of Blessing Chimanga.

The lyrics of the songs are in English and Shona (Zimbabwean main local language). Blessing is currently one of the fastest rising musicians of his country and has performed internationally at many well known festivals, a.o. HIFA (ZW), Global Isai Festival (India), Barefeet Festival (Zambia), Iguazu En Concieto (ARG), Gla  & Verkehrt (A) . He has also performed at the Palace for His excellency ASIF ALI the Prince of Arcot State in India. The band has developed a new and unique style of music named the Afro Jazz Soul Power #musicfromtheheart.
Venue
The Quarter
Royal Opera House, Mathew Rd, Opera House, Girgaon, Opera House, Girgaon, Mumbai, Maharashtra 400004, India