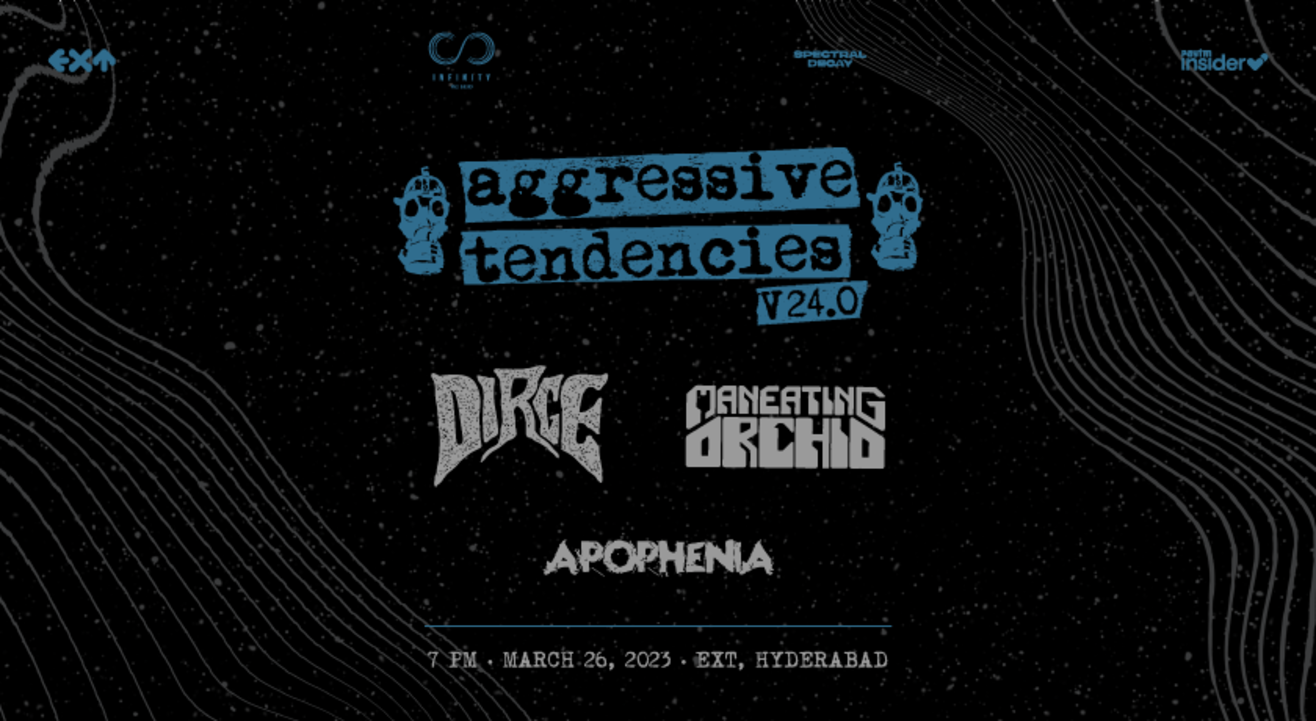 AGGRESSIVE TENDENCIES V24.0
March 26 | 8PM - March 27 | 12AM
EXT by The Moonshine Project.., Hyderabad
Step out and enjoy this event
Invite your friends
and enjoy a shared experience
AGGRESSIVE TENDENCIES V24.0
March 26 | 8PM - March 27 | 12AM
EXT by The Moonshine Project.., Hyderabad
Step out and enjoy this event
Invite your friends
and enjoy a shared experience
Covid 19 Safety Measures
This event adheres to the following

Health & safety measures
Social Distancing
Limited Capacity
Invite your friends
and enjoy a shared experience
Covid 19 Safety Measures
This event adheres to the following

Health & safety measures
Social Distancing
Limited Capacity
DIRGE
Sludge/post-metal from Bombay
Dirge is a five-piece doom/sludge/post-metal band from Mumbai, India. Post the release of their debut album 'Ah Puch' in 2018 and receiving positive response and praise across the globe for their unique blend of doom, sludge & atmospheric metal, the band immediately started working on a successor with new drummer Aryaman Chatterji. Using their time post-pandemic to write and record a follow-up to "Ah Puch," the band's forthcoming self-titled album scheduled for release in March 2023 – this album finds the quintet taking a sonic journey of discovery. Offering up a truly devastating and personal statement, particularly when compared to the wide-sweeping vistas of Mayan myths and South American jungles of their debut, Dirge looks inward while simultaneously reflecting our world at large. The band's new self-titled album 'Dirge' will be a 43-minute long album consisting of 4 tracks. Sonically it's a unique blend of doom, sludge, post-metal, psychedelic rock, contemporary doom, and the likes, which the band believes makes for their best effort yet.
MANEATING ORCHID
Prog metal from Bangalore
Formed in late 2011, Maneating Orchid plays a dense blend of heavy music with metal, noise, and prog/psych-rock influences. With dissonant guitars, abrasive vocals, noise passages, and bizarre song structures, the band has been pushing the boundaries of heavy music in the subcontinent and remains one of the most original bands to emerge from the region. In 2016, Maneating Orchid released their self-titled debut EP, with Rolling Stone calling it "one of the best cult classics of 2016" & "one of the most intriguing metal releases of the year." The band released its first full-length record "Miasma" in January 2019 which received praise from various publications worldwide. The band released its sophomore LP "Hive Mind" in March 2022 which featured a dialed-up sonic intensity as well as a raw & honest yet ferocious production, pushing their notorious brand of chaotic prog into more aggressive territories. The band will be performing "Hive Mind" in its entirety along with a few tracks from older releases at the show.
Apophenia- Hyderabad
Apophenia is a progressive metal band formed in Hyderabad in 2016. Their sound can be decribed as heavy, groovy and melodic. The band will be performing originals from their unreleased album.
EXT by The Moonshine Project..
Second Floor Plot, 385, Rd Number 82, Jubilee Hills, Hyderabad, Telangana 500033, India
GET DIRECTIONS
AGGRESSIVE TENDENCIES V24.0
March 26 | 8PM - March 27 | 12AM
EXT by The Moonshine Project.., Hyderabad
Step out and enjoy this event
Invite your friends
and enjoy a shared experience