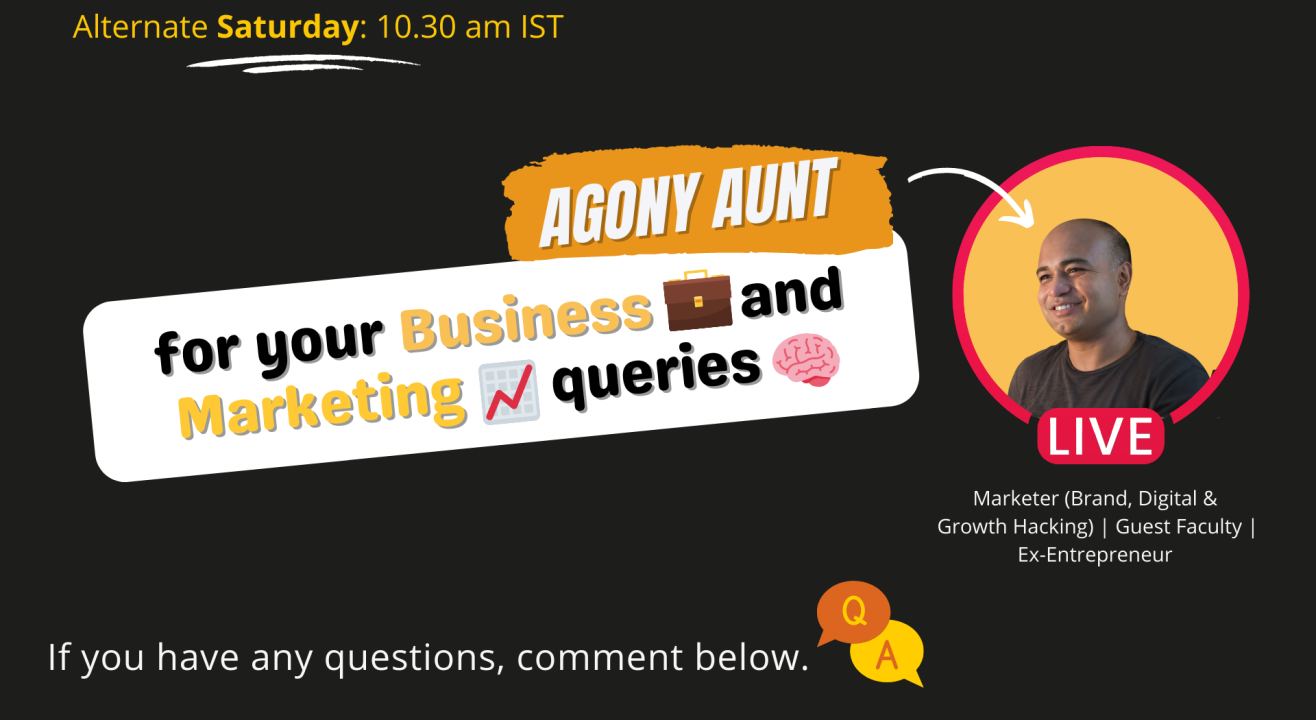 Agony Aunt🧠 for your Marketing📢& Business Qs 🚀 - Live 🎧
Enjoy this event from your home
Event Guide
Interactive show
Be a part of the show
Invite your friends
and enjoy a shared experience
Agony Aunt🧠 for your Marketing📢& Business Qs 🚀 - Live 🎧
Enjoy this event from your home
Event Guide
Interactive show
Be a part of the show
Invite your friends
and enjoy a shared experience
Event Guide
Interactive show
Be a part of the show
Invite your friends
and enjoy a shared experience
Join us for a FREE live Q&A session, scheduled on every alternate Saturday at 10.30 AM IST for 15-20 minutes.
Once REGISTERED, you will receive a link for the live session.
Think of this live session as an agony aunt for your business and marketing challenges. You pose your question, and we decode it into real, practical, and insightful business solutions. We also analyse marketing & business strategies, suggest the best tools for growth & dissect the trending stories.
The event will be live streamed on Saurabh's LinkedIn profile- https://www.linkedin.com/in/saurabhparmar or on YouTube- https://www.youtube.com/c/AltStrategy/videos
Click here to post your question: https://subscribe.altstrategy.online/question
or
Pose your question directly to the host during the live session
Be on time or you may not be able to attend the 20-minute live session.
It's a free event but if you feel overwhelmed you can always buy us a virtual coffee for the host.
Who are we?
Saurabh, hosting the session, is a marketer and ex-tech entrepreneur who loves to teach. Seen giving guest lectures at several business & communication colleges like IIMC, ISB, XIC, DSE, etc. He has also written for business and marketing publications in India, SE Asia & UK. Over the last few years, he has been living & working as a digital nomad & is currently in Vietnam.
To ensure that you receive updates about our future events and workshops,
Subscribe to our FREE newsletter: https://subscribe.altstrategy.online/prelaunch and win rewards
or
you can check them out over here: https://cutt.ly/Not-a-Black-Friday-sale-rather-FREE
You can also listen to our podcast on
Spotify: https://open.spotify.com/show/5R70UjnGC9NuPV2Erd1A2l?si=b83d15ec055b4ea1
YouTube: https://www.youtube.com/c/AltStrategy/videos
Apple: https://podcasts.apple.com/us/podcast/alt-strategy/id1575170831
Google: https://podcasts.google.com/feed/aHR0cHM6Ly9wbGF5LmRpc2N0b3BpYS5jb20vcG9kY2FzdC9yc3M_Y2hhbm5lbD1hbHQtc3RyYXRlZ3k
A quick sneak peek🔍 to the questions ❓asked🗣️ previously on our Livestream🔴💻
Agony Aunt🧠 for your Marketing📢& Business Qs 🚀 - Live 🎧
Enjoy this event from your home
Event Guide
Interactive show
Be a part of the show
Invite your friends
and enjoy a shared experience