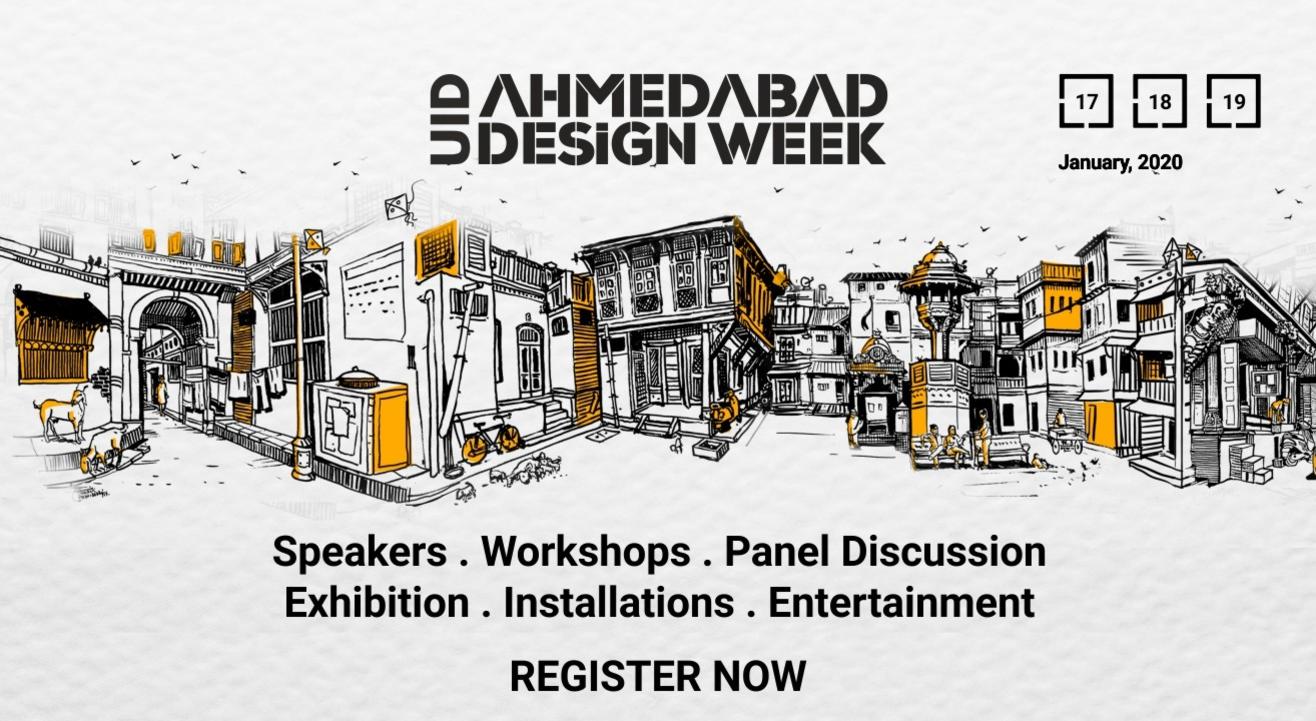 Design
Ahmedabad Design Week
January 17 | 10AM - January 19 | 8PM
Shree Shakti Convention Center
Thank you for the overwhelming response. Registration is closed now.
About
Ahmedabad Design Week
ADW is a three-day design festival that aims to assemble designers, developers, innovative thinkers and leaders to promote creativity, create opportunities for innovation and share design knowledge.
It is dedicated to inspiring talks, experiential workshops, seminars, installations, networking and innovative thinking to deliberate and engage in Design Communications relevant for the needs of the global society.
#ADW2020
Date: 17-18-19 January 2020.
Venue: Shree Shakti Convention Center, Beside KD Hospital, SP Ring Road, Ahmedabad, Gujarat
Location Map: https://goo.gl/maps/N1hiz297R2VQ2p2MA
Activities:
Speaker Sesisons
Workshop 1 - "Design for Joy" - toy making workshop by Toy Designer and TEDx Speaker, Suhasini Paul (workshop registration is closed)
Workshop 2 - "The Art of One Frame" - by globally acclaimed illustration artists, Yehuda Devir & Maya Devir from Israel (workshop registration is closed)
P-R-E-days India - Workshop on Interaction Design by CUMULUS Association and IxDA for Practitioners, Researchers and Educators in Design (limited seats for Professionals and Academicians)
Vintage Car Expo
Craft Village
Art Installation
Food Zone
Entertainment Evening music show
Fashion Show
Speaker Sessions
1) Peter Knapp
Chairman and Global Creative Director, Landor
Landor is a global leader in brand consulting and design. He has launched, repositioned and reintroduced brands like BP, British Airways, Etihad Airways, Johnnie Walker, Land Rover, and M&S.
2) Rasmus Holscher
CEO, Senior Project Manager and Partner, Holscher Design
Holscher Design, Denmark is an award-winning firm that develops design solutions - from industrial products, graphics, packaging and interior to branding, digital and service design- for international companies like Phillips, JCDecaux, Flos, d line, Coloplast, Royal Copenhagen and CISCO.
Holscher Design is awarded with the prestigious RedDot Design Award and iF Awards
3) Dr. Reet Aus, Ph.D.
Fashion Designer
Dr. Reet Aus is a fashion designer who founded REET AUS COLLECTION® and the brand THE UPSHIRT®. She is a pioneer in the field of industrial upcycling for fashion, and has developed the UPMADE® certification. She has published her doctoral thesis on using upcycling in fashion industry. She has teamed with Stockholm Environment Institute (SEI), Tallinn to create a novel circular business model, "UPMADE" to apply the method of upcycling in the manufacturing of textiles on an industrial scale. She is honoured with the prestigious 'The Order of the White Star' from the Government of Estonia.
4) Surya Vanka
Founder & Chief Designer, Authentic Design
Surya Vanka is a designer, corporate leader, educator and author. He lives in Seattle and leads Authentic Design, a consulting practice that provides interaction design, user experience, strategic innovation and design capability development for clients around the world. He is a former User Experience Director at Microsoft.
5) Daniela Paredes Fuentes
Co-founder & MD, Gravity Sketch
She is an experienced innovation designer bridging science, engineering, and design, and an entrepreneur pushing to turn promising ideas into successful realities. She was awarded "Women in Innovation Awards 2019" by UK Government's Innovate-UK.
Gravity Sketch is a design software that allows designers to sketch in a 3D space using augmented reality.
6) Yehuda Devir & Maya Devir
Illustration Artist
Yehuda and Maya Devir are Israeli comic artists and the creators of the popular web comics 'One of Those Days'- a relationship comic about their daily domestic adventures that has over 5 million followers worldwide.
7) Paul Sandip
Chief Industrial Designer, Innovation Consultant and Founder, Paul Studio
Paul Sandip is an electrical engineer, cartoonist and a multiple award winning product designer- developing products for Whirlpool, Syska, Havells, etc. He has won the prestigious Red Dot Award twice among many more design awards. His work has been extensively featured across the globe in numerous exhibits like the Triennale Museum in Milan, Ambiente Fair in Frankfurt, etc.
8) Gaurav Jai Gupta
Textile and Fashion Designer; Founder - Akaaro
Gaurav was invited to co-curate and showcase his work at the BUNKA salon in Tokyo alongside Dato Jimmy Choo in the year 2009 by the University of the Arts London.
His work also sits in the research archives of the Victoria and Albert Museum in London.
He is the only fashion designer to be featured SOLO on the cover of INDIA TODAY.
He became the first Indian designer to be commissioned by The Woolmark Company to launch the Cool wool Menswear collection for Raymonds in India in 2014.
9) Chris Messina
Inventor of #hashtag; TEDx and Google I/O Speaker
He co-founded a conversational social AI company (YC'18).
He has spoken TEDx, SXSW, Google I/O, and Microsoft's Future Decoded, and is frequently quoted in media outlets like The New York Times, Business Week, LA Times, Washington Post, and Wired.
10) James Jeffers
Sr. Principal Engineer, Senior Director, Advanced Rendering & Visualization Architecture, Intel Corp.
Jim Jeffers leads Intel's Advanced Rendering and Visualization Team, developing open source rendering libraries like Embree, OSPRay, etc. used for generating animated movies, special effects, automobile design and scientific visualization working with companies like Disney and DreamWorks as wells as scientists like Stephen Hawking.
He holds patents in,
Image insertion in video streams using a combination of physical sensors and pattern recognition
Method and apparatus for synchronizing digital packets of information to an arbitrary rate
System and method for real time insertion into video with occlusion on areas containing multiple colors
11) Anil Reddy
Founder & Design Director, Lollypop Design
Anil Reddy is the founder and Design Director of Lollypop Design – a UI/UX design firm with clientele that includes Paytm Money, Swiggy, Deccan Herald, etc.
Honoured with many prestigious design awards like Baby Elephant Award (2018), Best Design Agency - Gold (Design X Awards, 2018), Gold & Iron Awards (A'Design Awards Italy, 2019) and many more.
12) Cristhian Salamanca
India-LATAM Business Consultant, Designer and Speaker
Executive Director, Colombia-India Chamber of Commerce & Industry
Workshops
1) Suhasini Paul
Toy Designer and TEDx Speaker
Name of Workshop: Design for Joy!
Turn your favorite monster into a Mini Pocket Toy! In this workshop you will learn the basic techniques of needle felting. Learn how to turn your drawing, illustration into a cute little 3D object.
This workshop is about: how to make felt & fleece collectible toys (without sewing machine) that are super cute, sustainable and fun ! These little handmade toys will help you to discover and unleash your unlimited creative potential.
2) Yehuda Devir & Maya Devir
Illustration Artist
Name of the Workshop: The Art of One Frame
This workshop shall cover these topics,
i) How do we convey a message through a single frame?
ii) What the strengths of a single frame in our digital world?
iii What tools can we use to convey a message?
iv) Practice creating One Frame by the students.
3) PREdays India - workshop on Interaction Design by CUMULUS Association and IxDA
This workshop is open for Practitioners, Researchers, Educators in Design.
PREdays will be conducted by,
i) Alok Nandi
President, Interaction Design Association (IxDA)
Innovation Strategist, Educator, Speaker and Author
ii) Ms. Eija Salmi
Secretary-General, CUMULUS Association (International Association of Universities and Colleges of Art, Design and Media)
iii) Prof. (Dr.) Lorenzo Imbensi
Board Member, CUMULUS Association
Professor, La Sapienza University, Rome, Italy
#ADW2020 #ADWSpeaker - Daniela Paredes Fuentes
Venue
Shree Shakti Convention Center
Beside KD Hospital, Near Vaishnodevi Circle, Sardar Patel Ring Rd, Ahmedabad