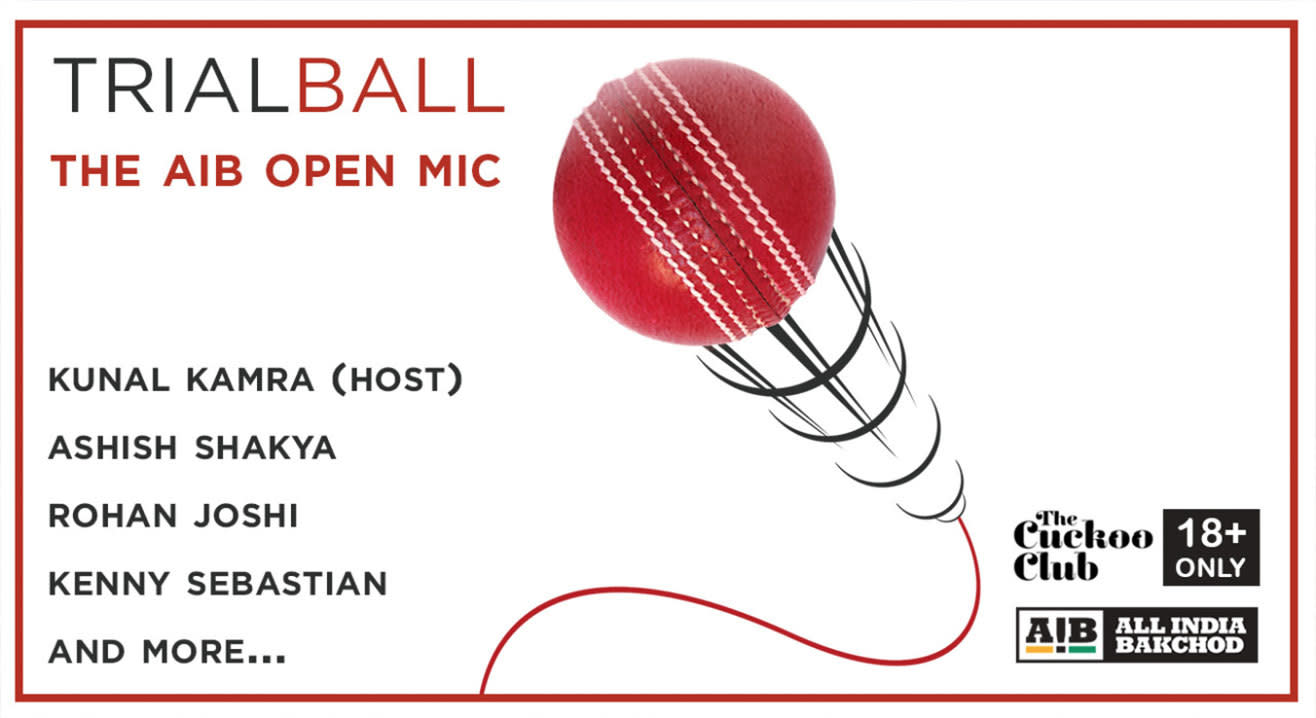 Comedy
AIB Trial Ball ft Ashish Shakya, Rohan Joshi, Kenny Sebastian & Kunal Kamra
About
Hello, comedy fans! The second edition of Trial Ball: The AIB Open Mic is back.
If you've ever wanted to get up on stage and make people laugh, Trial Ball is a great place to start. You have four minutes to unleash your thoughts on to the world - weird, random, abstract, Hindi, English, Morse Code - it doesn't matter. The comedy world is like a vampire - fresh, young blood is always welcome.
In addition to the open mic-ers, Trial Ball will also feature a roster of established comedians trying out new stuff in longer sets. The event will be curated by members of AIB.
Comedians for this edition
Host - Kunal Kamra
Ashish Shakya
Rohan Joshi
Kenny Sebastian and more ...
Seriously, what more do you want? Ghar pe aake foot massage doon kya? Just come yaar.
If you want to register as a performer, just drop an email to trialball@allindiabakchod.in
Ashish Shakya is a member of AIB and has been a part of the collective's 'AIB Knockout', 'AIB Diwas' and 'On Air with AIB', and sketches. As a standup comedian, he's performed hundreds of shows around the world. He used to author a Hindustan Times column that had a cult following and has co-written 'The Week That Wasn't with Cyrus Broacha' on CNN-IBN for about 250 episodes (!).

Rohan Joshi is a member of popular comedy collective AIB - you've probably seen him in their sketches and events such as 'AIB Knockout', 'AIB Diwas' and 'On Air with AIB'. A top stand-up comedian even before AIB was an idea, he's done hundreds of shows across the world, including at the Edinburgh Fringe Festival. As a writer, he has a long-running column in Mid-Day.

Apart from directing short films, Banglore stand-up
Kenneth Sebastian performs regularly in his city and across the country, at venues like Canvas Laugh Factory (Mumbai). He is also involved with 'Bangalore's first and only comedy group'- The Polished Bottoms, with comedians Sundeep Rao, Sanjay Manaktala and Praveen Kumar.

Kunal Kamra is an advertising junkie by day and comedy man by night, Kunal Kamra has been leading a double life close to five years now. The comedian once said in an interview, "On stage, I do not believe in drawing a line — that's reserved for jokes that are unfunny," a statement true to his style of comedy. His humor channels his unfiltered thoughts and his speeding thinking process that points towards the absurdities of life, making him produce one great set after another. The comedian started performing professionally in 2013, with his first ever show at the glorious blueFrog, Mumbai (RIP). The comedian is now a regular at all the big venues in the country, and his recent show, Punchliners, presents his jaded view on advertising life.