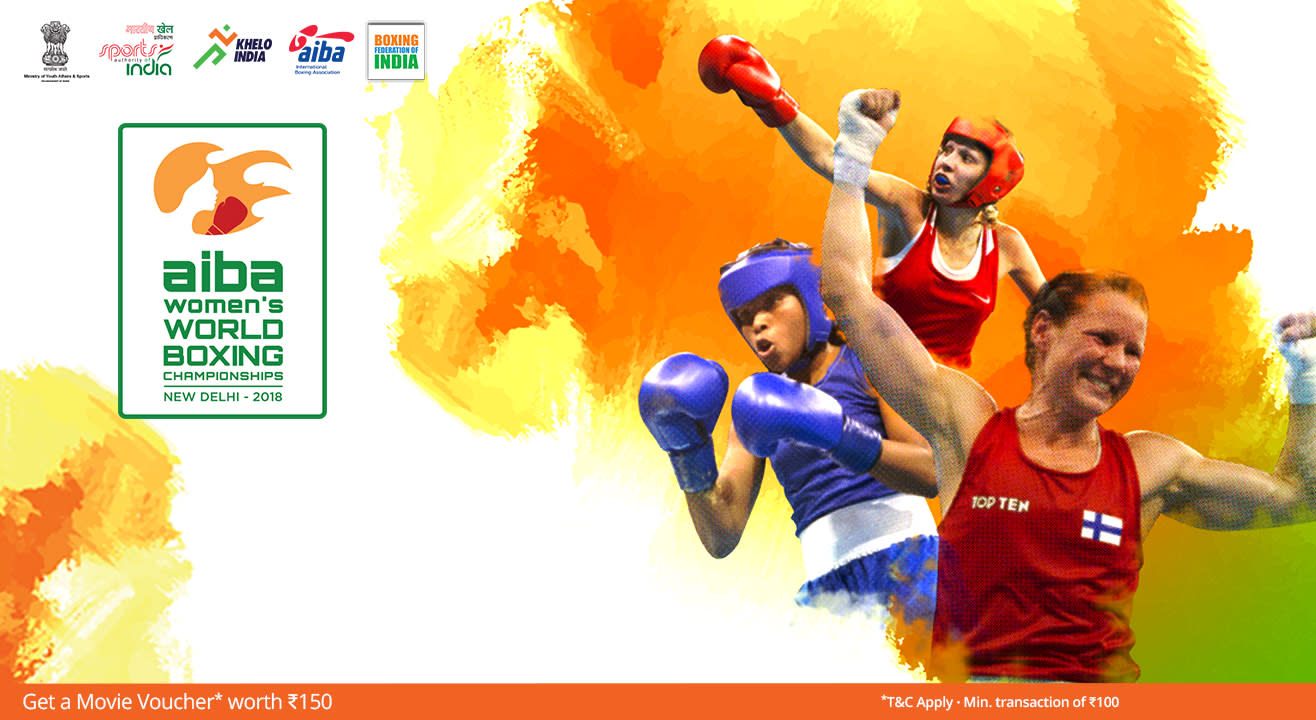 AIBA Women's World Boxing Championships - Opening Ceremony
Indira Gandhi Sports Complex, Delhi
Invite your friends
and enjoy a shared experience
AIBA Women's World Boxing Championships - Opening Ceremony
Indira Gandhi Sports Complex, Delhi
Invite your friends
and enjoy a shared experience
Invite your friends
and enjoy a shared experience
Buy tickets and get a Paytm movie voucher worth Rs.150 on a min. transaction of Rs.100*

The 2018 edition of the AIBA Women's World Boxing Championships will take place between November 15 - 24 in Delhi, India, and the tournament will be ready to witness previous champions and Olympians stepping on the ring for some unmissable action.
Have questions regarding this event or your order?
Please mail help@insider.in or call us at +91-22-61548585 / +91-9136622662.
A light and sound showcase.
A high octane performance designed to create a spectacle for the attendees, highlighting the brilliance of new-age contemporary formats of entertainment. We've envisaged this exclusive showcase where we fuse in two very dynamic elements to create a magical aura, the power of sound and the dynamism of light play to deliver a high impact sequence. We've combined various formats of dance and art to curate one wholesome act. In this we've got a group of LED Drummers who'll be the orchestrators of the sequence; every move of the co-partners will be in sync with the drummers high-impact drum beats to complement their act we have clubbed in LED winged dancers and LED Tanura dancers who'll add to much-required grace and wow factor of the sequence. There will be ample light play in synchronization with the drum beats doubling up the impact of the showcase. To make a concluding statement we have visual poi dancers who will walk in to showcase their visual arts expertise along with a group of hanging LED drummers to end the sequence on a higher note.
As the name suggest, we've fused in myriad traditional dance and art forms handpicked from various states and regions of India. This sequence is an ensemble of traditional dance forms, martial arts form and folk dance forms; designed to showcase how diversity unites us as one. The medley includes Thangta from Manipur, Kalaripayattu from Kerala, Gatka from Punjab, Malkhamba, Chhau from Odisha and Westbengal, Kalbelia from Rajasthan, Baasant Ras from Manipur, Mayur dance from UP, Manipur Pung, Kathak dance from northern parts of India, Kathakali from Kerala and Bharatanatyam Tamil Nadu. The coming together of all these dance forms will definitely be a visual treat for the spectators and guests.
About Shillong Chamber Choir
The Shillong Chamber Choir, founded in 2001 by Neil Nongkynrih is a multi-genre choir which won the reality TV show India's Got Talent in 2010. The same year also saw the choir being awarded three gold awards at the 6th World Choir Games for Musica Sacra, Gospel and Popular Music. They also performed at the Rashtrapati Bhavan for visiting US President Barak Obama and Michelle Obama during their state visit to India.
The choir's versatility ranges from performances with the Vienna Chamber Orchestra and the Fitz William Quartet to collaborations with known icons like Amitabh Bachchan for the opening of Kaun Banega Crorepati season 6. The show is said to have had the highest opening in 2012 across all shows on all general entertainment channels, breaking all previous records.
They have also teamed up with other recognized names like Shankar Ehsaan Loy and Usha Uthup. Their Christmas album in 2011 became the highest selling in the country for non-cinematic music.
A notable collaboration that took place on the 1st of March 2013 was seeing Neil Nongkynrih on the piano, the voices of the Shillong Chamber Choir and Ustad Zakir Hussain on tabla.
2014 has seen the choir come together again for the Grand Premiere of Kaun Banega Crorepati 8 at Surat, Gujarat and also opening for the music launch of Shah Rukh Khan's film 'Happy New Year'. The year also saw the State Election Commission and the SCC come together in creating a successful music video entitled 'Just One'.
The months to come will see the choir working on big stage concepts, new singles, recordings, film industry projects and concerts within India and abroad.
Indira Gandhi Sports Complex
Sachivalaya Rd, ITO, Vikram Nagar, New Delhi, 110002
GET DIRECTIONS
AIBA Women's World Boxing Championships - Opening Ceremony
Indira Gandhi Sports Complex, Delhi
Invite your friends
and enjoy a shared experience