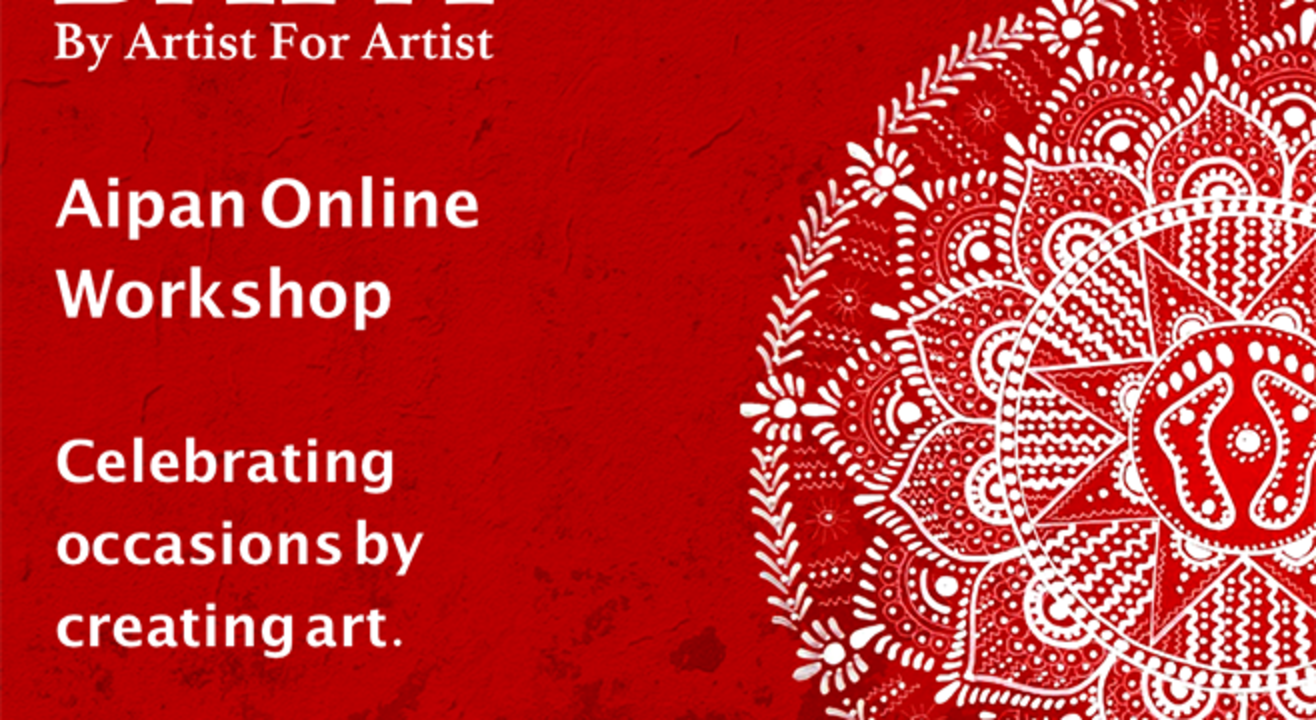 Aipan Online Workshop with BAFA
September 19 | 11AM - September 20 | 12PM
Invite your friends
and enjoy a shared experience
Invite your friends
and enjoy a shared experience
About the Event
Start Date: 19th - 20th September
Time: 11:00 - 12:30 PM IST
Duration: 2 Days
Language: Hindi
Fee: INR 700 (Per Participant)
Tutor : Mrs. Vineeta
Introduction: Widely known as the traditional art form of Kumaon region of Uttarakhand, Aipan is form of rangoli that would be usually drawn at religious places or in the courtyards of a house entrances. This art form is created using linear art, geometrical shapes, imprints of flowers or figures belonging to god and goddesses depending on the occasion being celebrated. In the workshop with BAFA learn to create some motifs and patterns that define Aipan and draw your own creative composition of Aipan.
Things you will require during the course:
Laptop / Desktop / Phone / Tablet access along with good internet connection.
The link to the class will be shared once you enrol for the course.
Pencils along with Eraser and Sharpeners.
Red Thick Sheet A3 Size, White Marker, White pen
What will you learn during the Workshop:
Learn the history of the art form as you get a hands-on understanding about the aspects associated with the art style.
The importance of themes, motifs, patterns and techniques that come handy when creating Aipan Art.
We will experiment on drawing artistic compositions during the workshop.
Get your own Aipan Art painting at the end of the workshop.
Who this course is for:
This workshop is ideal for anyone (10 years and above) who wishes to learn the traditional art forms at beginner level.
This course is intended for people looking to enhance their art skills and children looking to learn new art techniques.
About BAFA : BAFA is an art community curated by profound artists from all around the globe who are looking to spread the knowledge and passion for art amongst everybody. BAFA conducts online and offline workshops teaching over 30 different art forms with a fantastic blend of in-house artists who have spent decades in mastering the skill that the art form demands. We also have our own online store and personalized portrait section which allows the artist's work to reach a wider audience and help them sell their artwork. Keen to know different art forms, join BAFA and you can engage with the renowned artists and learn new art forms from time to time.
About Artist: With 30 years of experience in art and design, Mrs Vineeta is a very popular folk artist from Jaipur. She believes in keeping the legacy of the traditional art forms alive and thus has dedicated her career towards learning and preaching about them to those who have been keen on learning art. She is proud to be associated with BAFA to pass down her knowledge of Kalamkari art style.