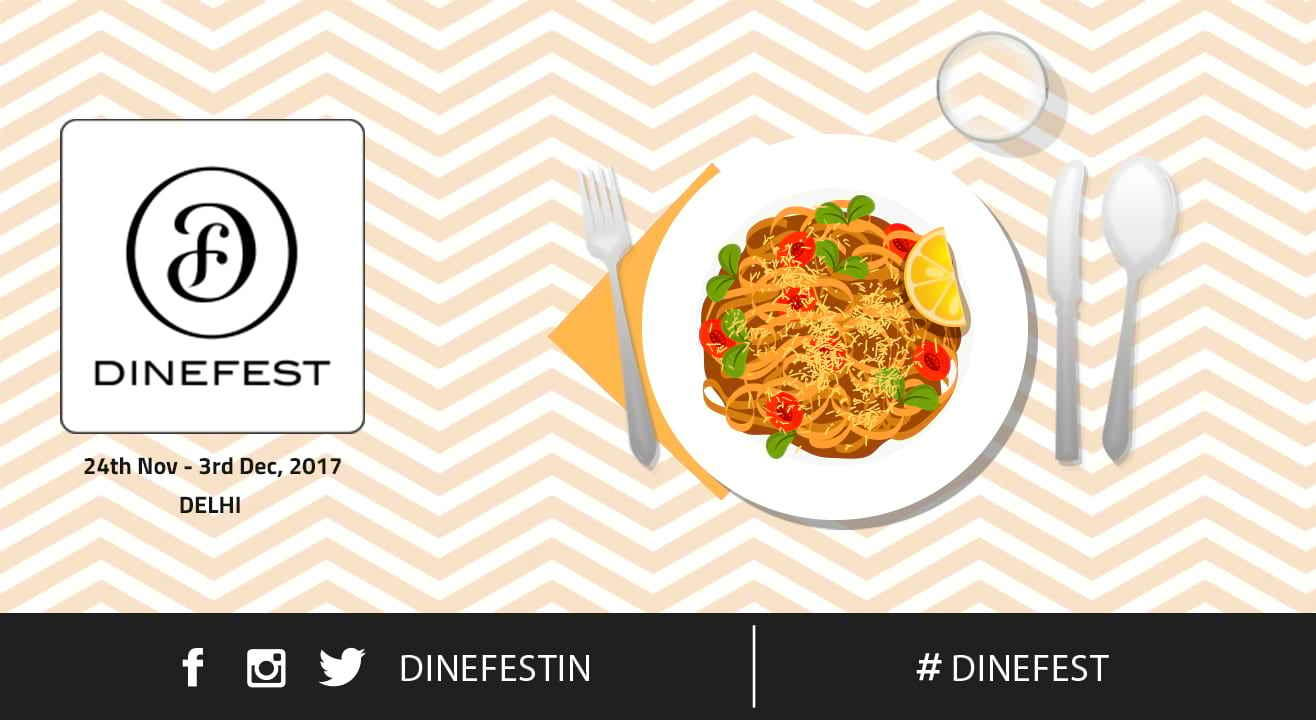 DineFest Delhi: 24th November – 3rd December, 2017
Discover the finest informal dining restaurants across Delhi through specially curated three-course prix fixe menus at a fraction of a la carte prices.
Invite your friends
and enjoy a shared experience
Experience a three-course meal at Delhi's best informal restaurants, showcasing their finest culinary offerings through the DineFest menu priced at INR 600++ per diner.
The price is exclusive of applicable service taxes and service charges.
Why you should book
A chance to visit a restaurant you've always wanted to try, at a fraction of a la carte prices.

An extensive menu, showcasing the restaurants' best dishes.

Fixed price across all restaurants in each city.
In order to secure your reservation, you will be required to pay a non-refundable Convenience Fee of INR 62 per diner. The same will not be adjusted against your bill at the restaurant.
Terms & Conditions
- Select restaurants may accommodate walk-in/a la carte guests under the DineFest menu on request. Please note, such accommodation is as per restaurants' discretion, and the same is not guaranteed to all walk-in/a la carte guests.
- The convenience fee will not be adjusted against your bill at the restaurant.
- The timings (eg: 1:00 P.M. - 2:30 P.M.) mentioned for each seating refer to the start time and end time respectively of your meal period.
- The restaurant will only hold your reserved table for 15 minutes from the start time. Late arrivals may only be accommodated as per the restaurant's discretion and availability of tables.
- This is only a table booking. The meal price, applicable taxes and service charges will have to be paid directly at the restaurant, at the time of the meal.
- The meal period will last for the restaurant's standard seating timings of 90 – 120 minutes.
- The price mentioned is the per-head price for the DineFest menu only, and is exclusive of applicable taxes and charges. Beverages and a la carte items will be charged extra.
- A smart, casual attire is recommended, each restaurant has their own child policy, it is best to contact the restaurant regarding the same before you make a reservation.
- No take-away or parcels are allowed.
- Please carry a valid ID proof along with you.
- Security procedures, including frisking remain the right of the management.
- No dangerous or potentially hazardous objects including but not limited to weapons, knives, guns, fireworks, helmets, laser devices, bottles, musical instruments will be allowed in the venue and may be ejected with or without the owner from the venue.
- The sponsors / organizers are not responsible for any injury or damage occurring due to the event. Any claims regarding the same would be settled in courts in Mumbai.
- People in an inebriated state may not be allowed entry.
- Restaurant rules apply.
Subscribe to receive our newsletter!
Find the best experiences happening out there in your city or enjoy handpicked content while sitting comfortably at home. Paytm Insider is your go-to place to figure out what to do today!