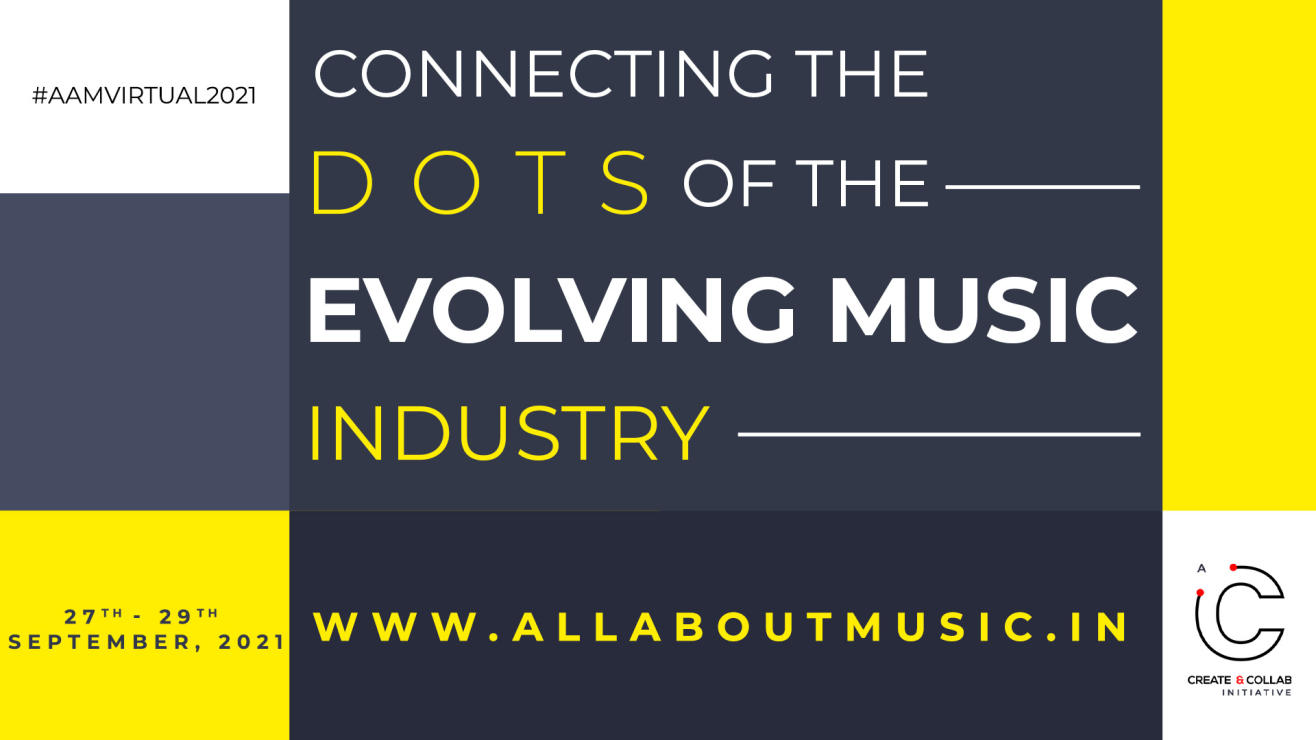 Event Guide
Interactive show
Be a part of the show
Invite your friends
and enjoy a shared experience
Event Guide
Interactive show
Be a part of the show
Invite your friends
and enjoy a shared experience
Event Guide
Interactive show
Be a part of the show
Invite your friends
and enjoy a shared experience
Existing ticket holders can access the All About Music 2021 platform by clicking the link below

Launched in 2017, the All About Music conference has successfully completed four sold-out editions by bringing together more than 6000 stakeholders and experts and from key areas of the entertainment industry and in the process, has become the de-facto global gateway into the Indian Music Market.
More than 300 companies and representatives from over 25 countries have participated at All About Music thus far, bringing together 1000+ artists to engage and energize a global community of thousands.
In the fifth edition, All About Music aims to Connect The Dots Of The Evolving Music Industry.
Our Focus This Year:
• Regional Music
• Independent & Non-Film Music
• Revenue Opportunities
• Evolving Music Technologies
What Can You Expect At All About Music this year ?
• Rare Keynotes & Exclusive Panel Discussions
• Networking Opportunities at Connect Corner
• Informative Masterclasses & Workshops
• Talent Showcases & Pitch Opportunities
• Inspiring Success Stories & In Conversations
• Exhibition Booths
Why Attend Virtual
• Networking Across Geographies
• Access to Panelists From Across The Globe
• Save Time & Cost of Travel
• Replay On-Demand
Q: Is there an age limit for the event?
A: Yes, the age limit for the event is 18+ years

Q: How many people can attend the event on one ticket?
A: Each ticket allows you to join the event from one device at a time. Both, mobile phones and computers are supported

Q: Are there any discounts available for bulk bookings?
A: Discounts on bulk bookings of 30 tickets or more are available. Contact ticketing@allaboutmusic.in to know more

Q: When will the event schedule be released?
A: The event schedule will be released closer to the event. Day-wise schedule will be accessible by existing ticket holders only.


All About Music: Virtual Edition - Aftermovie 2020
Key Speakers at All About Music 2021
Scooter Braun
Founder & Chairman of Ithaca Holdings LLC, Founder of SB Projects, co-CEO and board member of HYBE, SB Projects/HYBE America



Aaquib Wani
Founder & Art Director, Aaquib Wani Design



Akhila Shankar
Director of Brands & Communications, Jiosaavn



Alick Sethi
Music Supervisor, Retox Music



Ankur Tewari
Artist



Armaan Malik
Musician



Bhaskar Pal
Content Lead, Dolby



Brian Tellis




Claire Mas
COO, Driift



Clint Valladares
Senior Managing Director - Global Engagement - Middle East & India, Berklee College of Music



Deborah Cornelious
Editor-in-chief, MusicPlus



Ed Harris
Artist Manager, Blue Raincoat Music



Eva Reistad
Producer, SWLF



Gunjan Arya
CEO, OML



Hrishikesh Kannan
Radio & Podcast Producer and Presenter



Ishani Dasgupta
Lead - Podcast Partnerships, Jiosaavn



Jaan Nisar
Bollywood music director, playback singer, music producer and Founder of Mumbai-based Record Label, AR Music Studios



Mo Joshi
Co-founder, Azadi Records



Monica Yadav
Senior Entertainment Journalist, Bollywood Hungama



Nirmika Singh
Executive Editor, Rolling Stone India



Prabhu Ram
Lead - Industry Intelligence Group, CyberMedia Research



Rafael Pereira
Managing Partner, Tinnuts



Satvinder Singh Kohli
MD, Speedrecords


Connect Corner at All About Music 2021
Event Guide
Interactive show
Be a part of the show
Invite your friends
and enjoy a shared experience